OneNote proves to be a top notch application managing your data, folders, scheduling, sharing the information, and working virtually everywhere.
But sometimes you may come across why won't OneNote sync issues.
As data synchronization & keeping its integrity are essential, this syncing issue may give you trouble.
In this article I am going to explore some potential helps to address the issue. 
Why Won't OneNote Sync?
There are several ways by which you can check why won't OneNote sync issue.
The first thing you may do is to check for any pending updates as this simple thing may give you unnecessary trouble.
Sometimes the unnecessary backup files gets accumulated and cause a shortage of space. This may trigger the OneNote file syncing issue as well.
You can also verify your OneNote on the web and initiate to sync it manually. Let us now discuss the probable solutions in detail. 
Solution 1: Update Your OneNote
If you are having an outdated OneNote version, you may encounter a OneNote notebook that won't sync issues.
It is always necessary that you update OneNote and your Windows to the latest available version.
Follow the steps mentioned below to do it:
Step 1: Go to the Start menu and visit the Microsoft Store. Now go to the hamburger menu and select Download and Updates from there.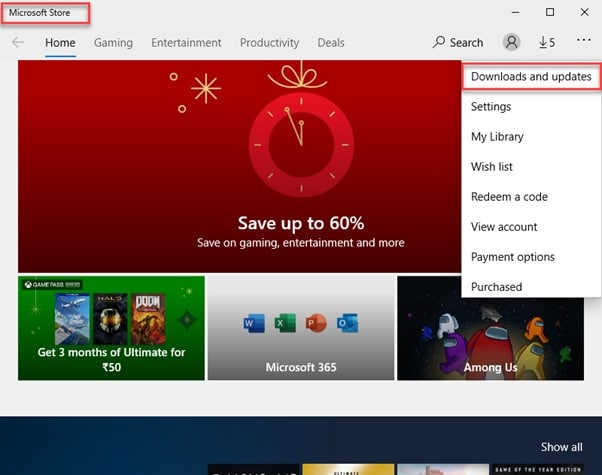 Step 2: After that hit the Get Updates button and wait till the process gets completed.
Now, give your OneNote a fresh restart and check if there are further issues.
Solution 2: Check Notebook On The Web
When you find your OneNote is not syncing, you can check it on the web if it is working properly.
Sometimes the problem may be with the server and you can detect it if the server is creating issues or your desktop OneNote.
Follow the given steps:
Step 1: Open your OneNote and choose File.

Next, go to the Info section as I have shown in the picture below.
Step 2: Now right-click on the available link and then click on Copy.
Step 3: Go to your Web browser and enter the link there. Then hit the Enter button.
If your OneNote is opening here, then make sure that the problem is with your desktop version.
You might open it on the web, but the changes fail to appear.
You can also verify the sync status by hitting the view sync status option and rectify the error.
So, here I recommend you close and reopen OneNote and see if the problem persists. 
Solution 3: Try Syncing Manually
While you are facing OneNote Sync Issues, you may give this a try to manually sync a notebook. As you may sometimes share a notebook and work with others so, this step is to offer you some help.
Follow the below-mentioned procedure:
Step 1: Open your OneNote and choose File. Next, go to the Info section.
Step 2: Now from the right side of the displayed window, choose the View Sync Status option.
Step 3: Now you will find a Shared Notebook Sync window. For continuing, hit the Sync button. Check whether you can sync your notes.
Solution 4: Check The Syncing Conflict
Sometimes you and your friend may edit the same portion of the page at the same time and then you may receive a message that OneNote is not syncing.
Actually, at this time OneNote gets busy creating many copies of the page so that the data is not lost.
That is why you are receiving the message on the yellow notification bar that OneNote is not syncing, and it is having issues.
Here I suggest how you will check this conflict to give you a seamless user experience.
Step 1: First of all you will have to click on the information bar that is popping up with the conflict message.
Step 2: Try copying the content from the page that is showing an error and pasting it on a primary page.
Now click right on the error page and remove it and check if your issue persists now. 
Solution 5: Remove Backup Files
You may face OneNote sync issues because of short of storage space.
In case you are having space issues, you will have to remove the backup files that are not necessary.
Follow the steps mentioned below to remove these unnecessary files:
Step 1: Launch your OneNote and choose File. Now move on to Options.

Step 2: Next choose to Save & Backup. Select the Optimizing files category and choose to Optimize All Files Now.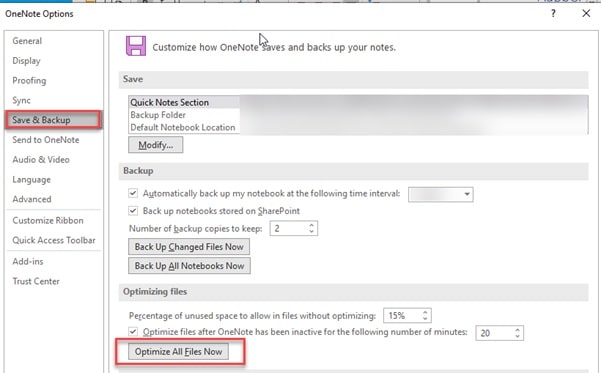 Wait patiently till it optimizes the files. You may also choose to delete the backup files, not in use.
Step 3: For this open your Run dialog box by pressing Win+R keys together.
Now in the given dialog box enter:
%localappdata%\Microsoft\OneNote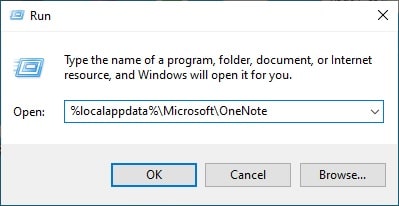 Step 4: Now click twice on that folder that shows your OneNote version number and select the Backup folder. Remove the folder or files that you will not be needing.
Continue the process till you have removed all the unnecessary files and folders.
After finishing the entire process, check whether the issue persists.
Solution 6: Try A Different Software For File Syncing
This is probably the last option I may suggest you to use is another software for file syncing if throttled with why won't my OneNote sync issue.
Your OneNote syncs your notes, data, files to Cloud but when it gives you issue with syncing files, you may opt for another software.
In order to maintain your safety and restore your data or information, you may need to take the help of another software. Nowadays they are just a click away from you.
You can choose according to your choice and preferences. There are many Windows backup software that will enable you to back up all your important documents, disks, operating system.
You can also clone your OS to SSD and your data will not get lost. So, they keep your data intact and provides you maximum support.
Concluding
So, I hope by now, you can find out a suitable solution if got annoyed with why won't the OneNote sync issue.
If you still have queries related to this issue or any other folder, please communicate with us in the comments section provided below.
Feel free to shoot us a mail with your ideas or suggestions.