Minecraft is a fun-filled engaging platform where you can easily reinforce classroom concepts.
This blocky virtual world helps the kids to create buildings, explore the landscapes and battle the mobs.
Read on to find the various educational benefits the game provides to young users and the other exciting things it offers.
What Are The Educational Benefits Of Minecraft?
Minecraft is a unique computer game that acts as a great learning tool for kids, from academics to social skills, and helps them reach their full potential.
It's pretty obvious for a parent to know about the benefits of the game that the child is glued to on the internet.
The educational benefits of Minecraft are diverse and even a few schools in the UK have started using it in their classrooms too in some form or the other.
It's simply best when a child enjoys and learns at the same time without realizing it.
This exactly happens in Minecraft, the largest video game played by kids to date.
Minecraft is safe for kids since the parents have total control and decide the mode and the version of the game which the child can get access.
The game prompts the parents about the settings and modes along with the version of the games to which you should let your child have access.
This open-world sand castle game, Minecraft has a lot of educational benefits since it enhances creativity, problem-solving, self-direction, collaboration, and other life skills.
Minecraft possesses plenty of entertainment value too. Nevertheless, it helps in developing life skills and also helps in developing career skills.
Here are the educational benefits of Minecraft which will help you to live a stress-free life even if your child loves this game.
1) Teamwork
There are a huge number of Minecrafters online who hangs out with fellow players and collaborates on modifications, maps, artwork, and more.
Hence, the children develop this skill of teamwork when they are exposed to this game.
2) Confidence
Minecraft helps to develop confidence among the students since it leaves them in the wilderness and lets them face the threats and challenges of the game.
Kids tend to learn from their mistakes and even enjoy the sense of freedom and experimentation it offers.
3) Planning
In the case of Minecraft, the players need to plan ahead and set off goals, watch tutorials, and manage and collect resources as they proceed further in the game.
4) Focus
While playing Minecraft you need to be focused and work step by step.
It is very necessary to be focused and dedicated to achieving the targets since certain games take a lot of time to get over.
5) Maths And Engineering
Building structures in Minecraft teaches quite a few mathematical lessons too.
Minecrafters can easily practice the basic lessons of electrical and computer engineering, geometry, and also architecture.
6) Problem-Solving
Minecraft teaches you problem-solving techniques and helps you to tackle the various environmental challenges related to this game.
The ability to critically think is also another aspect of this popular game.
7) Creativity
Minecraft helps in boosting your creativity since it is absolutely like a blank canvas where you get to paint your imagination.
It gives the students freedom to create and implement in the real positive world.
8) Socializing Skills
Minecrafters promotes social responsibility and teamwork which indirectly affects the kids in a positive way.
It also teaches the code of conduct in a virtual atmosphere and also reflects on cyberbullying.
In short, it provides a multiplayer gaming experience that can be easily adapted to the educational environment.
9) Resource Management And Organization
Minecraft's survival mode is a great way of teaching the Minecrafters about resource management and utilizing it in the most efficient way.
The students can learn organizational skills by being a part of this game.
10) Knowledge Retention Techniques
Minecraft demonstrates knowledge of certain topics and helps them to learn things in a creative way.
Rocks, minerals, weather, cyclones, and biomes are the various aspects of the game which allow the students to develop an understanding of the same.
11) Virtual Learning Opportunities
Minecraft helps the student to explore various learning aspects visually and also makes certain items available for download.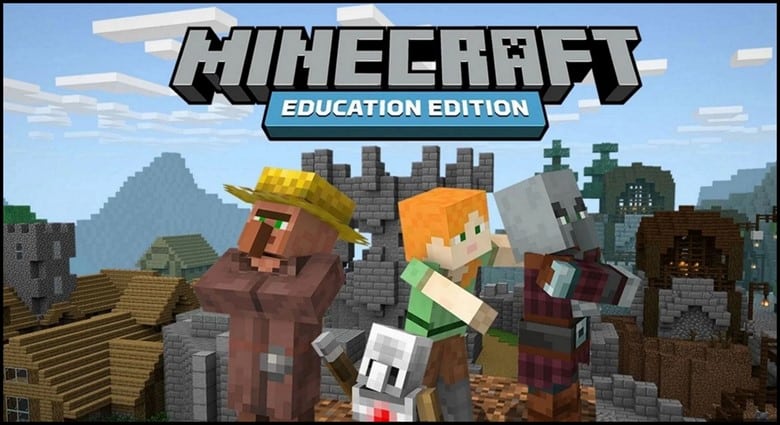 Minecraft's education edition feature offers certain gameplay functions which allow the player to learn basic functions.
12) Helps To Learn Code
Minecraft helps children to learn codes. The children can modify the Minecraft codes using Java and make the game behave in a different way.
Frequently Asked Questions (FAQs)
Can We Chat In Minecraft?
Yes, Minecraft has a chat system for players for sending and viewing messages.
Can You Talk To Strangers On Minecraft?
If you are playing a multi-player game in Minecraft, you can easily text chat with people you don't know.
You can also hide the chat window if you do not want to see the messages or you don't want to interact.
Does Minecraft Help With Math?
Playing Minecraft helps the children develop complex mathematical problems and shapes and also helps them to manipulate the blocks.
All of these are basic mathematical concepts that form a part of the child's curriculum.
Wrapping Up
Now you know that Minecraft has a lot of educational benefits you should be less stressed if your child loves this fun-loving, educational popular game.
Reach out to us in the comment section below in case of any doubts or queries related to this topic.