VLC is probably the most used video player application across the globe. But sometimes while playing some video files on it, an annoying dialogue box appears at the top of the desktop saying "Building font cache."
The text box displays a command like "Please wait while your font cache is rebuilt. This should take less than a few minutes."
There continues an infinite progress bar just below the text. And left only one option for the user is a "cancel" button. On tapping, that button closes the dialogue bar and prevents the video file from playing.
It doesn't matter whether your video file contains subtitles (that requires font cache file) or not. VLC building font cache doesn't make any sense but annoying. The dialogue box may be stuck sometime & can make your screen static that indicates your VLC media player is hanged!!
However, the good news is you can conceal this dialogue box from ever showing up. Go through to know more.
What Is A Font Cache?
So, fonts are data bits. Cache memory is used to restore the information of fonts installed on your computer. Many Font-Intensive applications use font cache. Font data is transported from the font cache when you use any font and discard after finishing the work. That offers less memory to your operating system and applications, giving you the best performance.
Permanently disable "Building Font Cache" in VLC
Open VLC and tap on the tool from the menu bar and then click Preferences (Ctrl+ P) (Don't open it by playing a video clip). It contains many simple configurations to customize the user with the player.
Go to the bottom left corner, under show setting click all. Now you have switched to advanced preference, be careful there are many configuration options to setup.
From the left scroll down to video title option, under it, you will find Subtitles / OSD option click it. See it is a sub-option under which you will discover Subtitle and other related on-screen setting option.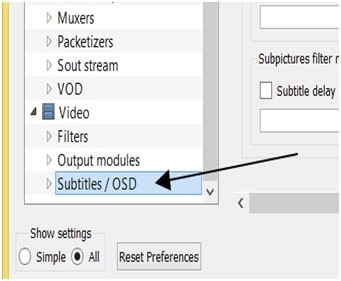 First heading shows On Screen Display, under it you will find Text rendering module. Change that option from to Dummy font renderer from Automatic.
Click on save to permanent the changes you have made. All set now
The font rendering dialog like "please wait while your font cache is rebuilt" is gone forever now. If you need VLC to render a new font or to create a new font cache file always enabled, the dialog shows up while adding new fonts to your system.
The process takes very less time to complete in comparison with the old configuration, which was unbearable wastage of time for users.
But after installation of new fonts if you don't find them—then repeat the process revisiting the options. The only difference is, you need to turn on automatic option & restart your player, wait for the font cache building and then turn off the option again.
Reset Font Cache In Windows 10
Windows operating system creates a cache file for fonts. It uses less memory to your OS and gives you the best and faster performance experience when using font-intensive applications & browsers.
But if you face problems like the fonts are not rendering correctly or showing invalid characters on your computer (with Window 10 OS), evidently the Font Cache is corrupted. To fix the issue, you need to clear & reset the Font Cache files.
Now there are two ways to clear font cache in Windows 10. Firstly, you can stop the font cache service and delete all the cache files manually. However, you must have enough knowledge about your system and need careful attempt.
If you unconsciously delete any wrong system files, it will cause severe damage to your system. Secondly, you can use any font cache cleaning app to clean out your data from the system memory.
First Method:
Press Windows key + R to open the run dialog box. Search with the keyword "services.msc" and press Enter
Choose the title named Windows Presentation Foundation Font Cache 3.0.0.0 and click on the stop button in the toolbar. (If this service is not running, then need not to it).
Press Windows key + R button at a time, and type %WinDir%\ServiceProfiles\LocalService\AppData, press enter.
Tap on the Continue button to carry on the process.
After that, Double-click on the sub-folder, Local. Under the Local folder, you will find many files having their names starting with -FontCache-. Select all these files and delete them. Be careful, do not modify or remove any folders even if they are empty.
Reboot your computer. When Windows restarts, it will reset a new font cache file.
Now you shouldn't face any font-related issues. If it persists, follow our next method.
Second Method:
Besides the traditional manual cleaning method, there is also some font cache cleaner application. They can clean up not only font cache but other junk files in your system. These programs are designed in such a way that it can erase unnecessary and unwanted junk files automatically. It can clean up unusual trash flies for daily Internet activity and. It offers you to choose, delete any private emails, text messages, or temporary files.
Google Chrome Shows Waiting For Cache In Windows 10 
There is a straightforward explanation for this issue. The information that Chrome has downloaded to your computer system is gone corrupted, and that makes cache inaccessible for Chrome. Now you have known earlier that cache file stores browser's certain information about your browsing activity.
This information is loaded to websites for faster browsing when required. The "waiting for cache" message is displayed when the Chrome browser cannot access this information.
Fixing waiting for cache problem in windows 10
Clear your browser cache in Chrome
In Chrome, click on the (three vertical dots Customize and Control button in the top right corner.
Scroll down the dropdown list to More Tools and choose Clear browsing data.
Under the Clear browsing data, choose all-time in the time range menu. Then, tick all the boxes of the data that you want to clear. Then tick click clear data.
Restart Chrome and browse.
The discussion above is sure to offer you every bit of up-to-date information that you need to know to solve the 'VLC building font cache' issues. Take your time, read through, and do the needful.