A lot of Windows 10 users have complained that their pen drives misbehave when they copy some data onto it. The Properties page shows some space occupied, but the files and folders are not displayed when the contents of the drive are opened in explorer. Here I will discuss how to fix USB drive not showing files and folders.
Why You May Not Be Seeing Your Data!
There can be several reasons why the files on flash drive are not showing up. Knowing the reason that you are not seeing your files may help you solve the error.
Damaged USB Drive
It is seen more often than not that the hardware component is damaged that is causing you not being able to see your files. The drive will be displayed on your computer If the USB drive is damaged but the firmware is in good condition. You will be able to copy files to this drive, but when you unplug and re-insert the device, you won't be able to view the files although space will appear consumed.
Virus/ Malware Attack
It is also a plausible scenario that the files you want to access are under a virus attack that has altered or deleted your files. This is also a common problem that many users go through.
Another very common virus is the virus that hides your folders or sets them as 'Protected System Files and Folders' which are hidden by default.
If your drive is set for an autorun function and contains a virus, an autorun.inf file might automatically launch the virus when it is plugged in.
Files Set As Hidden
Windows is filled with bugs, and it is possible that some such bug flagged your file as hidden and that is why flash drive is not showing files.
Files Deleted
This is the worst-case scenario, but it is possible that due to some technical difficulties, the files were deleted during copying.
There is also a chance that some virus deleted your files when you plugged it in. When you plug in your USB drive, the virus activates itself and deletes the files on the drive. There is also a chance that some other files from your system were deleted. If you see a mysterious file that ends with the extension .exe (application type) or .lnk (link or shortcut type), there is a good probability that it has an embedded virus; especially if it contains the name and icon of your files or folders.
Now that we have discussed the reasons, I will share the solutions you can deploy to solve the "USB drive not showing files and folders" error.
How To Fix "USB Drive Not Showing Files And Folders"?
If you too face this error, you can try these solutions in their order of appearance in the list.
# Solution 1: View Hidden Files And Folders
If for some reason the files got hidden, you can start from that. To view hidden files and folders in Windows 10, in Explorer navigate to the directory of your USB drive.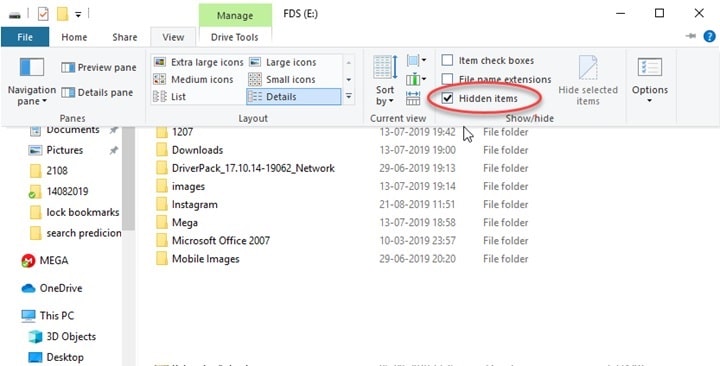 Then click on the View tab. In the Show/ Hide section, tick the box next to View hidden files and folders.
# Solution 2: View Hidden System Files
The system files are hidden by default and enabling the normal hidden files won't show them. To view system files, follow these steps:
1) In Explorer, navigate to your USB drive.
2) On the top left, click File and then click Change folder and search options.
Note: in Windows 7, you will find this setting under the Organize button.
3) On the Folder Options window that appears, go to the View
4) In the list of Advanced settings, navigate to Hide protected system files (recommended).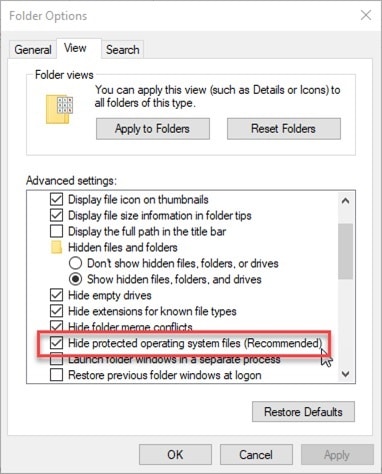 5) Uncheck the 'Hide protected Operating system files' checkbox and click on Apply. Then click OK.
Now you should be able to see your files and folders in your USB drive.
# Solution 3: Use WinRAR Or Other Archivers With A File Manager
WinRAR is an archiver with a file manager that displays all the files and folders in a drive irrespective of their hidden status.
To view the files in WinRAR, follow these steps:
Download WinRAR archiver from their website here.
Install WinRAR archiver using the installation package you downloaded.
Open WinRAR archiver and navigate to your pen drive.
Your files should be displayed under the directory. If your files don't show up in WinRAR, then they might not be on your drive.
# Solution 4: Use AutorunExterminator
The autorun protocol is initiated by the autorun.inf file that is executed when you plug your drive in your PC. To delete the autorun.inf file before it executes, you need a third-party app called AutorunExterminator.
To clean and reveal your files, follow these steps:
Unplug your USB drive.
Using the download link given above, download the file.
Extract the files.
Double click on AutorunExterminator.exe to run the program.
5. Plug in your pen drive. AutorunExterminator will delete all the .inf files in your pen drive.
6. Press Win key + R to launch the Run dialog.
7. Type cmd in the input field and hit Enter.
8. Enter this command into the command window to reveal your files:

attrib -h -r -s /s /d E:\*.*
Note: Change the E:\ to the letter assigned to your drive.
Now, your issue should have been resolved and you should be able to see your files on your USB drive.
# Solution 5: Run A Check Disk Command
You can run a diagnostic test on your USB drive to clean any errors and fix your drive. To do so, follow these steps:
Press Win + R to launch a Run dialog.
Type cmd and press Ctrl + Shift + Enter to launch Command Prompt with administrative privileges.
In the input field, type the following command and press Enter:

chkdsk E: /f /r /x
4. Wait for the scan to finish.
5. Reboot your PC to save the changes.
Note: Change the F:\ to the letter assigned to your drive.
The /f stands for the flag command, giving chkdsk the permission to fix any errors
The /r stands for recover, giving chkdsk permission to search and recover any bad sectors.
The /x commands the chkdsk to dismount the drive before scanning.
Wrapping Up
So, there you have it. Now you know what steps to take if you face the "USB drive not showing files and folders" error and how to resolve it. Tell us in the comments which method helped you and discuss further the same.