You may have Adobe products like After Effects and Illustrator in your PC that you want to remove. However, Windows treats Adobe apps as its Metro apps or like malware that cannot be removed normally. Here I will show you how to remove Adobe Creative Cloud apps from your Windows 10 PC.
Problems With Adobe CC Products
Adobe Creative Commons apps are very useful, but they are resource-hogging as well as they take up a lot of space in your PC. The background processes consume a lot of CPU and memory resources that make your PC slow and put the hardware under strain.
You also must have been facing difficulty in removing these apps from the startup menu. Once you disable them from your startup apps, these apps somehow are again added to the list and they consume a lot of resources at startup and slow down the PC.
How To Uninstall Adobe Creative Cloud?
You can remove stubborn apps like these from the safe mode. But there are other alternatives as well. the easiest one comes from the trouble-provider themselves i.e. Adobe.
This cleaning app is called the Adobe Creative Cloud Cleaner Tool. This is a lightweight app from Adobe that is targeted to precisely clean up installation records for the Creative Cloud or Creative Suite applications that may have become corrupted.
This can also help you to connect to Adobe servers if you have trouble connecting to them. It does so by removing the corrupted host file entries that may have been blocking access to the Adobe applications and servers.
To clean the residual files from the Adobe apps, you can follow these steps:
Backup your plugins and data files that you may want to restore later.
Open Control Panel. Go to Programs and Features.
Uninstall the Creative Cloud or the Creative suite applications from the list that opens subsequently.
Follow the onscreen instructions very carefully to complete the uninstallation.
Restart your PC.
Download the Adobe Creative Cloud Cleaner tool from the following link: Download
If you see a pop-up, click on Save File to download the file.
Go to the folder where you downloaded the file. Right-click on the file and select Run as Administrator. 
Follow the on-screen instructions to run the cleaner:
i. Choose your language by pressing e for English or j for Japanese.

ii. Read the Adobe EULA and press y to accept and then press Enter. Pressing n will decline and the script will stop and close.

iii. Accepting the EULA will display a list of functions that you can perform with the app.
iv. Press 1 if you want to get rid of every app and file that Adobe has provided installed on your PC. If you want to remove certain apps only, you can select the appropriate option from the list.E.g. After Effects can be removed by selecting 5. CC 2014 apps only.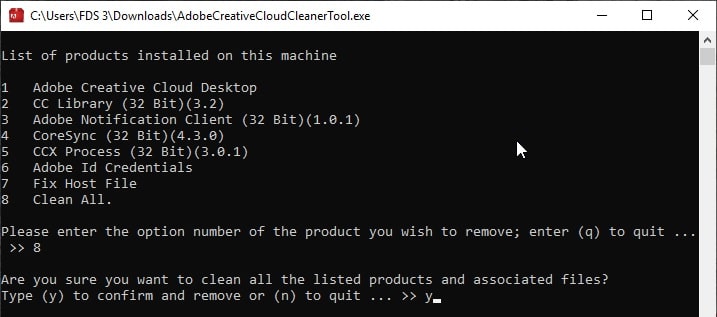 v.  Press y to confirm and remove and then press Enter.vi. You will see a confirmatory message that the specific file has been removed.
How To Remove Adobe Account?
Deleting your Adobe account is a hassle in itself. There is no single button to deactivate your account.
For whatever reason you may be wanting to delete your account, you can follow these steps to do it:
Open Adobe Creative Cloud and sign in to your account.
Click on Profile Menu. Select Adobe Account.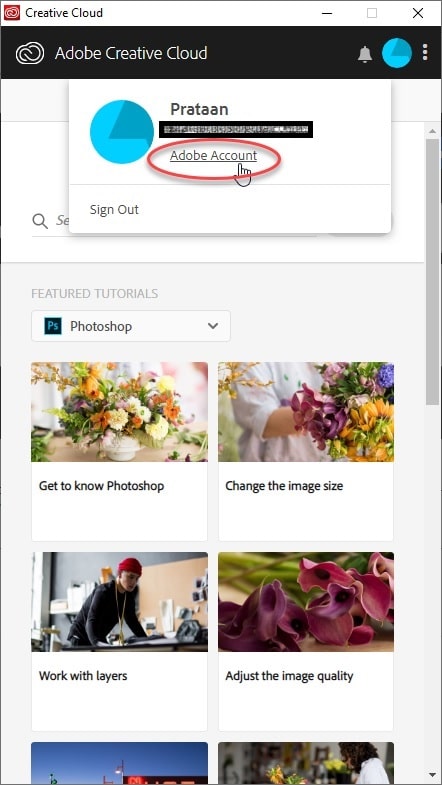 3. Click on Contact Support. It will take you to the Help site for Creative cloud.
4. At the Overview Page, click on Get Help.
5. Under the heading 'Tell us what you need help with…' click on Managing your account
6. Click on the button Still need help? Contact us
7. Now at the Contacts choose Chat. This will take you to the country-specific Adobe support Expert
8. In the chat box, tell the expert what your problem is and let him/her know that you want to deactivate your account.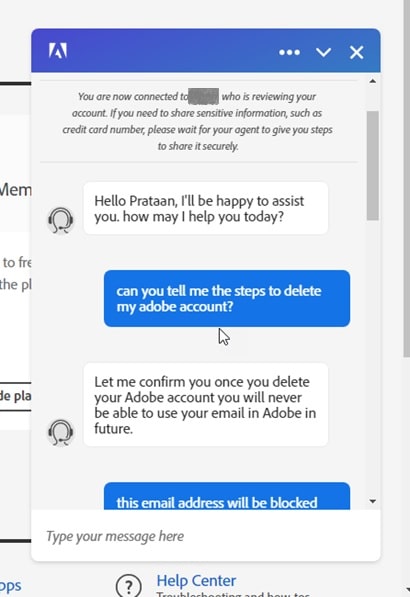 9. Upon confirmation, they will delete your account. Follow the on-screen instructions if they ask you to do so.
This is probably the only way to delete your Adobe account. Using the chat client, you can delete your Adobe account for good.
Conclusion
Adobe has some of the best designing apps with feature-packed options and editing capabilities. However, they are very persistent and difficult to remove because of the residual files tampering with the uninstallation. Now you know how to uninstall Adobe Creative Cloud from your Windows 10 PC. Comment below if you found this helpful or have some other queries.