Steam is one of the most popular online gaming stores available, with thousands of games from popular development houses and indie developers as well. Not only is Steam a store, but it is an integrated gaming platform as well, with the option to add friends and collaborate on games.
However, receiving constant notifications can be annoying if you have added a lot of friends. So, here I shall discuss how to turn off Steam notifications for uninterrupted gaming.
How To Turn Off Steam Notifications?
If you are looking to start a gaming session without notifying your friends or receiving any notifications as well, you can turn off Steam notifications to stop receiving notifications. Let us take a look at how you can move or block steam notifications easily.
However, there is no option to customize your notifications completely. The options that you set once, are applied in-game, as well as when you are not playing any games as well. Thus, remember that if you turn off all the notifications, you may also not receive any notifications when you are not actively gaming.
How To Get Rid Of Steam Notifications?
Here is how you can turn off all Steam notifications on your computer:
Open the Steam app on your computer.
In the top ribbon, click on the Friends option.
In the context menu, click on View Friends List option.
This should open the Friends panel.
Click on the Settings icon to open the FRIENDS LIST SETTINGS option.
Click on Notifications from the left menu.
In the right column, uncheck all the boxes for the notifications that you do not wish to receive.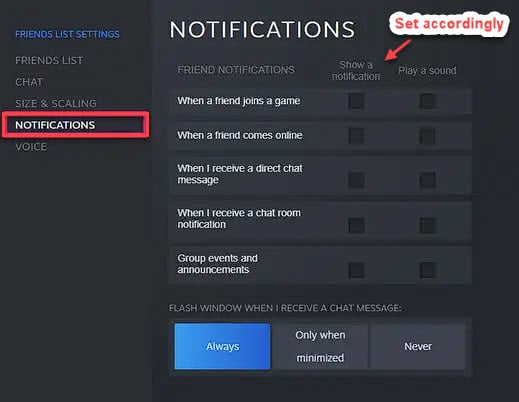 Wrapping Up
So there you have it. Now you know how to turn off Steam notifications using the simple method provided above. Comment below your favourite Steam titles and gaming suggestions, and to discuss further the same.