The taskbar is simply the monomaniacal stand-out feature of your Windows Desktop! It is one of the most essential elements for your windows PC.
It anchors your Start button, recently opened windows, pinned apps, system tray, and all other features in a single bar!
It's arranged in a systematic decent way keeping your convenience in mind!
But the search for a completely transparent Taskbar has long been on the way even before Windows 10!
So, let's check how to customize the desktop with Transparent Taskbar Rainmeter. If you have not already Installed Rainmeter Skins you can do that easily from here.
All About Transparent Taskbar For Rainmeter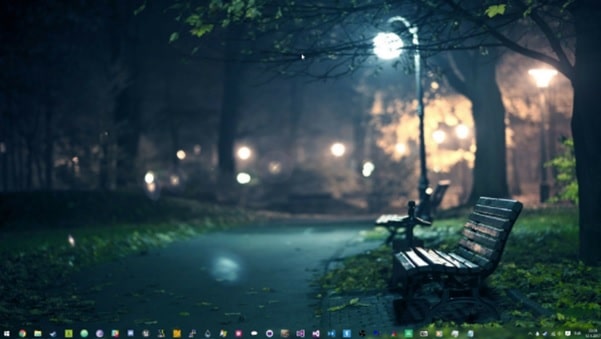 While Google unveiled Chrome OS, most of the transparency freaks plunged to make their taskbar transparent.
But make sure in Windows 10 you cannot fully replace your Windows shell with something else!
The available shells are not plenty in number and most of them have compatibility issues.
So, you may just settle with some minor compromise and here I am going to discuss all the best possible ways to customize your Desktop.
How To Make Taskbar Translucent?
You can download the Translucent Taskbar skin if you want your taskbar to customize your Desktop uniquely! You can also consider installing the Rainmeter Weather.
It is going to change the entire appeal of your PC. The process is really simple, and you just need to follow the basics as described below:
Make The Windows 10 Taskbar Transparent
To enable a Rainmeter translucent taskbar, first of all, get your Rainmeter installed.
Visit the official website for downloading the latest available version of Rainmeter and then proceed with the installation process.
Downloading from the official website ensures your safety.
Now for getting a transparent effect, download the Translucent taskbar 1.2 Rainmeter presented by Arkenthera from DevianArt Mirror or TransluscentTaskbar 1.2.
Now follow the steps mentioned below:
Step 1:  After you have successfully installed the Translucent Taskbar Rainmeter module, you will get to see some noticeable changes in your taskbar. It will seem almost transparent now!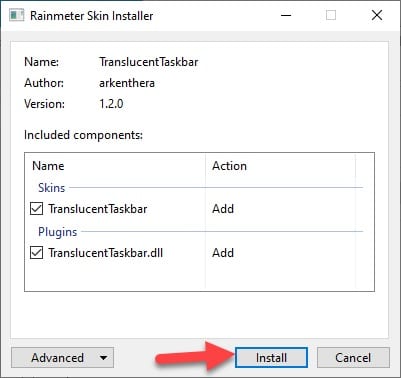 The transparency depends upon the type of wallpaper you are using. The taskbar will appear a bit blurred or completely transparent.
Step 2: For making the Taskbar appear fully transparent, you need to perform some editing Tweaks of the Rainmeter skin for the Rainmeter taskbar replacement.
Step 3:  Right-click on your rainmeter icon from the system tray and then from under the Translucent taskbar, select Sample.ini.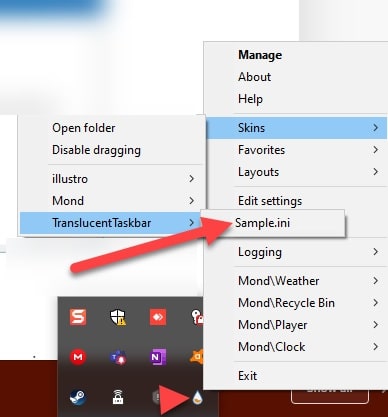 Step 4: Now select the Edit option and a text document will get opened now. Enter AccentState=2 now.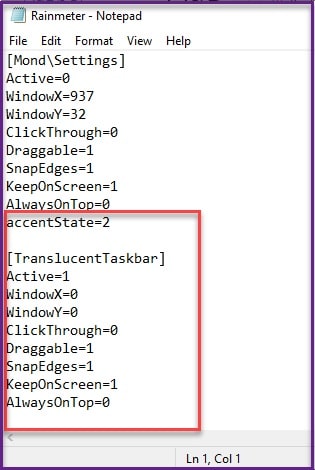 Step 5: Save your document and then close. Now hit the Refresh all button in your Rainmeter.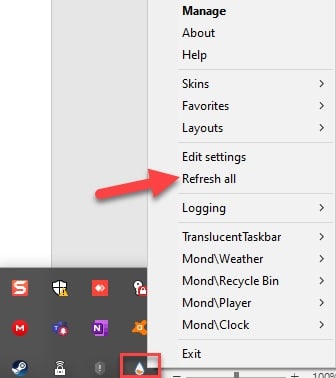 Step 6: These steps will make the taskbar transparent. You will get the white icons and the Text white once you choose a white background.
Now close all the windows and check if your taskbar is appearing transparent now. Hope you will be surprised to see the taskbar becoming 10% transparent by now! 
Afterword
Hope you could find all about the transparent taskbar Rainmeter from the article discussed above. Also  if you would like to check out the clock skins have a look.
If you still have queries related to this issue, please intimate us by commenting in the comments section provided below.
Feel free to shoot us a mail with your ideas or suggestions. We always look forward to hearing back from you.