The touchpad has taken over as the most popular method for tracking in the laptop form factor. It is also a very useful feature as we find it convenient to use over switching to the mouse during long typing sessions. However, if you face the 'touchpad not working' error while working on something, it can be very problematic if you do not have an external mouse in hand.
Why Is Touchpad Not Working In Windows 10?
The touchpad is a very important component of the laptop computer, and if the trackpad is not working in Windows 10, there can be many reasons why you may be facing this error.
If you are using an external keyboard folio, a loose connection can be the cause of touchpad not working
Many laptop BIOS turn off the built-in trackpad when external mice are connected.
Many modern-day trackpads have a turn off zone, which turns off the trackpad when you double click on them.
A touchpad, like other hardware, is also subject to outdated drivers clash, and this is what may be causing your trackpad not working in Windows 10.
There is a key combination in many modern day laptops that allows you to enable or disable your trackpad.
How To Resolve If Touchpad Not Working?
Now that you have a fake idea about why your trackpad is not working, you can act accordingly to solve this error on your Windows 10 device. Alternatively if you are using a mouse and one of it's button is not working, you can have a check here.
Solution 1: Fn Key Combination
On many modern-day keyboards, there is a function (Fn) key that is used in combination with the FX keys for other shell shortcuts like brightness and volume control, turning on and off hardware, etc.
Using this combination, you can turn on or off your trackpad. If you press this keyboard shortcut by mistake, try pressing the shortcut again.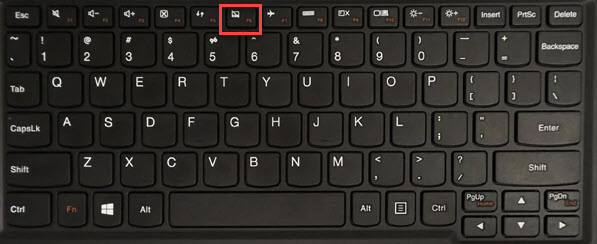 Solution 2: The Disable Touchpad Zone
If you notice a small square at the top left or right corner of the trackpad, this is the touchpad switcher zone. Double pressing this will change your touchpad to a keypad, or switch off the touchpad.
There is a chance that you disabled it accidentally, try double tapping the logo to enable it again.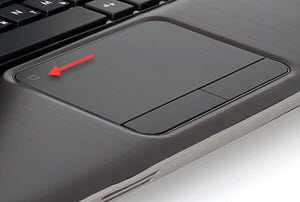 Solution 3: Check if your laptop hanged
Many times, the entire laptop computer may hang, giving you the impression that the trackpad is not working. A restart may help you in these cases.
Solution 4: Check If The Trackpad Disabled In BIOS
Many users reported that certain firmware updates disabled the inbuilt pointing device or your trackpad in Windows 10. This can be an annoying error albeit easy to solve. You simply need to enable the setting from BIOS.
Read in our full guide on how to enable the F8 button to enter Safe Mode.
Enter your BIOS by repeatedly pressing F2, Delete or Esc key, depending on your BIOS. Under Advanced settings of your BIOS, you will find the different hardware that you can disable or enable on the BIOS level.
Here locate an option called Internal Pointing Device or something similar to your touchpad. Press Enter to change its value and change it to Enabled.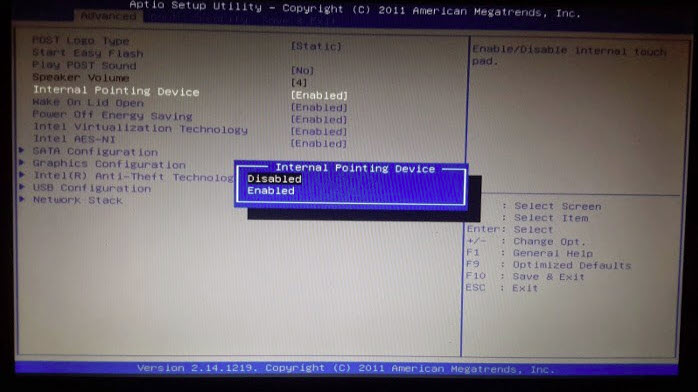 Once you boot into Windows, you will see that your laptop touchpad not working error will be solved.
Solution 5: Update Or Roll Back Device Drivers
Mice, as other hardware is also subject to device drivers mismatch. Drivers are the configuration files that facilitate the communication between your hardware and your operating system.  Drivers are very important in the proper functioning of the peripherals and other hardware connected to your device.
Mismatched drivers can cause all sorts of errors, including the trackpad not working in Windows 10.
If you have not updated your device drivers in a long time, you might try updating your drivers to solve this.
Open a Run window by pressing Win + R.
Type devmgmt.msc and press Enter to launch device manager.
Here, if there are any critical updates missing, you will see a yellow exclamation mark that is the indication that this driver needs immediate attention.
Else, click on Mice and other pointing devices. Right-click on your mouse, and select Update driver.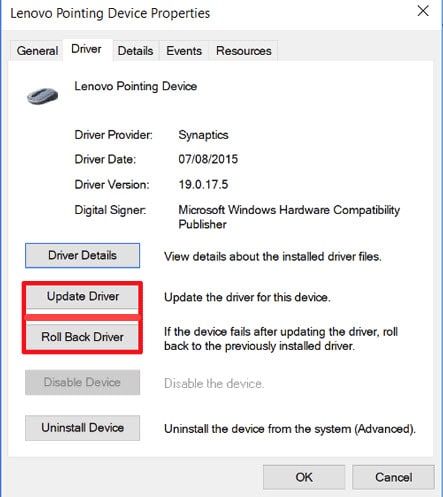 If you started seeing this error after installing a recent update, you may try selecting Rollback Driver from the Properties.
Solution 6: Uninstall Multiple Drivers
If you plugged in multiple mice to your device, there are separate drivers installed for all of them. These drivers can interfere with each other sometimes, causing the laptop trackpad not working error.
To solve this error, you need to open Device Manager just as you did in the previous solution.
Here, locate Mice and other pointing devices. Here uninstall other drivers installed for all the mice that you ever plugged into your device.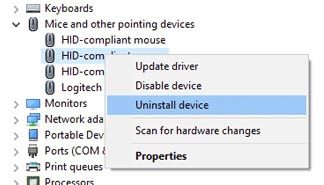 Solution 7: Enable Your Touchpad In Mouse Properties
In many cases, the device manager does not handle the enabling or disabling of your touchpad. If somehow your trackpad was disabled, you cannot enable it from the device manager.
Open your mouse settings by searching for it in the Windows search. Open the Mouse Settings search result.
In the Mouse Properties window that opens, locate your touchpad settings. It is usually under the last tab.
Ensure there is a check in the box next to Enable touchpad.
Adjust any other settings to your liking, then click Apply, then OK.
Test your touchpad to see if it is working optimally.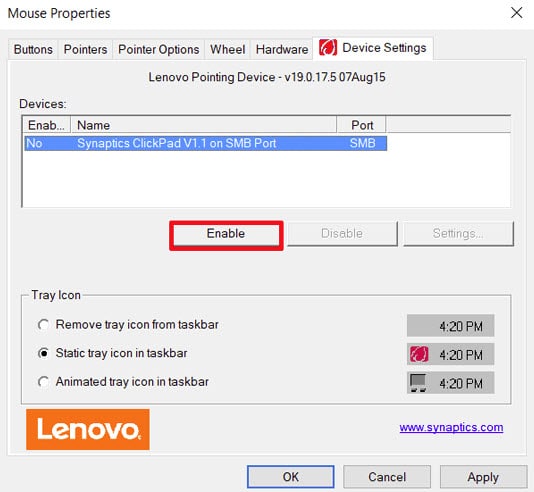 Wrapping Up
The touchpad is one of the most important parts of a laptop and is taking over the mouse as the pointing device in the laptop form factor. Now you know how to resolve the "touchpad not working" error in Windows 10. However, if this somehow fails to solve your issue, you need to take your device to a service center, as there may be something wrong with the hardware component itself.