Steam is one of the most popular online gaming store and platform available right now. It has become an important application on every gamer's PC, with it being used to buy games, share screenshots, progress and much more. When you launch a game, Steam also takes the liberty of updating your games to the latest version, so you can have uninterrupted gaming sessions.
However, if you are on a limited plan, the Steam auto updates can quickly become a burden on your bandwidth. Here I shall discuss how to stop Steam from updating games automatically.
How To Stop Steam From Updating Games?
Steam's auto update feature works conveniently for many users as the games are usually updated in the background, and you do not have to continuously check whether the updates are proceeding normally. The problem arises if your system is being bogged down due to increased resource consumption, or if you have a patchy Internet connection.
You can either stop Steam from updating games individually or prevent any sort of updates by changing the update frequency, Limiting the bandwidth, or preventing Steam from launching during startup. Let us take a deeper look into how you can stop Steam auto updates or manage the Steam resource consumption situation.
Method 1: Restrict Steam From Launching At Startup
If you do not want Steam to run the updates as soon as you start your computer, you can prevent Steam from launching itself at startup. When you manually open the Steam app, the updater will run, and all your games will be updated to the latest versions. This comes in handy specially if you do not want increased system resource usage at boot, but want your games updated as well.
To prevent Steam from running at startup, follow these steps:
Press Ctrl + Shift + Esc to launch the task manager.
Switch over to the Startup tab.
Here, locate and right click on the Steam client app.
Select Disable from the revealed context menu.
Following this, you will have to manually launch Steam app to play your games and keep them updated.
Method 2: Limit The Bandwidth
If you want to keep your apps updated but are frustrated with how much data is used in the background, Steam allows you to limit the bandwidth used to download the updates. This prevents Steam from consuming a lot of data, and you can use the freed-up bandwidth for other uses.
To limit the bandwidth used by Steam updates, follow these steps:
Open your Steam client app.
Click on the Steam option in the ribbon menu at the top.
From the drop-down menu, select Settings.
Switch to the Downloads tab.
Under the Download Restrictions section, locate the following option:
Limit Bandwidth
From the drop-down menu, select an appropriate speed and save the changes once done.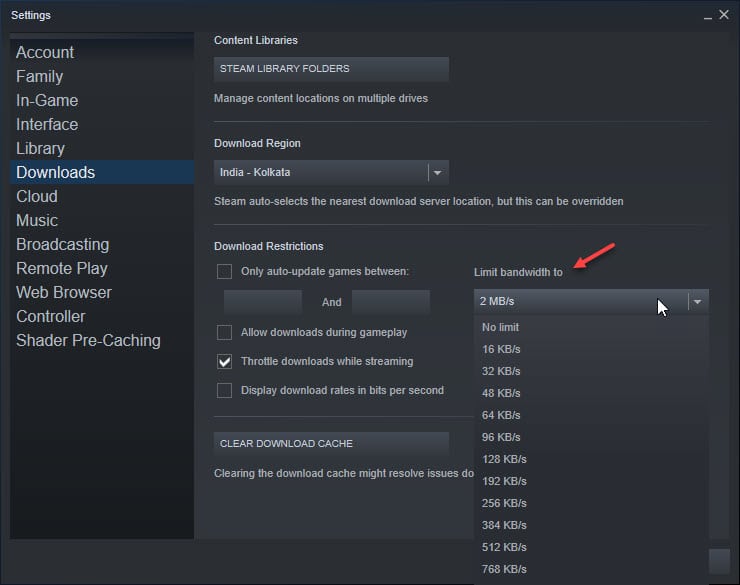 Now, Steam will not excessive bandwidth, therefore freeing up network resources.
Method 3: Change Auto Update Time
It is also possible that Steam may be slowing down your Internet connection during the work hours. If this is the case for you, you can set download restrictions to prevent the games from being updated during your active hours. This method primarily involves setting Steam restrictions to update games between a specific time period.
Follow these steps to change the auto update time:
Go to the Downloads tab by following steps 1 to 4 in Method 2 above.
Here, locate the Download Restrictions section.
Check the box next to the following option:
Only auto update games between
From the drop-down menus, select the inactive hours, or set an appropriate time when you do not use your device much.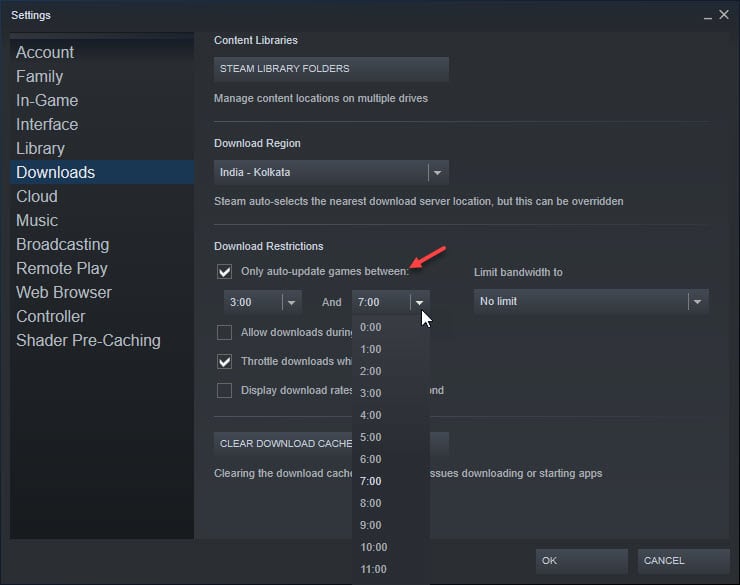 Method 4: Steam Disable Auto Update For A Game
One of the drawbacks of the Steam store is the inability to disable auto updates for multiple games at once. However, you can disable all the updates for a single game, as the options are fairly easy to access. Do note that this will become a tedious task if you have a lot of games installed from Steam.
Follow these steps to disable auto updates for a single game:
Open the Steam client app on your computer.
Switch to the Library tab from the ribbon menu at the top.
Here you will find a list of all the installed games.
Locate the game that you wanted to prevent from being updated automatically, and right click on it.
Select Properties from the context menu.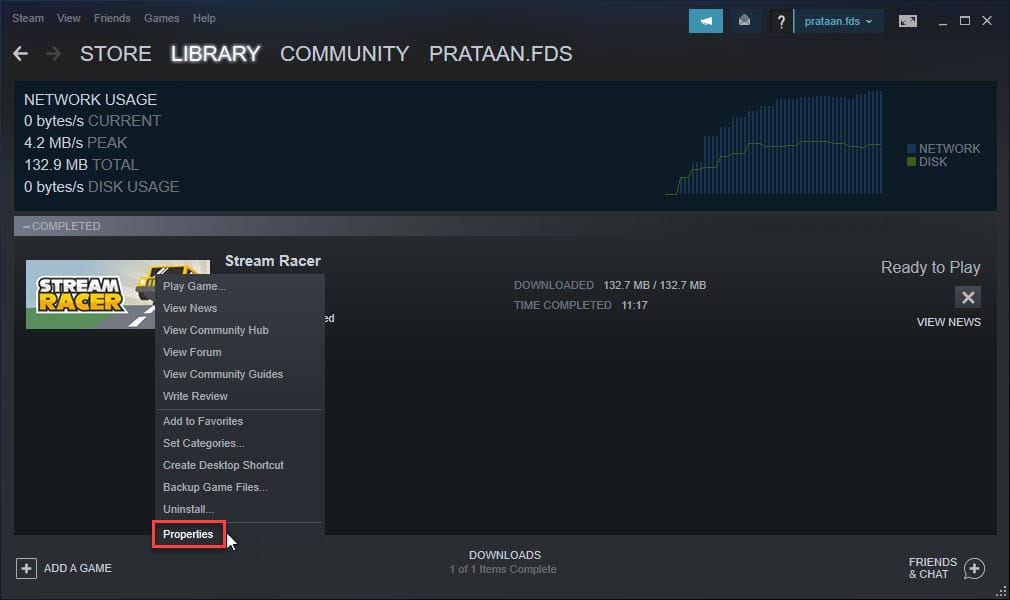 Switch over to the Updates tab.
Under the Automatic update section, you will find a drop-down menu with the options to fine tune your game updates. Here is what each setting means, so you can choose more efficiently.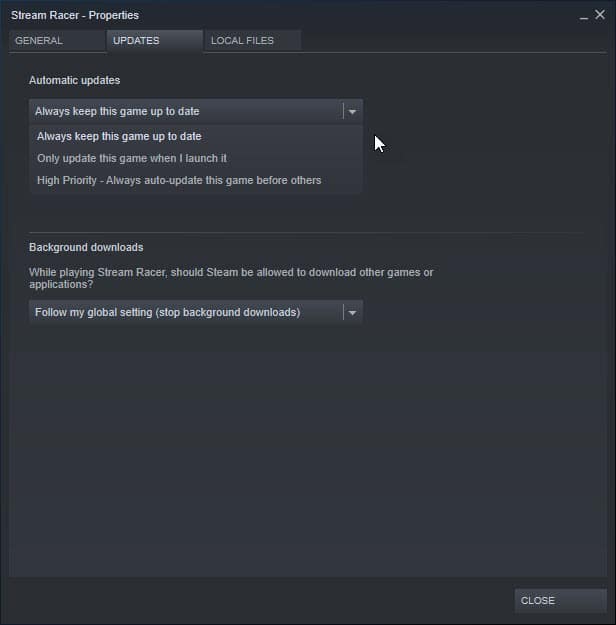 Always keep this game up to date: By default, Steam will update the selected game whenever it detects a new version and there is an active internet connection
Only update this game when I launch it: Steam will only look for updates when you launch the game.
High priority – Always auto-update this game before others: Steam prioritizes this game over the others, especially useful if you play one game more often than the others.
Select an option that suits you the most, according to your data plan and other restrictions.
Wrapping Up
There is another method that you can try, which involves changing the configuration files of the Steam app. However, it is extremely risky, as you always have a possibility of making irreparable changes that may damage the installation files. So, we do not recommend using that. Using the methods provided above, now you know how to stop Steam from updating games automatically. Did you find this useful? Comment below if you did, and to discuss further the same.