Microsoft's subscription-based service has been quite successful, with the Outlook becoming a strong contender to Google's Gmail. However, if you have used the Outlook app on Windows 10, you must have noticed some error or the other popping up every now and then within the application.
If you use Outlook regularly as your default email service app, misbehaving outlook application can be a scary thing to have. This is where outlook PST recovery tools come in handy. Let us take a look at Stellar's Outlook PST recovery tool, And see if it's worth your money and time.
What Are PST Files Anyway?
PST stands for a personal storage table, which is a file format exclusive to the Microsoft Exchange Server. Your outlook files and data, including all your emails,  messages, dates, contacts, notes, addresses and much more, are stored in a PST file.
PST files are very important for the outlook application. It is primarily used to back up or export the above-mentioned items from an outlook account. In case the application or the data gets corrupted you can also use the PST files to restore your account as if nothing happened.
PST File Corruption
One of the most common problems you will have with PST files is the size issue. With regular use, your personal storage file can become overpopulated very quickly, which can lead to the table being corrupted.
Apart from this, you can also have problems with the PST file if the outlook application or the storage drive is not shut down properly. Not only will you lose your PST and OST files, but you are also at the risk of losing all of your files stored on the drive.
A hidden Virus or malware can also corrupt the personal storage table used by outlook. Such malicious files Can also scramble your network drive if that is where you store your data.
Some of the most common outlook PST errors include the error codes 0x80040116, 0x80040119 and 0x80040600. If you see such error codes with error message Outlook PST cannot be accessed, the PST file may have become corrupted on your computer.
Why Microsoft Repair Utility May Not Be The Best Option?
Yes, Microsoft does provide an inbox repair tool along with the outlook application. However, it is a huge gamble relying on the unreliable repair tool. There have been reports of the repair utility failing to repair severely corrupted PST files, deleted items, etc.
The repair utility also fails to recover the PST files in a single run. Users have repeatedly complained about having to run the repair process over and over again until they got an inbox that was close to the state before getting corrupted.
Why Stellar Repair For Outlook?
Stellar Outlook PST File Recovery is a well-known PST repair software, built specifically to replace Microsoft's PST repair tool on your computer. With Stellar Outlook Recovery, you will never have to worry about losing your PST data ever again, as this powerful recovery tool can repair corrupted and deleted Outlook information files with relative ease.
Let us take a look at some of the things we liked, and where you may face problems while using Stellar outlook repair.
Pros
An Excellently Built UI
We love neatly designed applications. It shows that the app developers take time to think about how the user interacts with and uses the application. The Outlook Repair tool is one such a neatly designed application. The app keeps true to the popular minimal user interface, with all the options available within a few clicks.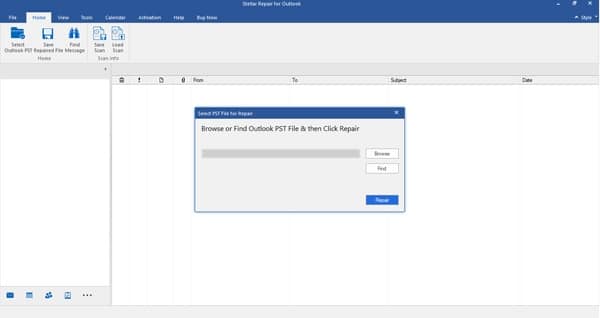 You will find the installation process extremely easy by following this installation guide.
Powerful Repair Options
The PST recovery tool is one of the most efficient ones you will find on the market. The repair tool can restore severely corrupt PST files without any size constraints. The tool is also able to recover deleted and other corrupted items into a new PST file or other file formats.
Apart from this, you can also recover Outlook data like emails, Contacts, addresses and more from encrypted or password-protected PST files. The tool also supports selective recovery, where you can choose what do you want to restore to your account. You can also save your scan results for any future reference.
Excellent Support
the software has excellent support for Microsoft Outlook 2019 and the older versions as well. The support also extends do the recovery file formats, where you can recover your data in not only the PST format but other file formats as well as EML, MSG, HTML, RTF and more.
You can run the software on any version of Windows if your device needs the minimum system requirements. The official support page says you can install the tool on Windows 10, 8.1, 7 and Vista.
Here is the simple and effective user guide for the app.
Cons
here are some of the things you need to keep in mind before you take a look at Stellar Repair For Outlook.
Performance
While there is excellent support for different operating systems, there is a noticeable hiccup have when it comes to older devices. when we tried running the app on an older system with a slower processor the app took two tries to finish the installation, and two more tries to run scans.
When it comes to repairing larger PST files you may end up requiring a powerful system, as we saw the performance drop significantly over time. file recovery is an extensive task, but while trying to recover a large 30 GB PST file, we saw constant full RAM and CPU usage.
You need to keep this in mind If you plan on running this tool on slower or older devices.
Cannot Directly Export To Office 365
We use Office 365 extensively. One of the features that we missed the most was being unable to export our recovered PST files directly to Office 365. Yes, this feature is available on the professional and technician versions of the app, but they are too costly for personal use and are more suited on corporate systems.
Another thing you may miss is the inability to convert offline OST files to PST files on any version of outlook.
Should You Get Stellar Outlook Recovery Tool?
The basic Professional version costs $99- for a lifetime license, while the Technician and Toolkit versions retail for $249- and $299- only. At that cost, it comes down to how extensively you use the Outlook application in your day to day usage.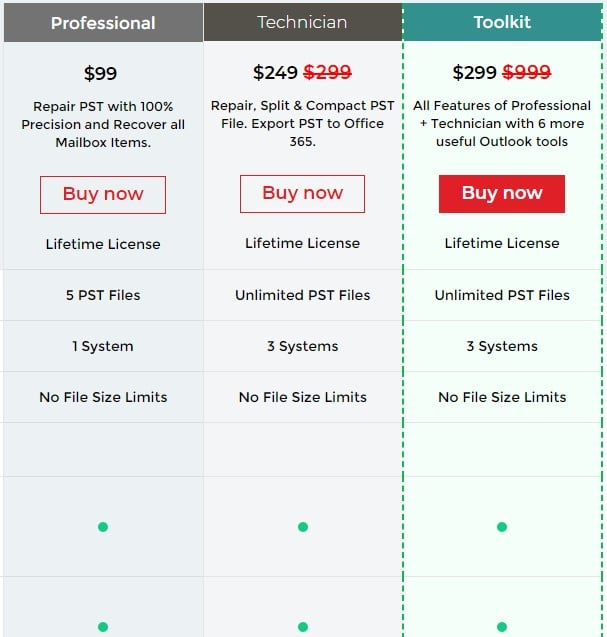 If you do plan on investing in an outlook recovery tool, do check out Stellar Repair For Outlook as it is definitely feature-packed and reliable. What is your favorite Stellar Repair feature? Tell us your thoughts in the comments below.