Many users prefer to chat while gaming in Steam. But sometimes you may experience that Steam is unable to upload images. When a user tries to send images through Steam chat, it shows that Steam failed to start the upload. Even, sometimes Steam doesn't allow you to upload a profile picture.
There are several ways to fix this issue. if you are facing similar errors, try them to know which one is causing your Steam image failed to upload.
How To Fix Steam Image Failed To Upload?
You can try a few changes in the settings or disable anti-malware in your computer that may help you to resolve the error. The fixes are discussed below. Read one by one and apply them carefully.
Solution 1: Run Steam As An Administrator
The first solution is to run Steam as administrator. To do that, follow these steps:
You should exit Steam and stop all Steam related processes running on your system from the task manager.
After you end all processes related to Steam, go to Start icon and type Steam in the search bar.
Look for the Steam from the search result and right-click on it.
Select Run as Administrator option.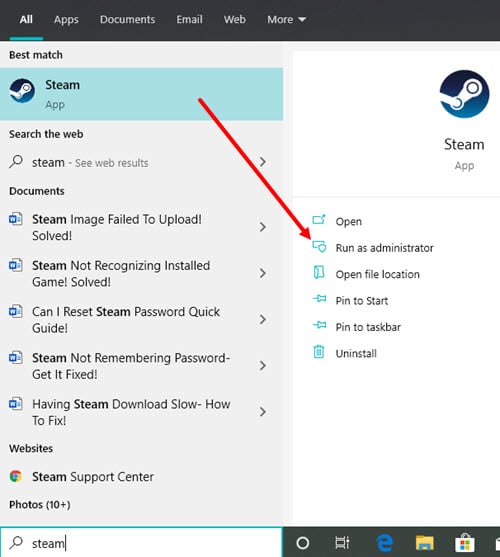 The Steam will open as administrator. Open chat and try uploading images.
Now check for any improvement after opening Steam as administrator. If there is no improvement, apply the next solution.
Solution 2: Log Out And Log Back Into Steam
This process worked for a lot of users to fix the Steam failed to load image. You should try to log out from the Steam account and again log in to ensure if it works for you. To do so, follow the steps below:
At first, launch Steam.
You can see your name at the top right corner of the application. Click on the profile name.
Now there will be an option to log out of account. Click on it.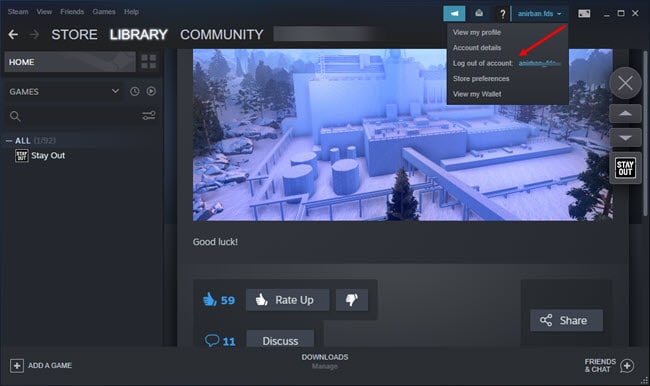 After logging out, exit Steam.
Relaunch the application and the login window will appear.
Log in using your username and password.
Now, try to send images again after opening the Steam chat.
Now check if Steam image failed to upload error persists.
Solution 3: Use Steam Web Client
If you find that the error still happens, it might be due to some problem with your Steam desktop client. You should check using the web client as well.
To start with the web client, you need to log in first.
After logging in using the credentials, click on the Chat option to open the Steam chat window.
Now send an image to your contact to check if this solution really worked for you.
If you are able to send an image using the web client, this means that there is an error in the desktop app. If this is the case for you as well, here are some solutions that you can try to fix the application.
Solution 4: Check For Steam Update
Sometimes outdated applications may misbehave, leading to such an error. To check for any existing update, follow these steps:
To check for the latest update, you need to launch the Steam application first.
Then click on the Steam option at the top left corner.
Select 'Check for Steam client Updates' option.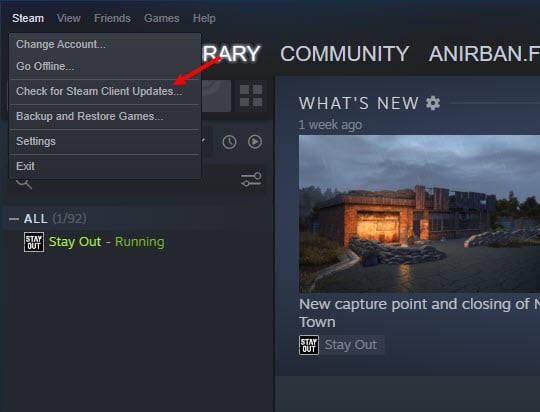 Your computer will search for any pending update and will install it automatically.
After the update is completed, check if the problem is resolved.
If you don't have any pending updates, try the next solutions below.
Solution 5: Disable Firewall And Antivirus
Sometimes firewall protection does not allow Steam to upload images. It blocks the network access, which may result in Steam failed to upload image error. You should try to upload images after turning off the firewall service from the system settings. If you don't know how to disable the firewall, follow the steps below:
Click on the Start icon and type Settings in the search bar.
Select the Settings app from the search result.
Now go to the Update and Security option and click on it.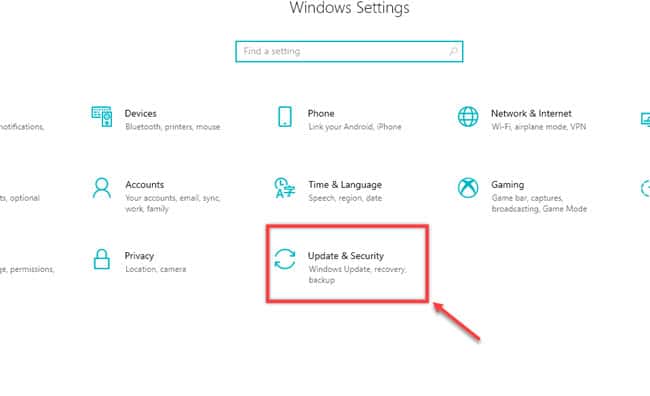 Select the Windows Security option from the left pane.
Find the Firewall and network protection option and click on it.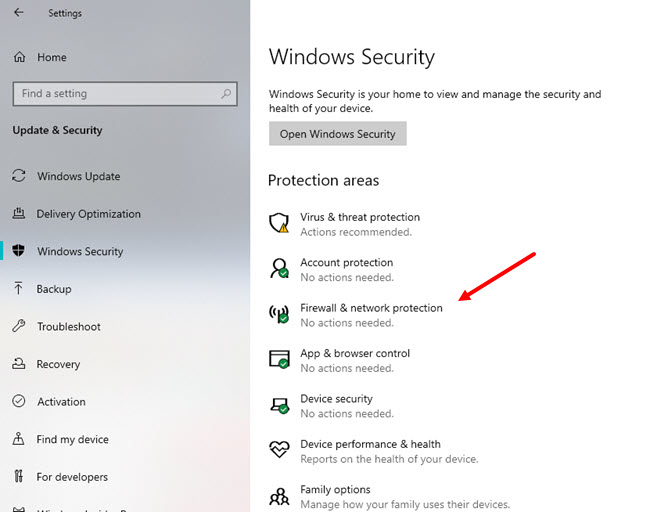 Finally, select your network and turn off the Windows Firewall toggle.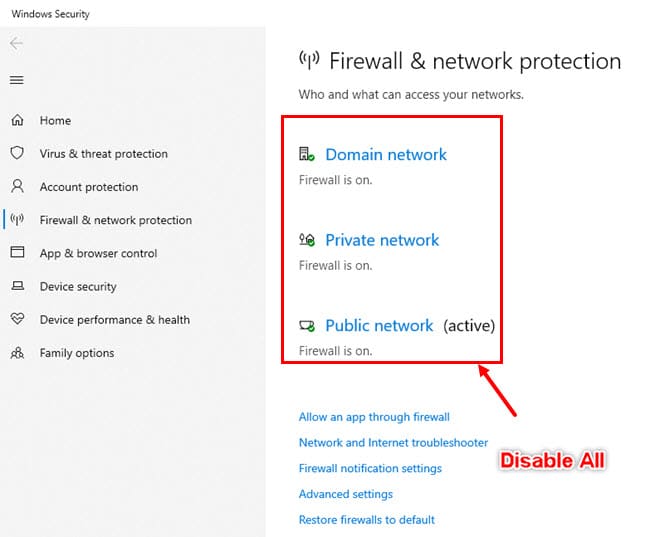 After disabling the Windows Firewall, launch the Steam app and try sending images to check if the problem is resolved. Follow the steps in this article to add Steam to Firewall exceptions.
If you are using any antivirus software, it might block connection to the Steam server and result in the Steam image failed to upload error. You should also try disabling your antivirus temporarily along with the firewall to get rid of this error.
Solution 6: Make Compact Friends List & Chat View Option Off
Steam has another option called 'Compact friends list and chat view' to offer you better gaming experience along with chat at the same time. This option remains disabled by default. But if you have enabled it, it may cause you to encounter the Steam profile picture won't upload error for certain reasons.
You should disable this feature again to fix this issue by following the steps provided below:
You need to launch the Steam app and log in if not done already.
Now, click on the 'Friends and Chat' option at the bottom right corner.
You can see the settings icon on the right side of the window. Click on it.
Now go to the 'Size and Scaling' tab in the settings window.
You will find another option named 'Compact friends list and chat view' with a toggle key next to it.
Make sure to disable this option if already enabled.

Close the settings window and exit the Steam app.
Relaunch the app and try to upload the image to ensure that the problem is removed.
Keep on reading the next solutions if the problem still continues.
Solution 7: Use Third-Party Voice Chat Software
If your problem is still not resolved, then you should try installing some third-party chatting apps to continue voice or text chat while gaming. There are some popular third-party chatting apps available in the market and being used by a large number of gamers worldwide. Install one of them and start chatting without error.
Also read best voice changer for Windows to know about few top voice changing applications with extraordinary features. You can download any of them using the download links provided.
You may also try to upload images to a public image hosting site and share the image link via chat when you need to. This process will eliminate the need for using the image upload feature in the Steam application directly.
Conclusion
Now you know what the reasons behind the Steam image failed to upload error are and how to resolve this problem. Comment below and let us know which one of the provided solutions worked for you. If you still have queries regarding the Steam profile picture won't upload error, feel free to ask here.