With web browsers becoming an integral part of how we interact with computers, an all round Solution like Google Chrome has become extremely popular with the users. Not only do we use web browsers to send emails and communicate with others, the web apps have taken over the productivity suite as well.
When you are writing a piece, correct spelling and grammar is not only a sign of your education, it is also general courtesy. A well spelled piece is easier for the recipient to read, there are better chances off the message being communicated effectively.
If you use Google Chrome for writing anything in your day to day life, here I shall discuss everything you need to know about spell check on Google Chrome.
Spell Checking In Chrome; Easy Method
Using the spell checker In Google Chrome is very similar to how you perform a spell check in your text editor. If enabled (follow below to check how to enable), you will notice Google Chrome providing suggestions in real time as you write.
Right click on the marked word to find the suggestions from Google. Click on the appropriate spelling to write a piece without any spelling errors.

Tip: Since Google uses the prediction engine to provide correct spellings, there may be instances you come across then the spellings may be wrong or that the engine has incorrectly interpreted how you wished to spell the word. Make sure that you have enabled 'Ask Google for suggestions' from the context menu for the solutions to get better as you keep interacting with the service
Ignoring Names And Terms
if you wish that the browser stops highlighting a particular word such as a name or a technical term, have simply right click on the highlight and select Add to dictionary option from the context menu.
Spell Check On Google Chrome
There is a built-in spell checker in Chrome, that helps the writer while interacting with the browser. The spell checker is set in the default language of the operating system, But you can add and switch between multiple languages using the Chrome dictionary settings.
The spell checker in Chrome also has an advanced setting, there the created content is tallied using Google servers. While this may be concerning to some people, you can use this setting for better search results when writing your piece.
Setting Up Spell Checking In Google Chrome
To toggle the spell checker in Google Chrome, follow these steps:
Open Google Chrome on your computer, and click on the hamburger menu in the top right corner of your browser.
From the context menu that appears, click on Settings.
At the very bottom, click on the Advanced button to expand advanced options.
Under the Languages section, Click to expand Spell check.
Here turn on the toggle next to the language in which you wish to enable spell check.
Click on the custom spelling button to change Chrome dictionary settings. In this section, you can add custom spellings 2 Google default dictionary, which will be used the next time you write something. This is exceptionally useful 4 adding local names and technical terms which would otherwise not be recognized by the browser.
Setting Up Advanced Spell Checking
The advanced spell check in Google Chrome is actually situated in the security section of the browser. To access this setting, closely follow these steps:
Open the Advanced Settings page as mentioned in the section above.
Under the Privacy and security section, click on Sync and Google
Add the very bottom of this section, turn on the toggle next to the following option:
Enhanced spell check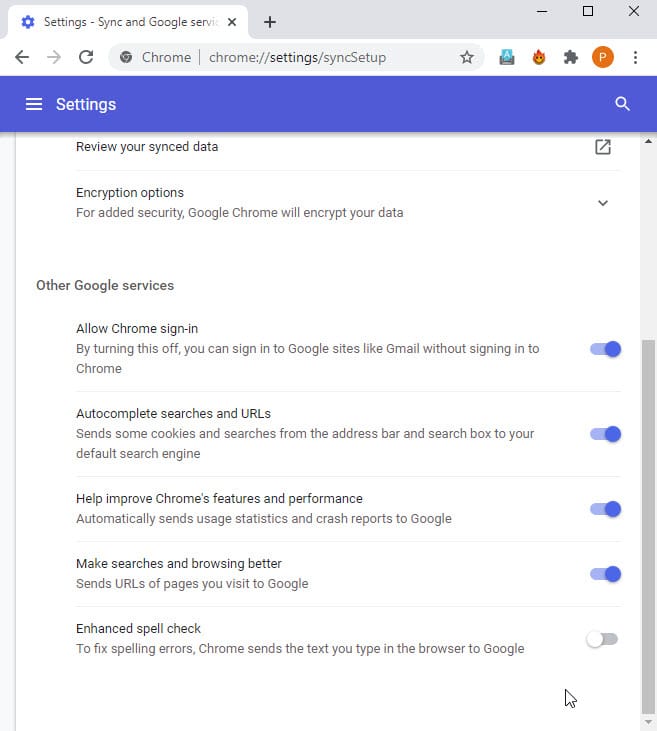 Adding Additional Languages Do The Spell Checker:
If you are from an area where you require the need to install another language,  you can add multiple languages to Chrome dictionary settings very easily, using the options provided below:
Open the languages section as shown in Step 4 above.
Click on the language menu to expand it.
Click on Add languages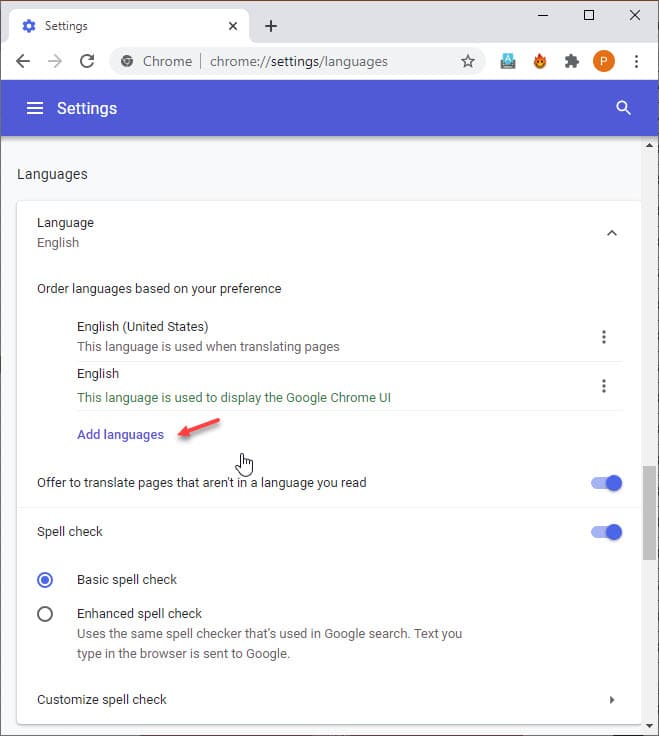 This will open a dialogue box with all the languages available that you can add to Google Chrome. Scrub through the list and check the box next to your preferred language that you wish to add To Google Chrome dictionary. Once you have selected all the languages, click on Add button to add the additional languages to the spell checker.
Once you have added additional languages to Chrome dictionary, simply follow the method above to set up spell checker In Google Chrome.
Additional Options For Spell Check On Google Chrome
Although the built in spell check feature is quite strong and useful for most of the users, sometimes you may be left wanting more. For this, you can use third party extensions during hands the way the browser behaves. Let us take a look at some of the best spellcheckers in Chrome extension library.
1.    Grammarly
Grammarly is one of the most popular writing assistant tool, available for Windows, macos and web browsers. Similar to how Chrome's spell check works, the Grammarly spell checker also works in almost every text field, showing you suggestions for correct spellings, grammar corrections, writing style and much more.
With the paid premium plans, you can also get access to additional features such as Premium suggestions, plagiarism detection, readability, and many more enhancement suggestions which will help your text better.
If you primarily only use English on your browser, Grammarly is one of the best free spell checkers available For Google Chrome.
Visit Grammarly.
2.    Grammar And Spell Checker Extension
With support for more than 25 languages, Languagetool's grammar and spell checker extension is one of the best spell checker options in Chrome if you want support for multiple languages. You do not need the register and account if you wish to use this extension on your browser.
The free plan allows you to check 20,000 characters at a go, which can be expanded with the premium and enterprise plans. Displayed plans also bring in additional features and API access, Along with encrypted connections for the handling of the data while using the service.
Visit Grammar And Spell Checker
Wrapping Up
So there you have it. Now you know how to access spell check on google Chrome and some additional methods to get next corrections in your web browser. Comment below if you found this useful, and to discuss further the same.