Windows 10 is one of the most popular choice of operating systems in the PC environment. It was released in 2015, and with the official support for Windows 7 ending in January 2020, more and more users are shifting to Windows 10. However, it is not perfect by any means.
Microsoft understands that Windows 10 is filled with bugs and included many troubleshooters within it for the same. The Disk checker is used to check the disk for any bad sectors and other disk faults. However, some users have reported that the Scanning and repairing drive is stuck on their system.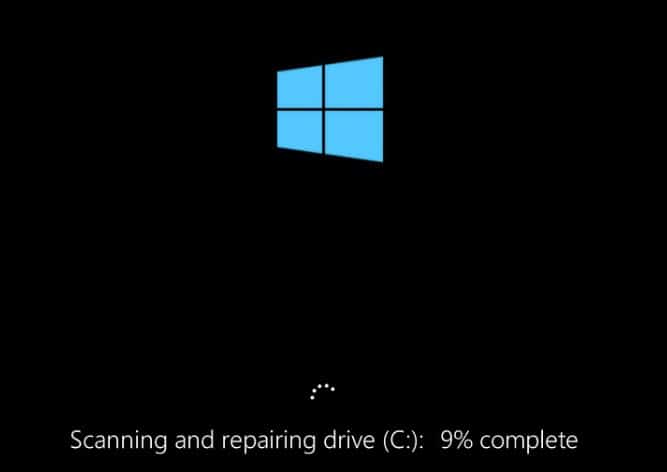 How To Solve Is Windows 10 Scanning And Repairing Drive Is Stuck?
When the drive scanner is stuck, you will see your booting frozen, and the Scanning and repairing drive message. This makes booting into your PC take a long time, and some users say that they cannot get into Windows 10 at all. This can be very annoying, and here I shall discuss what you should do if you see Scanning and repairing drive stuck on your system.
Solution 1: Take A Break
One of the safest things you can do is to wait and let the scanner finish checking your device for errors. The drive scan takes a lot of time to complete, as all the sectors on your drive will be checked for any broken sectors or disk faults.
Take a break and let the scan complete. If possible, leave the scan to complete overnight, and you might see your computer booted into Windows the next morning.
Solution 2: Check For Any Connection Errors
There is a chance that if you recently moved your PC around your house, there might be a connection problem within your computer. In situations like these, you can see the Windows 10 scanning and repairing drive being stuck on your system.
Check the physical connection between your computer internals, like your motherboard and your hard disk. if there was a connection error that was preventing the completion of the scan, this should now fix the error and the scan should complete relatively quicker.
Solution 3: Cancel The Disk Scan
You might have already been aware of the fact that you can cancel the automatic disk checking even if the disk check has already started. This simple trick has been present from the earlier versions of the Windows operating system. Simply follow these steps:
If you are already at the Scanning and repairing drive screen, you need to turn off your computer again. Use the power button to turn off your Windows 10 device.
Turn on your computer again by pressing the power key. You shall see the 'Preparing Automatic Repair' screen followed by 'Diagnosing your PC'.
Before the desk checking starts, press any key on your keyboard repeatedly to cancel the disk checking.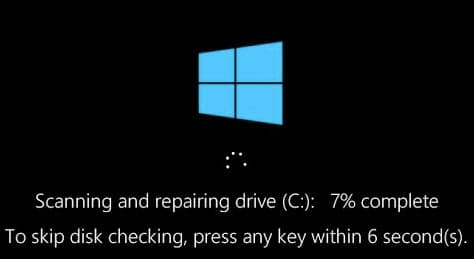 Solution 4: Check Disk For Bad Sectors In Safe Mode
If the solutions above did not help you, there might be a bad sector on your disk which is causing the scanning and repairing drive C stuck at boot. In these situations, you need to run a chkdsk command in the safe mode.
To boot into safe mode and run a disk check command, follow these steps:
Press the power button to turn on your computer and wait until the logo appears, then press and hold the power button to turn off your PC.
Repeat this three times. Your PC should now boot into Windows Recovery Environment.
Next, click and follow this path:
Troubleshoot > Advanced options > Startup Settings > Restart
In the page that opens, press F4 or F5 to go into Safe mode, or Safe mode with networking respectively.
Next, open a command prompt window. To do so, open a Run dialog by pressing Win + R, type cmd and press Enter.
Type the following command to initiate the disk checker:
chkdsk C:/f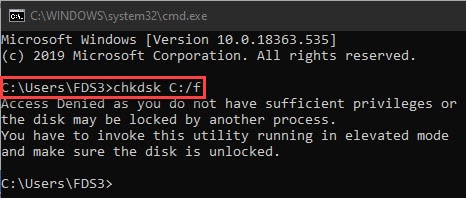 Next, you will receive a message asking you to schedule the scan for the next time the system restarts. Type Y and press enter.
Restart your computer, and let the disk scan complete.
In safe mode, all the third-party applications are disabled, so Windows 10 can check for any impending errors without any interference from any external app or setting.
Solution 5: Disable Disk Checker At Boot
If there is nothing wrong with the hard disk, you can turn off disk checking at boot by slightly modifying the registry. Simply follow these steps:
Boot your computer into safe mode as mentioned in the steps above.
Open a Run dialog by pressing Win + R.
Type regedit and press Enter to launch the Registry editor. Click on Yes in the User Account Control prompt.
Navigate to the following location by pasting the path in the address bar of the Registry editor:
Computer\HKEY_LOCAL_MACHINE\SYSTEM\CurrentControlSet\Control\Session Manager
Locate and double click to modify BootExecute multi-string value.
In the pop-up window, change the Value data to the following:
autocheck autochk /k:C *
Click on OK to save the changes.
Reboot your computer.
This should disable the scanning and repairing drive stuck error on your Windows 10 device.
Solution 6: Run An SFC Scan Or System Restore
If none of the solutions above helped you, there might be something wrong with your system files. As reported by many users, corrupt or missing system files can lead to Windows 10 scanning and repairing drive error.
You can begin the troubleshooting by running an SFC scan, about which you can learn in our article that will help you solve broken system files. If this does not find any errors or repair your device, you need to perform a system restore to take your device back to a state where it was performing normally.
You can access the System Restore menu from the System Properties window, which can be accesses by typing sysdm.cpl and pressing Enter in a Run dialog.
Wrapping Up
So there you have it. Now you know how to act upon if you see Windows 10 scanning and repairing drive stuck at 0%, 10%, etc. Tell us in the comments which solution helped you solve the error on your device.