If Rainmeter not opening then make sure that there may be some corruption in the system files.
The corrupted files may be a result of some improper deletion of certain files or applications, incomplete installation, some malware attack, and so on.
You may fix the error manually and automatically but need to follow certain steps minutely.
Why Is Rainmeter Not Opening?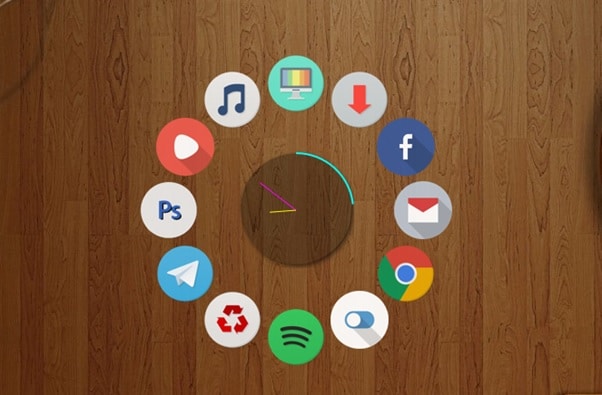 You may have downloaded some preferable skins but fail to open that and encounter Rainmeter not opening issue.
Some users have claimed that the Rainmeter crashes on startup.
Even after installing the latest version, they failed to check the error. There are some steady solutions that I am going to discuss through this article to resolve the issue.
One straightforward solution is to delete the problematic skin and then clear the Rainmeter Settings cache.
You may also choose to uninstall the Rainmeter folder and get installed a fresh one.
There are further tweaks to help you sort out the issue which we are going to check in detail now. 
How To Solve Rainmeter Not Opening Or Crashing On Startup?
If Rainmeter keeps crashing continuously and you have no idea how to fix it, here I am suggesting few methods that works and can give you a steady solution. 
Process 1: Remove The Malicious Skin
When you find that your Rainmeter won't open after repeated efforts just remove the bugged Rainmeter skin.
Try and remember the last skin you have loaded, and this may be the root cause. So it will be wise to delete that skin from your system.
Follow the method mentioned below to do so:
Step 1:  Go to your File Explorer and then go to the Documents section to locate the Rainmeter folder.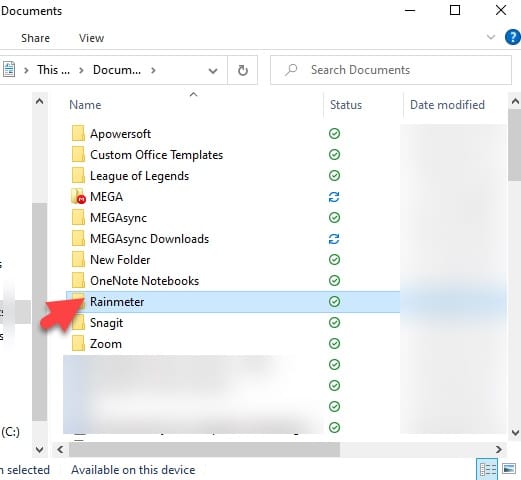 Step 2: Now click on the folder and find your particular Rainmeter skin. If you are having many Rainmeter skins, then find it in the Rainmeter folder and then navigate to find the particular bugged skin.
Step 3: Right-click on the skin and select the Delete option.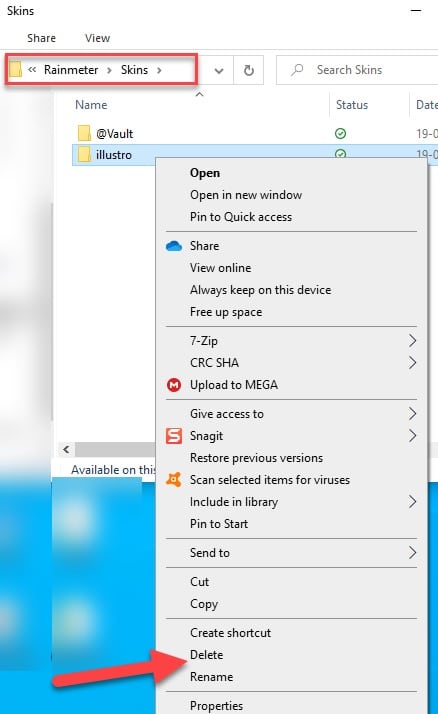 This is going to wipe away the bugged Rainmeter skin from your system.
Step 4: After the process give your Rainmeter and computer afresh restart.
Process 2: Clear Settings Cache
Clearing Rainmeter settings cache when you encounter Rainmeter not working Windows 10 issue. This method is going to reset the layout of the skins.
As this method is going to keep all the downloaded skins intact, you will have to check the malicious skin later.
Follow the steps as I have mentioned below:
Step 1: Open your file explorer and then find the Roaming/Rainmeter Folder.
Step 2: Look for the particular Rainmeter.ini file and then delete it.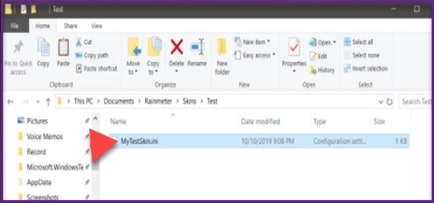 Step 3: Give your Rainmeter a fresh restart. Now the default illustro skin will get loaded.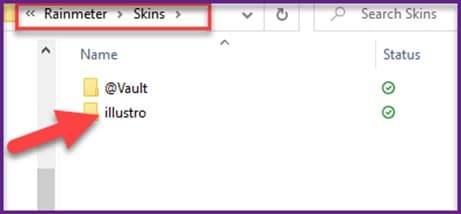 Step 4: You can now load the skins you want. Remember to load them one at a time so that you can check which Rainmeter keeps crashing.
When you identify the problematic skin you may delete it from your system following the method I have described in process 1.
Process 3: Clean Uninstall Rainmeter
If after multiple attempts the Rainmeter not opening for you, and misbehaving, then I would suggest to uninstall it from your system.
There may be some system file corruption while restoring Rainmeter from some backup of another Computer or operating system.
So, a clean Rainmeter uninstalls will be a good option for you.
Before you proceed with the uninstallation process, I will recommend copying the skins you want to save in your c drive under the Rainmeters' skins folder and also check the files under Roaming/Rainmeter/Plugins.
Step 1:  First of all, exit Rainmeter and then get a fresh copy from the trusted website.
Step 2: Now go to System settings for add or remove programs and then uninstall the Rainmeter.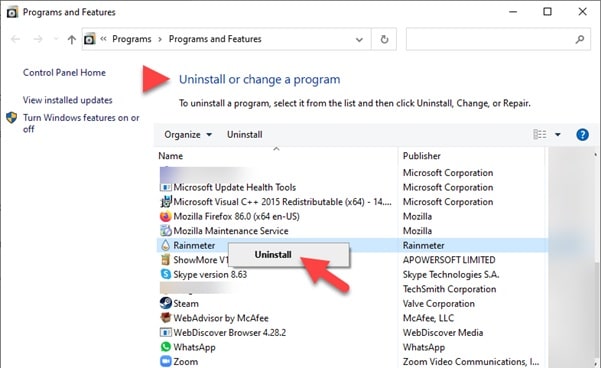 This way some traces of Rainmeter will still be left behind. They got added during the initial installation process.
So, make sure to follow the steps mentioned below to wipe away any trace left behind.
Step 3: Navigate to your default drive C and then open the Program Files.
Now locate the Rainmeter folder and under the Skins folder from Users\Your name\Documents, find Rainmeter.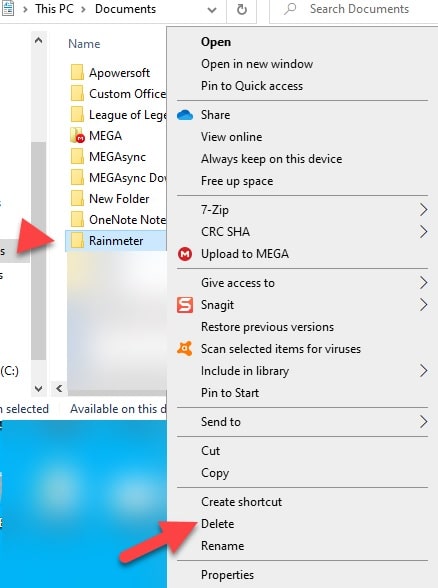 Next check Appdata\Roaming\Rainmeter path.
Step 4:  Delete all the folders and then check the windows start-up folder:
C:\Users\YourName\AppData\Roaming\Microsoft\Windows\Start Menu\Programs\Startup.
Step 5: After deleting the folders, give your Computer a fresh restart and then install the Rainmeter freshly.
Check that now the Rainmeter is not giving you further trouble after loading the illustro suite by default.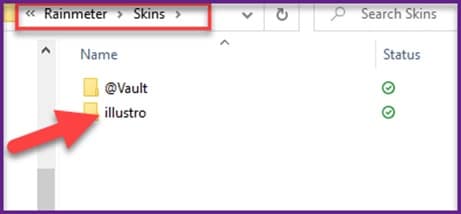 If you find that the Rainmeter crashes on start-up problem is getting repeated, copy the plug-ins and skins and check which one is creating the issue.
So, this way you will be able to identify the plugin or the skin as the culprit. 
Process 4: Set Rainmeter To Run On Startup
Follow these two ways to fix the Rainmeter crashes on Startup error.
Automated Solution –
Step 1: Download the Rainmeter Startup repair utility and then install the program.
Step 2: Click on the scan option and then Press the Fix errors option after the scan gets completed.
Step 3: Give your Computer a fresh restart.
Advanced Solution –
Step 1: After starting your Computer sign in allowing administrative privileges and then go to the Start Menu.
Step 2: Choose The System Tools to find System Restore.
Step 3: Now select Restore My Computer to an earlier time and then click on the Next button.
Step 4: Now choose the current system restore point and hit the next button.
After the restoration is done, give your system a fresh restart. Hope that this is going to solve the issue. 
Concluding
So, I hope by now, you are able to find out how to solve Rainmeter not opening error from the given article.
If you still have queries, please intimate us in the comments section provided below.
Feel free to shoot us a mail with your ideas or suggestions. We always look forward to hearing back from you.