Many users have reported that on their new Windows 10 devices, when they are using some application, they face an error where the application randomly minimizes to the taskbar, and the program won't maximize from taskbar. This is a problem that many users have faced during using Windows 10, and here I shall discuss how you can solve this on your device.
Why Windows Keep Minimizing Themselves In Windows 10?
If you can't maximize window in Windows 10 as well, you may be wondering what may be causing this error on your device. There are many reasons why you may be facing this error.
Your error is most likely being caused by a hidden malware or virus. These hidden malicious apps can launch other apps on top of your application, forcing your apps to minimize and minimize stuck on screen.
A built in feature called tablet mode is another potential cause for this error as reported by many users.
Some missing system components can also prevent your application from maximizing from the taskbar, which can quickly become very annoying.
How To Solve If Program Won't Maximize From Taskbar In Windows 10?
If the windows keep minimizing themselves on Windows 10, this can become very annoying very quickly. Here are some of the simple ways which you can follow to solve the error on your device.
Solution 1: Run A Malware Scan
Many computer issues are caused by hidden malware and virus that hamper your experience with your device. You need to get rid of these viruses to stop "windows keep minimizing themselves in Windows 10" error on your device.
You can choose from a variety of free antiviruses like Avast Free Antivirus and anti-malware programs like Malwarebytes Free in order to tackle this issue. Run a full scan of your PC and then try running your games.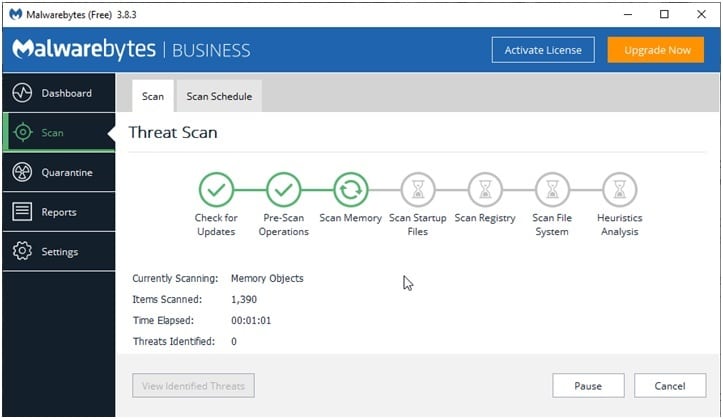 Solution 2: Turn Off Tablet Mode
Tablet mode (or Continuum) was a feature introduced in Windows 10 and was designed as a bridge between PC and tablets. When the tablet mode is enabled, all modern apps open in full screen mode, sometimes causing the main program window to be automatically minimized if you open a sub window in it.
This is one of the most common reasons why you may be seeing the program won't maximize from taskbar in Windows 10 errors on your device. To solve this error, all you need to do is turn of the tablet mode in Windows 10.
You can turn off tablet mode right from the action center. There should be a quick toggle for the same in the action center, which lets you turn tablet mode on Windows 10 on or off.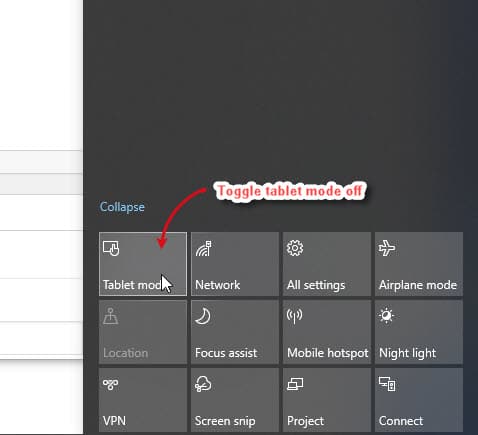 Alternatively, you can also do so from the settings app (use keyboard shortcut Win + I). You will find the settings under Settings > System> Tablet mode.
Solution 3: Open Windows In Clean Boot State
When you open your machine in the clean boot state, only the set of pre-selected minimal set of drivers and startup programs are launched. Clean boot troubleshooting is designed to isolate the performance problem, abnd can help you diagnose if some software is causing the error on your device.
To boot Windows 10 into clean boot state, follow these steps:
Open a Run window by pressing Win + R.
Type msconfig and press Enter to launch the System Configuration
Under the General tab, click the radio button next to Selective Startup.
Clear the Load Startup Items check box, and ensure that Load System Services and Use Original boot configuration are checked.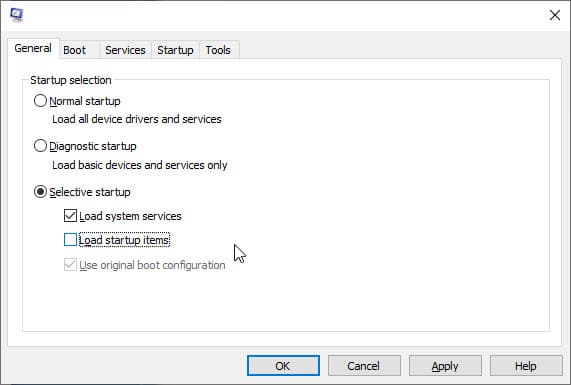 Next, go to the Services
Select the Hide All Microsoft Services check box.
Now click Disable all.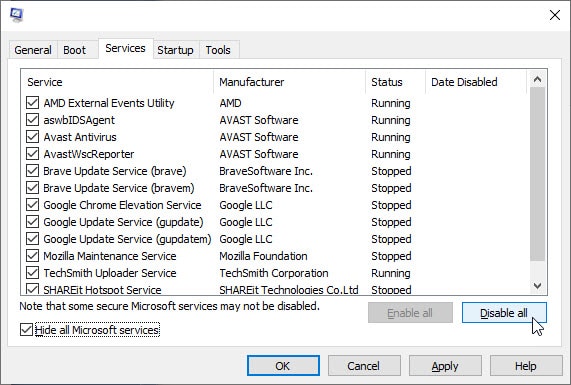 Click Apply/OK and restart the computer.
This will put Windows into a Clean Boot State. Now try to pinpoint which application or setting is causing the error on your device. Once you properly identify the culprit, you can disable the setting, or remove the application from your computer.
Solution 4: Perform DISM And SFC Scans In Safe Mode
The Deployment Image Servicing and Management tool and the System File checker scans are used to check for and repair any missing system files. If you see that a program won't maximize from taskbar in Windows 10, you can try running these scans in case any system file may be corrupt or missing.
To boot into safe mode, in start menu, press the shift key while you click on the restart option. This is boot you into Advanced options, go to Troubleshoot > Startup Settings > Restart > Enable Safe Mode with Command Prompt.
Note: DISM and SFC scans use the Windows Update to replace the corrupted files. If your Update Client is already broken, you may use a Windows installation disc as a backup repair source. You have to use a different command which will be listed below.
Caution: Do not interrupt the scans until the verification is complete. The scans do take time, but interrupting the scans may break your system.
Open an elevated command prompt. Search cmd in search and select Run as Administrator from the right-click menu.
Type the following command and press Enter:
DISM.exe /Online /Cleanup-image /Restorehealth

If you are using a repair disc or other removable media, you need to use a different command. The command for this is:
DISM.exe /Online /Cleanup-Image /RestoreHealth /Source:C:\RepairSource\Windows/LimitAccess

Note: You have to replace C:\RepairSource\Windows with the location path of your repair source. You can find this path in the address bar of the drive.
After this scan finishes, you need to run an SFC scan. In the same elevated CMD, write the following command to run a System File Checker (SFC) scan and press Enter.
sfc /scannow

After the scan finishes the problem should be resolved. If there are some corrupt files, the scan will show results as a message.
Wrapping Up
So there you have it. Now you know how to solve an error if the program won't maximize from taskbar in Windows 10. Did you find this useful? Comment below if you did, and to discuss further the same.