Microsoft's productivity suite is probably one of the most popular sets of applications available for the desktop environment. With each iteration, the apps gain new features and a visual overhaul. PowerPoint too got new features, like one that allowed users to add multimedia files to the slides.
However, sometimes users simply cannot load their media files, and users get an error message saying codec unavailable in PowerPoint. Here, I shall discuss how you can troubleshoot if PowerPoint cannot play media on your device.

What To Do If PowerPoint Cannot Play Media?
Although PowerPoint is very capable of handling several types of audio and video formats, it does not support all the formats. One of the most popular reasons as reported by users is that users tried adding unsupported formats to their presentations.
Solution 1: Check Compatibility Using File Tab
In the recent versions of Microsoft PowerPoint, there is a compatibility checker utility that can be used to determine the features that will not be supported in earlier versions of the application. To find compatibility issues, follow these steps:
Open your PowerPoint presentation and click on the File tab in the ribbon menu.
From the options, click on Info.
In the right pane, you will see the complete information regarding the PowerPoint presentation that you created.
Here, click on the Check for Issues button next to the Inspect Presentation button.
Click on Check Compatibility from the drop-down menu that appears.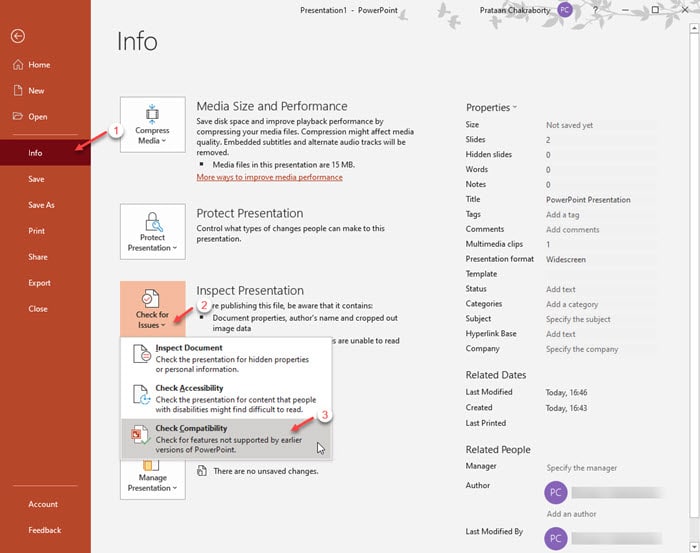 PowerPoint Compatibility Checker will look for any inconsistencies with the compatibility of the media files on your presentation and will provide you a report for the same. Check the report for any unsupported media types, and make changes accordingly.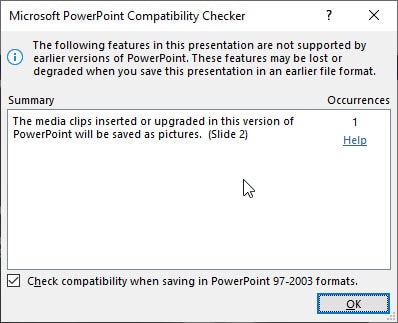 Solution 2: Install Recommended Codecs
Codecs are computer programs that were originally used to convert audio between analog and digital sound. It is now also used to compress a large video or audio file so that it can be transferred over the internet. They are very important tools for optimizing media playback across devices.
You may be seeing the PowerPoint codec unavailable error due to an important codec not being installed on your computer. The video won't play in PowerPoint unless you have the correct codecs installed for the media type. Usually, codecs are automatically installed alongside media players, however, you can install them manually as well.
If you are unsure what codec packs you require, begin by installing the K-lite pack and the K-lite Mega codec pack.
Read more about Windows Media Codecs here.
Solution 3: Convert The Media Files
Like it was mentioned earlier, Microsoft PowerPoint does not support all the multimedia formats out there. PowerPoint 2010 supports and highly recommends .wav (audio) and .wmv (video). Meanwhile PowerPoint 2016 and above saw the inclusion of .m4a files encoded with AAC audio, and .mp4 files encoded with the H.264 video.
If the media file that you are using is not in the formats presented above, you will need to convert the media files. You can use a host of online converters present over the internet, or use a dedicated app like WonderFox Video Converter (Read our review here) if you often convert videos
Solution 4: Clear Temporary Files
The temp folder holds the temporary cache files, which are necessary for optimizing the loading speeds of the applications on your computer. If none of the solutions above helped you, try clearing the temp folder to refresh your device.
Follow these steps for the same:
Open a Run dialog by pressing Windows + R
Type %temp% in the input field and press Enter.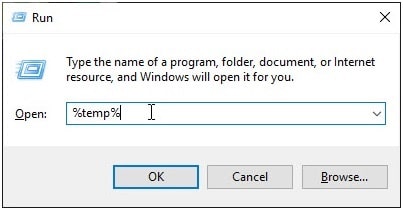 This will open the C:\Users\<username>~1\AppData\Local\Temp folder.  Press Ctrl + A keys together to select every file in this folder, and right-click and select Delete from the context menu.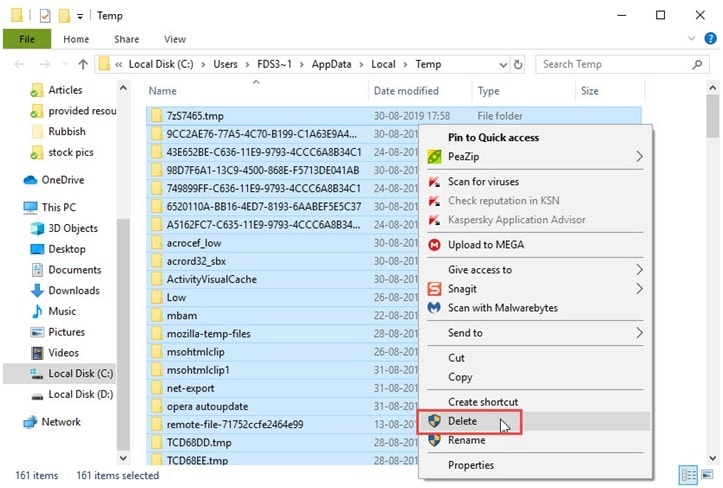 Wrapping Up
So there you have it. Now you know how to fix if PowerPoint cannot play media in a presentation using one or a combination of the solutions provided above. Comment below if you found this useful, and to discuss further the same.