Although it has fallen from its grace, Opera still finds its use among certain users who do not want to use conventional and popular web browsers. The privacy concerns aside, Opera is actually a good browser with a lot of good features that improve the user experience.
If you are wondering what the Opera bookmarks location is, here I shall discuss where does Opera store bookmarks in Windows 10.
Where Are Opera Bookmarks Stored?
Opera is now also a Chromium-based browser. This means that it shares many features with other Chromium based browsers on the market. One of the key things to note is the way the application is installed on your computer, and where the sub-directories are created.
Similar to Google Chrome, Opera also creates a Profile folder in the installation directory. This folder contains many important files and folders required to run the program appropriately.
Opera Bookmarks Location
The bookmarks in Opera are stored in a separate file on your profile folder. To access this folder, follow these steps:
Open File Explorer, using the shortcut key Win + E.
Follow this path by clicking on the appropriate buttons within File Explorer:
C:\Users\<username>\AppData\Roaming\Opera Software\Opera Stable
In this folder, locate the following files:
Bookmarks
BookmarksExtras
Note: Alternatively, type %appdata%\Opera Software\Opera Stable in a Run dialog.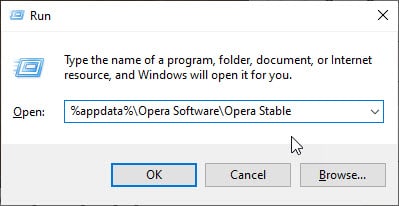 The Bookmarks file contains all the information regarding the websites that you bookmarked on your computer during your online session.
The Bookmarks Extras contains the information regarding the images on the websites that you bookmarked.
Now simply you can use the Bookmarks file to backup your Opera bookmarks, and restore them later when you need them.
Wrapping Up
If you do not find the installation folder there, you can confirm the location by reviewing the details in the About Opera section inside the Settings menu. So there you have it. Now you know the Opera bookmarks location. Comment below if you found this useful, and to discuss further the same.