When you open an audio playing website, if you don't get any audio from your browser, here I will show you how to fix no sound in Firefox.
Why Is Firefox Not Playing Sound?
Mozilla announced that Firefox won't auto-play audio on a new tab if no interaction takes place with the new tab. An excerpt from their announcement states the following:
"Any playback that happens before the user has interacted with a page via a mouse click, printable key press, or touch event, is deemed to be autoplay and will be blocked if it is potentially audible."
This means that if you open new audio containing website in the background, it won't play audio unless you interact with the tab. This may be what you are perceiving as no sound in Firefox.
Alternatively, the Firefox application may be set to a lower volume in the volume mixer that is causing Firefox not playing sound.
Many users have also reported that their flash player may misbehave sometimes that is causing no sound in Firefox error.
Fix No Sound In Firefox:
Now that you know what may potentially be causing no audio to play in Firefox, here I will discuss the fixes you can deploy to solve this error.
[This is assuming that you have checked and set your speakers at ON.]
# FIX 1: Adjust Audio Mixer Volume
Sometimes when installing an application or during updates, the volume settings may get changed that leads to sound not being audible. You can adjust the volume for individual output sources in Windows 10 using the volume mixer.
To open the audio mixer, right-click on the speaker icon in the notification tray, and select Open Volume Mixer.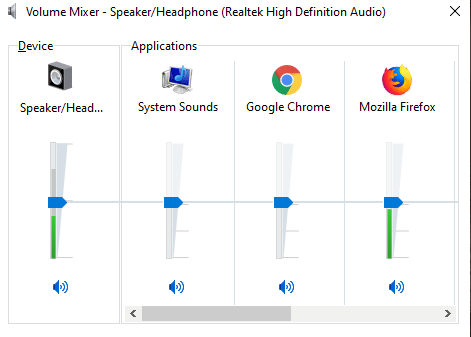 Here check the audio levels for Firefox and set it to max volume if set otherwise.
Now you should be able to hear audio from Firefox now.
# Fix 2: Reinstall Adobe Flash Player
Many users have reported that sometimes reinstalling Adobe flash player can solve the problem they are having.
Adobe Flash Player is a plugin that is used to stream media content on web browsers such as Firefox and Chrome. If there are some corrupt installation files, it is possible that may be interfering with the audio output and causing no sound in Firefox.
Uninstall the currently installed Adobe Flash player and install the latest version from their website here.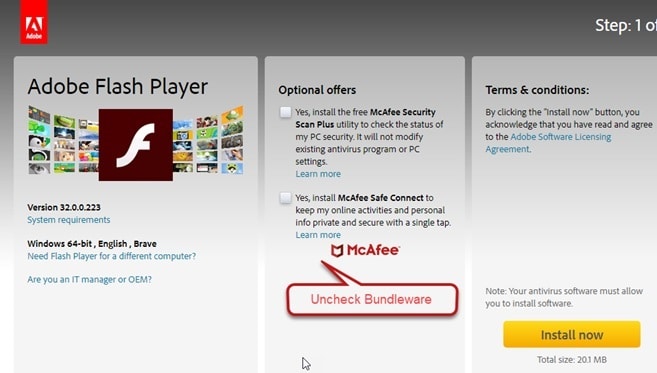 # Fix 3: Update Audio Drivers
The device drivers are the files that enable your hardware device to communicate with the operating system. If you missed or forgot to update your drivers, these outdated drivers can sometimes cause an error that makes no sound audible from Firefox or other browsers.
To update the audio drivers, follow these steps:
Open a Run dialogue by pressing Win + R.
Type devmgmt.msc to open the Device Manager.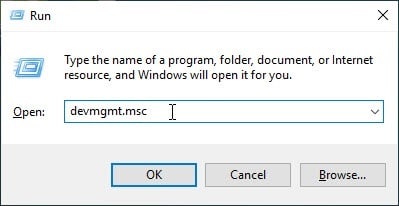 3. Locate the Audio inputs and outputs and click on it to expand.
4. Right-click on devices available under this section and select Update driver.
5. Wait for Windows to find the updates if available and then follow the onscreen instructions to update your audio drivers.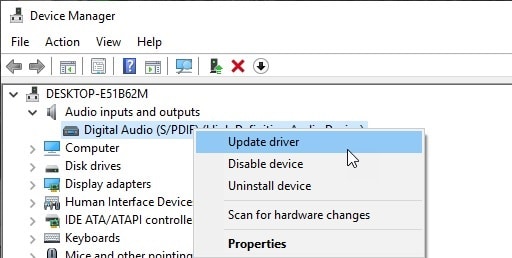 6. Next select 'Sound, video and game controllers' and update the drivers of the devices available under this section too as mentioned above.
Keeping your drivers up to date can prevent these conflicts between the hardware and the operating system.
# Fix 4: Run The Windows Troubleshooter
Windows Troubleshooter can be an easy solution to find any problems with the hardware on your system. You can run the troubleshooter if you see there is some problem (like no sound in Firefox) with any device that isn't working.
Open the Settings You can use the keyboard shortcut Win + I.
Click on Update and Security.
From the left pane, select Troubleshoot.
From the right pane, select Playing audio.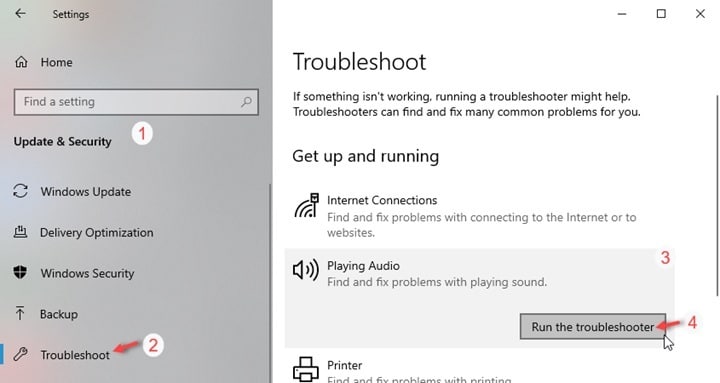 5. Click on Run the Troubleshooter.
Now just follow the onscreen instructions to find the problems with playing audio and fix them.
If this did not solve your problem, you may need to update or reinstall your browser altogether.
# Fix 5: Update Or Reinstall The Browser
Check if your browser is up to date. To do so,
Open Firefox and click on the hamburger menu (≡).
Click on Help.
Click on About Firefox.
4. If there are any updates available, Firefox will search for and prompt you to update your browser.
5. Follow the on-screen instructions to update Firefox.
However, if you are on the latest version of Firefox and still are facing this issue, you need to reinstall the browser.
First, uninstall the currently installed version of Firefox and remove all the residual files as well.
Pro Tip: Use a powerful uninstaller like IObit Uninstaller to remove the residual files as well while cleaning. Read about powerful uninstallers.
Conclusion
If you were unable to play some audio files on a website on Mozilla Firefox, now you know how to solve the 'no sound in Firefox' error using the fixes given above. Did you find this guide useful? Comment below to discuss further the same.