If you are going to buy a new TV, you will be overwhelmed by the number of options in the market. With so many display technologies available, you are bound to get confused.
Therefore, it is always a wise thing to compare the products before you are about to purchase them.
There are different types of TVs out there in the market, and the popular ones are NanoCell, OLED, and QLED. Here, I will explain how these TVs work and the difference between these technologies.
Also read: Crystal UHD Or QLED-Which One Should You Choose?
Battle Of The Screens: NanoCell Vs. OLED Vs. QLED
Among NanoCell, QLED, and OLED, the latter undoubtedly delivers the best visuals and is the best option if you are looking for the best overall visual quality.
The coloring is much more detailed without any washed-out images, along with a better viewing angle.
They are known to provide excellent color contrast and a wide color gamut. Since OLED TVs don't need a backlight, they are extremely thin and flexible.
But the disadvantage lies in the fact that it doesn't perform well in bright rooms and is known to be reflective during dark movie scenes. But these TVs are known to suffer from image retention and can also burn if any static images are left on the screen for longer.
Nanocell TVs use nanocrystals for filtering light and also for improving color accuracy. These TVs are generally known to display vibrant colors and wide viewing angles.
The quantum dots inside the QLED improves color accuracy and brightness.
Bright colors and good contrast are generally what you will get to see if you view QLED TVs. The disadvantage here is the narrow viewing angles compared to OLED or Nanocell.
I recommend you go with an OLED TV if there's no problem with the budget because your investment will be worth it.
Pros of NanoCell TV: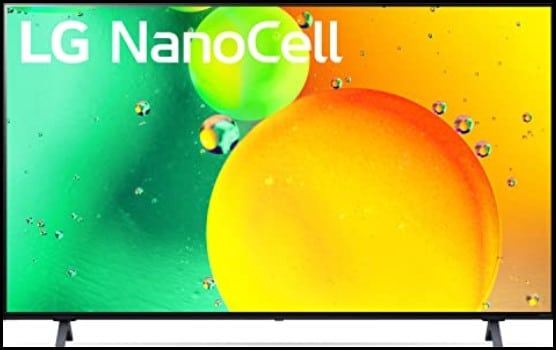 Before choosing a NanoCell TV over an OLED TV, you should know the pros and cons of it:
The wide viewing angle of up to 178 degrees
The image is sharp & detailed
Bright, vivid, accurate colors
No burn-in or static image for a longer period of time
Cons Of Nanocell TV:
Limited viewing angles
Backlight bleeding
Limited contrast
Limited HDR performance
Motion blur
Pros Of QLED: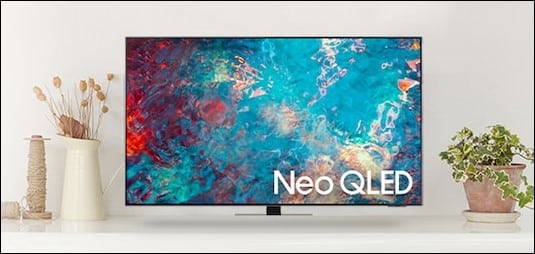 Go through the pros and cons of QLED TVs to understand the topic between:
Lower power consumption
Good contrast
Thin and lightweight
Available in larger display sizes and comes with more consumption
Not susceptible to burn-in
Cost-effective
Cons Of QLED:
Uses a backlight unit for illumination
Limited viewing angle
Less saturated blue
QLEDs are known to suffer from light bleed effects
Pros Of OLED TVs:
We have listed below the main reasons for buying an OLED TV:
Vivid colors and better image quality
Energy efficient
Thin and flexible
Excellent contrast
Don't require a constantly running backlight
Fast response time and low input lag
No motion blur
Very wide viewing angles
Cons Of OLED TVs:
While OLED TVs offer many advantages, there are also certain drawbacks to consider:
More expensive compared to others
OLED displays are susceptible to burn-in
Shorter lifespan
OLED panels are currently limited in size
NanoCell Vs. QLED:
Read through to learn the difference between NanoCell and QLED TV.
In the case of QLED TV, the images are vibrant and natural, and the contrast ratio is better than NanoCell. Whereas in NanoCell, the images get filtered with the help of the nanoparticles, the QLED images are much superior.
In QLED, the brightness level is lower as compared to NanoCell.So, in the case of brightness, NanoCell is known to beat QLED TVs here.
In the case of viewing NanoCell TVs are much superior to QLED TVs, and this is because of the large viewing angle.QLED TVs are less superior when compared to NanoCell in the case of viewing angles.
The refresh and response rates of both TVs are the same.
When displaying the darker regions, QLED TVs are much better than NanoCell TVs.
NanoCell TVs are known to offer a wide range of viewing angles as compared to QLED TVs.
If you are keen to watch TV in dark rooms or at night, you can go for QLED TVs since they offer a higher contrast ratio.
The burn-in issue is very common in QLED TVs, whereas in NanoCell TVs, this issue does not exist.
QLED Vs. OLED:
QLED and OLED TVs are very different, even if the difference apparently lies in one letter.
Go through to know the difference between these two televisions.
OLED stands for Organic Light-Emitting Diode, whereas QLED stands for Quantum dot Light-Emitting Diode.
In OLED TVs, the pixels emit their own light, that is, they are emissive, whereas the QLED TVs rely on an LED backlight and are transmissive.
OLED TVs offer a better contrast when compared to QLED TVs.
QLED TVs are brighter than OLED TVs.
In OLED TVs, the screens are uniform, and they can be viewed from any extreme angle.
NanoCell Vs. OLED:
If you want to know the difference between NanoCell and OLED TVs, then know how they work along with the differences.
OLED TVs have less power consumption than NanoCell TVs.
The color accuracy and image quality are much better in NanoCell TVs since they come with a backlight.
OLED TVs are more expensive than NanoCell TVs.
NanoCell TVs don't have the risk of burn-in, whereas OLED TVs are much more prone to burn-in.
NanoCell TVs are better for use in brighter rooms, whereas OLED TVs aren't.
OLED TVs provide better gaming performance than NanoCell TVs.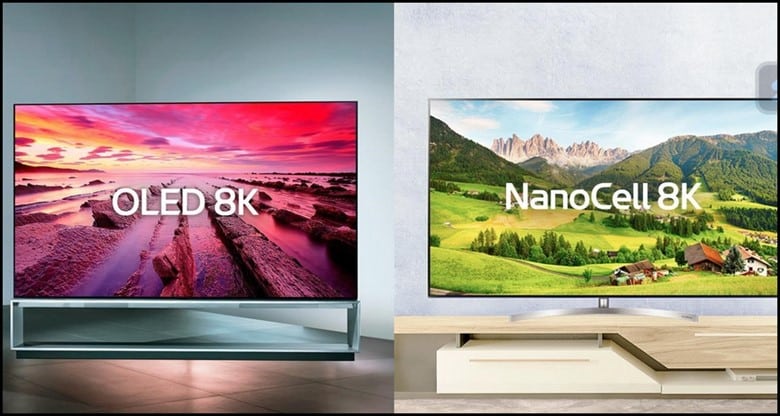 Which TV Is Best For You?
You should always consider your budget and then choose a TV that suits your needs.
If you want the best image quality and faster response time, go for the OLED TVs.
If all you want is a very wide viewing angle, then NanoCell TVs are best for you.
NanoCell TVs are more affordable in terms of price, so if there's a budget constraint, ditch OLED TVs.
In most cases, OLED TVs are much better than NanoCell TVs and are known to outperform NanoCell TVs.
Even though OLED TVs are known to deliver a superior-quality image, you need to consider other factors before deciding on a particular type of TV.
Frequently Asked Questions (FAQs)
1. Is NanoCell Better Than QLED?
NanoCell technology can maintain color from wider angles.
This is the particular aspect in which it performs better than QLED.
2. Is Heat Bad For OLEDs?
Yes, heat is known to damage the panel and is therefore considered bad for OLED TVs.
3. How Does NanoCell Technology Work?
NanoCell technology is known to operate with an LCD-LED backlight along with a layer of nanoparticles.
Wrapping Up
Regardless of the technology that you are choosing among NanoCell, OLED, and QLED, it is important for you to consider the factors like screen size, resolution, and HDR compatibility.
Also, a bit of research and review will help you get the best viewing experience.
In case of any doubts or comments, reach out to us in the comment section below.