Microsoft Surface Pro is one of the prime offerings by Microsoft in the 2-in-1 segment. It finds its use in the hands of creators who use the beautiful display and the pen to create art and other designs. However, many users are reporting that they face an error where they get Surface Pro pen not working.
The error ranges from either the pen pressure not working, or users being unable to use the buttons, pen sensitivity not working, or in some cases, the entire pen fails to work and no input is registered. Users get this error while working on many designing apps like Photoshop, GIMP, FireAlpaca, etc.

How To Solve If The Surface Pro Pen Not Working?
The pen input can be very important for designers who wish to create art or other graphic designs for their use. However, the Microsoft Surface Pro pen not working can cause harm to the productivity of such users. Troubleshooting this error is actually very simple, and can be done using these simple steps.
Solution 1: Update Your Apps And Windows
If you see that the buttons are working fine but the tip is not, it is likely being caused by outdated applications clashing with your Surface Pen. This is very simple to solve and can be done with just a few clicks if you prefer using free open-source software.
Since most designers prefer using Adobe products, they might not be able to update their apps. You need to either wait for the update or wait for the optimization update from Windows. Instead of waiting, try some of the other solutions provided here to solve your Surface pen errors quickly.
Solution 2: Check The Battery
If you see that the pen is not responding at all and registers no input for your device, you might want to check the battery levels on your Surface pen. You might see that the pen pairs with your Surface device, but fails to register any input onto it. This is caused by a drained battery of your pen.
All you need to do is simply replace the battery in your surface pen if you find that the battery level is low. Replace the old AAAA battery with new ones, and your pen pressure not working error should be resolved now. While at it, also check for and remove the dust particles that may have accumulated in the terminals.
Solution 3: Adjust Pressure Using The Surface App
On your Surface, there is an inbuilt app that lets you adjust the sensitivity of your pen and other features as well. If you see that there is a sensitivity issue on your surface pen, simply open the application and work your way through the settings to achieve your desired sensitivity.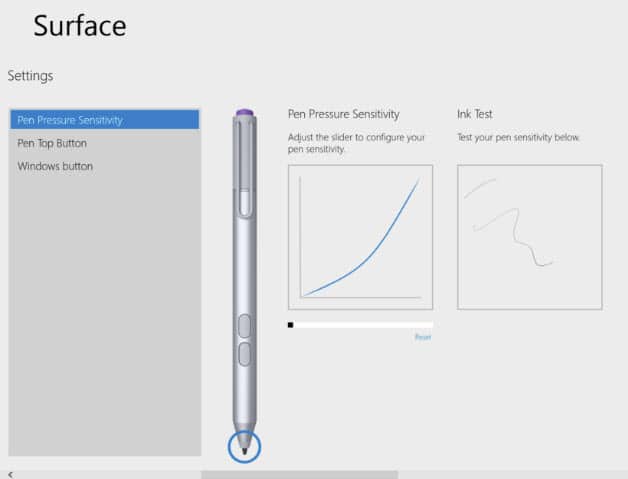 Solution 4: Update Drivers
The most common cause that users have reported for Surface Pro pen not working is outdated pen drivers and the optional WinTab drivers.
Install all the latest software, firmware and drivers for your Surface device from the official Microsoft Store, or update your device from Windows Update. Following is the link to Surface Pro 6 if you own the device. Download Surface Pro 6 updates.
Solution 5: Remove Your Pen And Pair Again
Like many other devices, there may be a glitch with your pen that is causing the Surface Pro pen not working error on your device. In these cases, you need to remove the pair from your Surface device, and then pair it again. This shall remove any data glitches that can cause the pen to malfunction.
Open the Windows Settings You can use the keyboard shortcut Win + I.
Click on the Devices option.
From the left pane menu, click on Bluetooth.
Locate your pen in the list of available devices, and click on the Remove device button.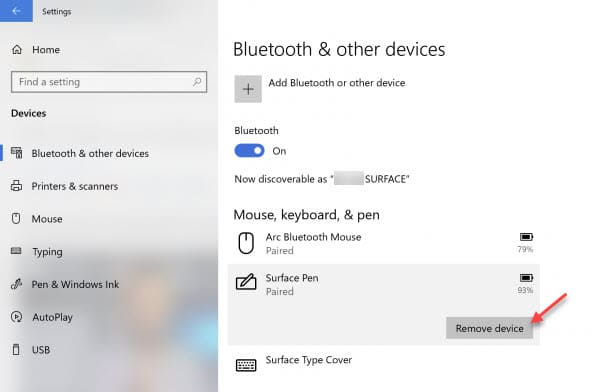 Click on Yes to confirm.
Restart your Surface device.
Now, you need to pair your device with your pen again. To do this, press and hold the button for 6 seconds until the light glows. Your pen will show up in the list of devices, pair your pen to your surface and check if the error is resolved now. It should work fine.
Solution 6: Re-Enable Pen Drivers
Sometimes, the Surface pro tip will not work because of a glitch in the drivers. This is also a common cause of this error, albeit easy to solve. You simply need to reinstall the pen driver. This is a very simple task, and you need to follow these steps to do so:
Open a Run dialog by pressing Win + R.
Type devmgmt.msc and press Enter to launch the Device Manager console.
In the list of Human Interface Devices, locate your Surface Pro pen.
Right-click on your device to reveal the context menu, and select the Uninstall device from the context menu.
Click on the Uninstall button in the confirmation dialog box.
Once the driver is uninstalled, you need to wait and connect your device again.
After connected, click on the Scan for hardware changes option from the Action tab.
Wrapping Up
So there you have it. Now you know how to solve the Microsoft Surface Pro pen not working error using the solutions provided above. Did you find this useful? Tell us in the comments below if you did, and mention how you solved the issue on your device.