With nearly everything available online, security is one of the biggest concerns of respective users. With numerous news about data leaks and privacy breaches, it is good to be on the cautious side of things and protect your privacy.
If you are concerned about the security of your accounts and think that your account data may be stolen, here I will discuss how to resolve if Microsoft's account is hacked.
How To Recover Microsoft Account Hacked?
If you have lost access to your account, you can use the account recovery feature of Microsoft to gain back access to your account. An account recovery form is a tool that you can use to provide additional information so that Microsoft can make sure that you (and only you) gain access to your account.
Microsoft Account Stolen; How To Reset?
If you suspect that, your Microsoft account has been stolen, first and foremost you need to try to reset the password to prevent any further damage. To do so,
Sign in to your account on the official Microsoft page.
Under the security section, look for the 'Change my password' button under the password security section.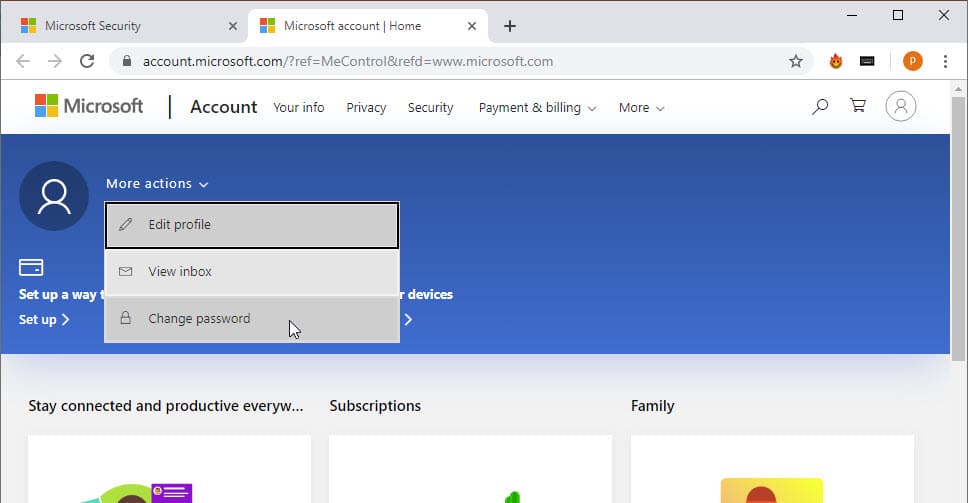 Complete the form to change your password.
If you do not have access to your account, there is a security form that you need to fill in order to gain back access to your hacked Microsoft account.
Access To Blocked Microsoft Account
Note: if you previously enabled two-step verification, you won't be able to use the recovery form.
You need a working email address that will be used to contact Microsoft and fill the details in the account recovery form. The email need not belong to you; it just needs to be easily accessible to you. Then follow these steps as said by Microsoft themselves:
Go to account.live.com/acsr and provide the email address, phone number, or username for the account you are trying to recover.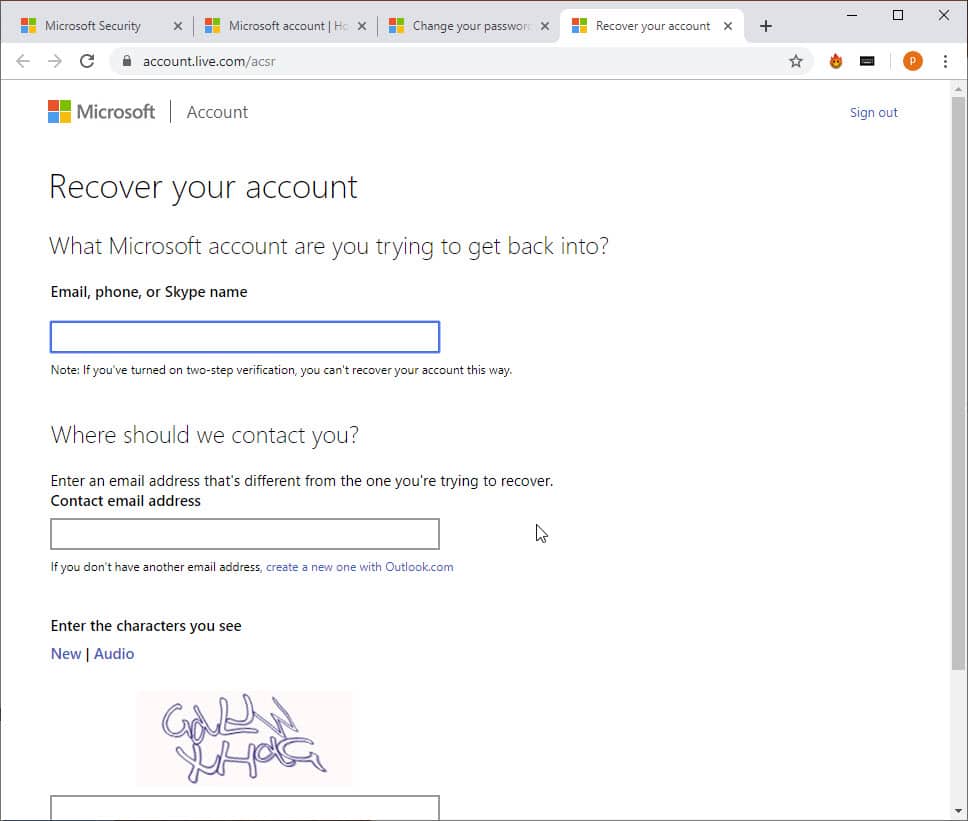 Provide an email address (other than the one you are trying to recover) that can be used to contact you about your request.
Enter the characters you see on the screen to prove you are not a robot, then select Next.
A screen will pop up asking you to verify the contact email address. Check that email for a message from us with the security code; enter that code, then select Verify.
Fill in as much info as you can, even if you are not sure.
Select Submit when you are finished, and wait for the response from the official team.
If the verification is successful, you will be provided with the instructions to recover your account.
If your request was not granted, try the above steps again, trying to be more accurate this time. Since the account advocates are not allowed to send you the password reset links, there isn't much that you can do other than this.
If after several attempts, you are not granted access to your account, you can close your account altogether, and then start afresh with a new account. Click here to close your account.
Other Measures To Keep Your Account Safe
Many hackers get your password using malware that has been installed on your PC without your knowledge. They can also gain the same information from attacking internet sites and phishing techniques.
Run A Full Malware Scan
Most hackers get your information from malwares installed on your system or through malicious internet sites. Infected systems are prone to data theft; hence running a full scan may help you find out the culprit.
If you do not wish to invest in third party premium antivirus software, you can opt from a host of free antivirus like Avast free antivirus, and antimalware like Malwarebytes. Run a full scan, and delete any infected files.
Check And Monitor Your Account Settings
You may have shared your account details with some of your close friends or family, which can be a source of the leak. In addition, once Microsoft realizes that your account may be in jeopardy, it changes some settings to ensure the safety of your account.
Go through the settings of your account thoroughly and fine-tune your account to how you see fit.
Check Active Sessions
Go to https://account.live.com/Activity to check which devices are currently logged in to your account. You may be required to provide a one-time password, which will be sent to your mobile phone in a text message.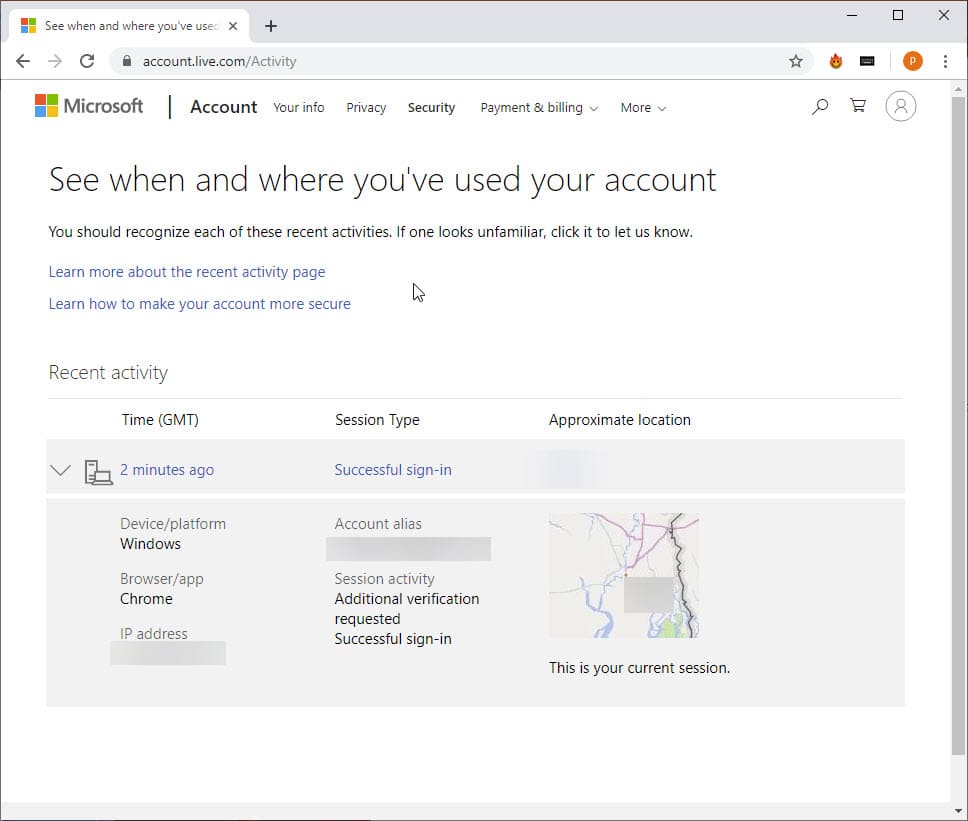 Microsoft will require you to provide the last 4 digits of the phone number to prove that you know the number and that the corresponding phone is in your possession.
If you see any unfamiliar devices logged in to your account or an unfamiliar location, click on it to inform Microsoft.
Wrapping Up
Online security is one of the top priorities of many people, and having your Microsoft account hacked can be a serious issue. To secure your account further, you can activate Two-step verification that will require you to enter a code from the authenticator application. Enable two-step verification from here.