Sometimes we have to face audio issues on Windows 10. One of these issues is when the microphone levels keep changing randomly without any outside influences. This is very annoying and a common problem, as reported by the users of Windows 10. The causes and fixes are discussed below to help you to keep your PC away from this error.
What Causes The Microphone Levels Keep Changing Constantly?
There are several different reasons which may cause your microphone volume keeps going down. It includes hardware or software failure, corrupted driver, incorrect settings, defective port and also malware infection. Some common reasons are listed below to make you aware of this issue.
A particular application or different applications take control of your microphone.
Applications that are configured to launch at every system startup.
Corrupted or outdated driver.
Malicious software.
Fix 'Windows 10 Microphone Level Keeps Changing' Error!
If your microphone levels keep changing without any outside influence, don't get panicked! Some fixes are listed below. If you don't know how to stop microphone auto adjusting in Windows 10, follow these steps to resolve your issue easily.
Solution 1: Check Your Connected Audio Device
You should start by checking your hardware components. It might be your USB port or external microphone jack that causes an error. So, try changing the port where the microphone is connected or you can connect it with another computer. This process will indicate to you about any fault in the USB port or the external microphone.
As user reports, in Windows 10 microphone level keeps changing when it is connected to USB 3.0, but after connecting to a USB port 2.0, the problem is resolved permanently.
If you notice any problem in USB port or external microphone, change them without hesitation.
Solution 2: Run The Audio Troubleshooter
You can try Windows troubleshooter to stop microphone auto adjustment in Windows 10. To run the troubleshooter, follow the steps below:
Go to the Start option, type Troubleshoot and hit the Search option.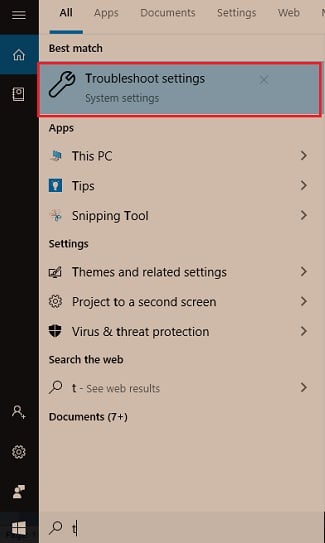 Now, open the Troubleshoot settings from search results appear on your screen.
Navigate to the Troubleshooter option and click on it.
Now go to the Recording Audio option and click on the Run the troubleshooter button.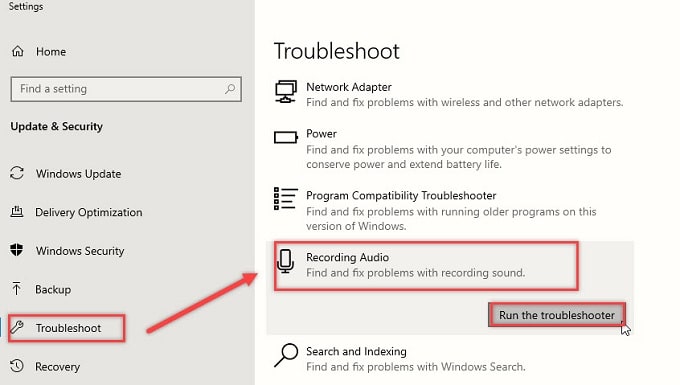 Follow the on-screen instruction to analyze your computer.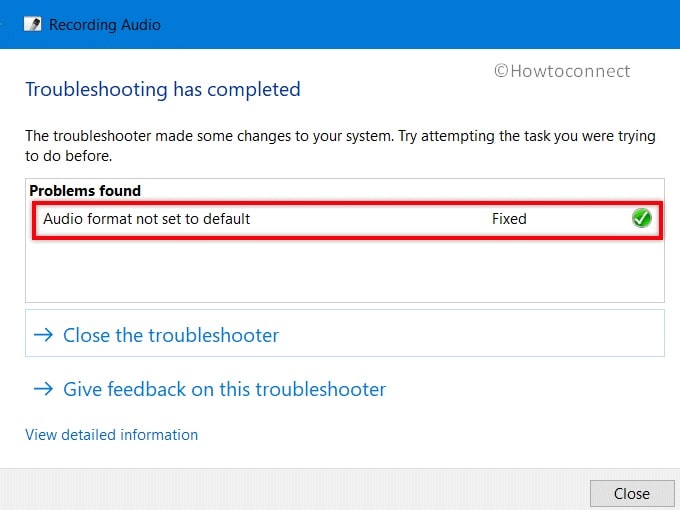 After the troubleshooting is finished, you will receive a report that will show errors in your system. If there is any problem, it will show you available solutions also that you can use to fix your microphone volume auto adjustment error.
If the error still persists, you can try the next fixes.
Solution 3: Change Permission To Control Microphone For Other Apps
Some third-party apps have permission to control the microphone which is enabled by default. It might be the reason for having your microphone levels keep changing drastically.
To resolve this issue, you'll have to disable the permission for these third-party apps. To change it, follow the steps below:
Open the Start menu and search for the Control panel app.
Now open the Control panel app from the search result and select the Hardware and Sound option.
Click on the Sound option.
Go to the Recording tab and locate the Microphone option under this section.
Now, double-click on the Microphone option and navigate to the Advanced tab.
You will find an option 'Allow applications to take exclusive control of this device' with a checkbox beside it. Uncheck the box positively.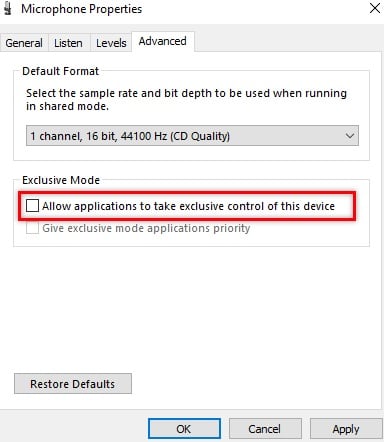 Now click on Apply and Save your changes.
Your microphone is now free from any third party app influence and also might have resolved the issue regarding your microphone levels keep changing.
Solution 4: Reinstall Your Microphone Driver
If still, your mic volume keeps changing, you can try by reinstalling your microphone driver. You can do it either automatically or manually. Both processes are discussed below:
If you don't want to update the driver manually, then you must follow these steps:
Open the Device Manager console by pressing Windows key + X and clicking on the appropriate option.
Now select the audio device and right-click on it.
Select the Uninstall option and again click on the Uninstall button in the confirmation box.
After the driver removal, restart the device manager again and click on the Scan for hardware changes option from the Action menu.
It will automatically scan for missing drivers and suggest you install them. Find your default audio driver and reinstall it.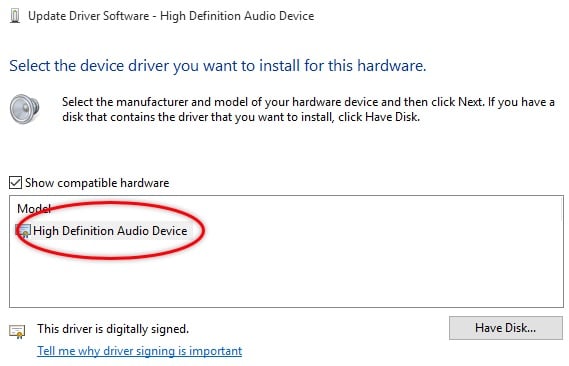 If you are willing to install the driver and you know the exact model of the required driver, you can perform this manually. In that case, try downloading the required driver from your vendor's official website. But keep in mind that downloading and installing the wrong driver is harmful to your computer and might bring no benefit to your microphone auto adjustment problem.
Solution 5: Remove Malware From Your System
Sometimes microphone volume keeps going down due to malware infections. You should run a full system scan with anti-malware software to ensure that if the system is malware-infected. Make sure to remove the infected one automatically if it gets detected while scanning. If you have any confusion, see how to run anti-malware on your PC.
After removing malware, your mic volume keeps changing should be resolved.
Solution 6: Fix Registry Issue
You should try by cleaning your registry and removing all redundant items from the Windows registry. It might resolve the error. Read how to fix the registry issue in Windows 10.
Solution 7: Set Your Microphone As Default Audio Recorder
Sometimes more than one connected audio recording device may be the cause of why microphone levels keep changing randomly. You should set your microphone as the default recording device to fix this issue. To perform this, follow the steps below:
Locate the Volume control icon in the bottom right corner and right-click on it.
Click on the Sounds option.
Now choose the Recording tab.
Find your external microphone from the list and right-click on it.
Now select Set as a default device option.
Finally, click on the Apply button and OK to save the changes.
Solution 8: Perform System Restore
Performing system restore might help you to resolve your Windows 10 microphone level keeps changing randomly. This process will restore your Windows to the previously saved version. Follow these steps to perform a system restore easily.
Press the Windows key + S and type to search System restore.
Click on the Create a restore point option.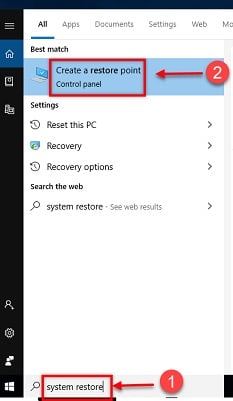 On the system properties window, choose the System restore option and click on it.
Now click the Next button on the system restore the window.
Check Show more restore point option if available to choose the desired restore point.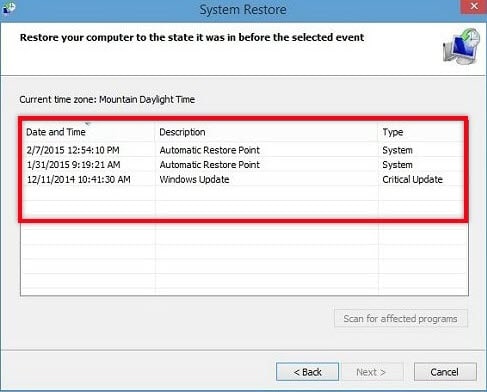 Now click on the Next option and follow instructions on your screen to finish the restoration process.
Now your microphone volume keeps going down might be resolved.
Conclusion
Now you know the reasons why your microphone levels keep changing and how to stop microphone auto adjusting in Windows 10. If you found this article helpful, let us know by commenting below. Still having queries? Feel free to tell us here.