Are you struggling to always appear "Available" on Microsoft Teams?
Many users have recently reported that in Microsoft Teams, the online status automatically changes to "Away" (yellow) after 5 minutes, even if you are on your PC but working on a different app.
If you want to be always "Available" in Teams, then this is the right article for you.
This write-up will provide you with all the possible solutions and help you to keep yourself Active on Teams.
Also read: How To Delete Microsoft Teams Chat
How To Change Your Microsoft Teams Status?
Microsoft Teams have six different statuses:
Available (green)
Busy
Do not disturb
Be right back
Appear away
Appear offline
This is how you can change your status:
Click on your profile in the top right.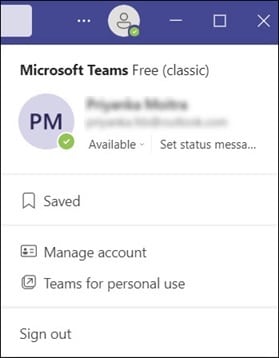 Then click on the online status underneath your name.
Select a new status.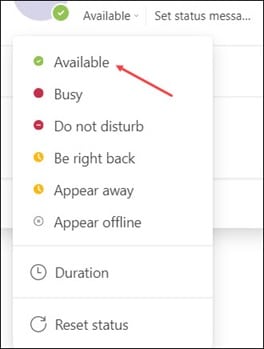 How To Keep Teams Active?
To keep your status "Active" on Microsoft Teams, you have to change the time it takes for your system to go into idle or sleep mode.
Here is how you can do it:
From the Start menu, go to Settings.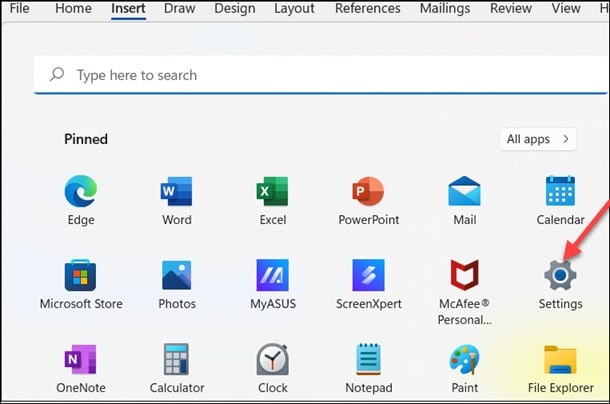 From there click on System.
Next click on Power and Battery.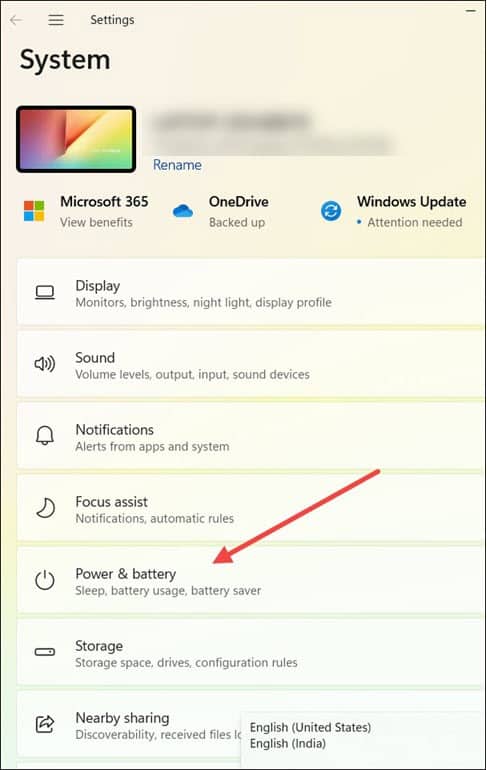 Finally, click on Screen and Sleep.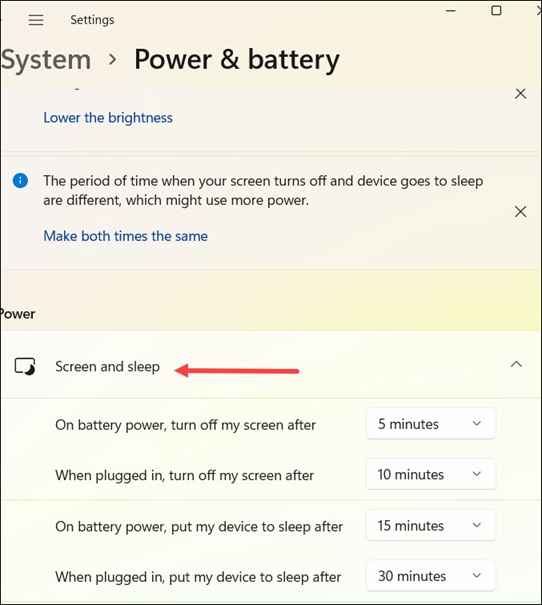 Increase the idle time in all the drop-down menus.
How To Always Appear Available On Teams?
Here I will list some methods that can be used to set your status as always "Available."
There are a few methods to keep yourself "Available" on Teams consistently.
1) Use Status Message
You can make yourself available if you set a status message such as available, contact me, or I am available.
But this will not keep you active throughout.
Here is how you can do it to keep yourself active:
Open the Microsoft Team's app and log in to your account by using your username and password.
Next, click on your profile at the top right corner of your screen.
Click on the set status message.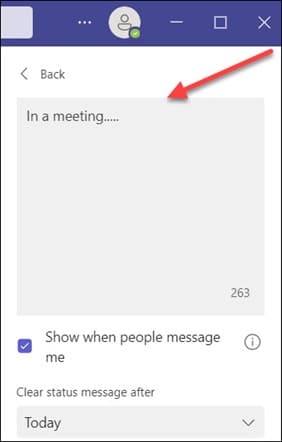 Next type your status in the message box and also tick the check box next to "show when people message me."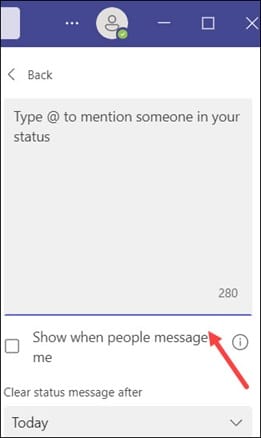 Finally, click on Done and save the changes.
2) Manually Change Your Status To Available
Teams have six different statuses, and this is how you can keep your Teams status Available:
Open your Teams app and log in to your account using your username or password.
Click on your profile account.
Next, click on your current status below your name and choose Available from the list.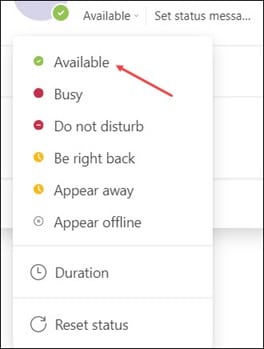 3) Use Paper Clip Hack
It may sound silly, but you can easily go for the paper clip hack if you don't want to use any third-party app or software.
Here is how you can make your Microsoft teams stay green.
Insert a paper clip carefully beside the shift key on your keyboard.
While doing that, your shift key will remain pressed down and as a result of that, you will remain active throughout the day.
In this case, Microsoft Teams will think that you are using your keyboard and your status will not change from green to yellow.
4) Use Third-Party Software Tools
You can use third-party software and tools like Mouse Jiggler and Move Mouse app that will keep your mouse moving on your screen to prevent the PC from entering into sleep mode
Mouse Jiggler is a great software that keeps the mouse moving on your screen and prevents your laptop or PC from entering into sleep or idle mode.
Using the Move Mouse app is another alternative option that is available on the Windows store.
Frequently Asked Questions (FAQs)
Why Does My Teams Status Keep Changing To Yellow?
When your computer enters sleep or idle mode, Teams automatically change your status to Away. These signals are taken as proof of your unavailability and your status is changed accordingly.
How Can You Tell When The Last Time A Teams Was Active?
Tap on a person's name and you will see a status appear in the top left corner. If he is not active or away, it will say "Last Seen".
Does Teams Automatically Change Status To Offline?
Teams will put your status offline when you are not logged in to your Team's Account or if you are away from your device for a few minutes.
Also read: How To Leave A Team On Microsoft Teams
Wrapping Up
I hope this article has provided you with all the necessary information and solutions.
Please feel free to update us with your input or comments, if any.