Has your friend just sent a magnet link? But can't download the movie as the link is unresponsive in Chrome? No to worry at all! Our experts' are here to take away all your hassles and provide you with potential fixes. So without wasting another minute, check out our troubleshooting guide. Fix your magnet link not working in chrome error within minutes!
Before proceeding towards the fixes, let's have some information regarding magnet links. It will help you in understanding the issue altogether.
What Is The Magnet Link?
Magnet links are the most convenient way of downloading torrents. These links are most famous for sharing files via mail or some other platform. Moreover, you don't have to store the BitTorrent files. Still, you can share in the P2P environment.
Why Should You Use Magnet Links?
You might know, a torrent file comes with the tracker URL, has a code, and file names required to download. Magnet links keep individual data secured, and discards the need for hashing. All the cyber threats stuck the Magnet link wall when tending to damage files.
Not only safeguarding but also these links remove the middlemen and rope you in with the direct source. Torrent clients use hash codes and find peers with original files. You don't have to download the tracker, so you and your hosting site both can easily save the bandwidth.
When you click a magnet link to open it via your existing torrent client, Chrome parses the hash data.
But the problem starts when Chrome declines to identify your link and restricts the files from downloading. In this situation, you face errors like pirate bay magnet link not working.
However, when you face such a situation, don't get confused thinking about what to do next? Instead, perform our troubleshooting methods and fix the issue.
How To Fix uTorrent Magnet Link Not Working In Chrome?
Several troubleshooting tricks are there to resolve this issue. If you use uTorrent or any other torrent client, our potential fixes will aid you. Have a look.
Turn on the content settings
When you open magnet URI, your content becomes unavailable in chrome, right? So let's check content settings in Chrome browser first. Follow the below steps to do so.
Firstly, open the Chrome browser and hit the menu icon
Next, select the Settings option
Now you have to scroll down to the list
The advanced option will be there, click it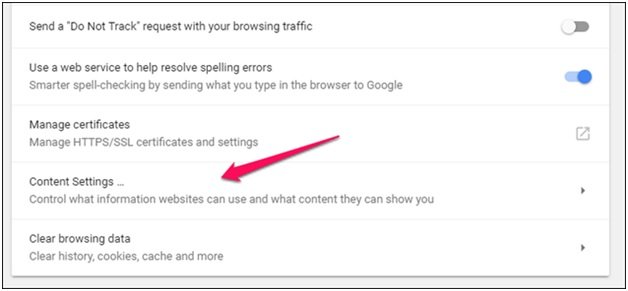 After that, you will see Content Settings option just underneath of Privacy and security option
Then search for the "Handlers" option
You will see "allow sites to ask to become default handlers for protocols (recommended)"
Now click it, and ensure it to be toggled on
This option lets Google take a call to manage mandatory protocols. Thus magnet links associate with uTorrent, BitTorrent or different torrent client easily.
If you are searching how to open magnet links, then follow the similar steps and open it.
Whenever you see the settings is off, turn it on immediately following our steps and try to open magnet links. If your browser opens the link with your existing torrent client automatically, your issue has got fixed. If not, then amigos you need to dig deep and dive into Windows registry settings to find out the exact problem.
Edit the Registry
The error may come with a camouflage of "this file does not have an app associated with it". Hence you have to change magnet link association Chrome to fix the error.
Though you use a torrent client, still you see this error message. Why? Well, your Windows or Chrome fails to detect suitable application to open the link. In this situation, Chrome is unable to associate your torrent client with the Magnet link while downloading torrent.
Anyway, let's learn the fix for this issue.
Firstly press the Windows logo key and "R" button at a time and open the Run dialogue box
Next, type "regedit" there in the box
After that, Registry Editor will open in a new window
Navigate to- "\Computer\HKEY_CLASSES_ROOT\Magnet\shell\open\command"
Now a Data column will display the directory path
Then make sure your torrent client remains in the similar directory, say your torrent client is BitTorrent. So directory path will be- "C:\Users\a\AppData\Roaming\BitTorrent\BitTorrent.exe"
However, the .exe will link you to the executable file that you need to launch at times.
Open "C drive" now to proceed. Press the Windows logo key and "E" button at a time and open "This PC". Edit registry entry if your torrent file gets saved in a different location. Now revert to your chrome and open a magnet link. Your issue is bound to get fixed now.
Winding up
Most of the sites offer downloadable torrent files and links both, but recently a few have announced to discontinue hosting all. So it's essential to resolve magnet link error as soon as possible. Our troubleshooting guide will help you a lot. If you have further query, drop a comment in the below box.