Being connected to the internet is one of the most important things these days, or we constantly miss out on all the latest happenings. This makes internet errors a headache, and need urgent troubleshooting. While you cannot do much for the server errors, you can try fixing the issues with your LAN.
Here, I shall discuss how to fix Local Area Connection errors, particularly the one where we get the 'LAN doesn't have a valid IP configuration' error message.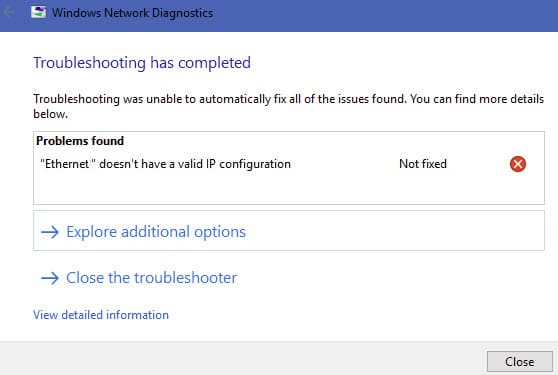 Why LAN Doesn't Have A Valid IP Configuration?
There are many reasons why you may see this error. The most common reason reported by users is the corruption of TCP/IP and DNS settings. Such incorrect configuration can lead to your network card not detecting the network correctly, which causes this error message.
Another reason why you may see the invalid IP configuration error, is due to the network card being damaged due to power surcharge. There isn't much you can do in this case, except trying to discharge the internal current and hoping it works.
How To Fix Local Area Connection Issues?
Now that you have a brief idea about why you may be facing this error, here are some simple solutions that you can try in order to troubleshoot these. Make sure to follow these steps closely in order to avoid changing a setting incorrectly.
Solution 1: Discharge Excess Current
The network lines do not pass through the UPS and stabilizer if you have that, so there is a chance that the network card may have been overcharged, leading to such errors. This is extremely common during times of natural calamities, or if there was a lightning storm recently.
To check if this is the case, check the indicators on your router and Network Interface Card (NIC). There are usually some blinking and beep codes associated with the indicators, so check the manual for the same.
Another thing you can try is to discharge the motherboard internal current on desktop computers. To do so, follow these steps:
Shut down your computer and remove all the power cords.
Unplug your computer and your router from the power outlet.
Press and hold the power button for around 30s.
During this time, the internal current will be drained, which is known to help against power surcharge. This is the last resort, as if this fails you will need to replace your network card.
Solution 2: Reset TCP/IP Settings
If power surcharge was not the reason behind your 'Local Area Connection doesn't have a valid IP configuration' in Windows 10, there is a possibility that the TCP/IP settings are corrupted. It is fairly easy to reset these settings, and you need to do so from an elevated command prompt window.
Follow these steps to renew the DNS cache, and check if the error persists. By clearing the locked-up DNS cache, you should be able to connect to the internet without any error messages.
Solution 3: Update Network Drivers
The hardware on your computer performs optimally due to the drivers, which are responsible for sending and receiving commands from the operating system. Outdated drivers can lead to your hardware malfunctioning, and you will face multiple errors as well including this one.
First update Windows, and then update the concerned drivers. After a restart, your computer should perform optimally, without any errors.
Solution 4: Disable Antivirus
Some users have reported that they got the 'Local Area Connection doesn't have a valid IP configuration' error due to interference from their antivirus software. One of the most popular culprits is Avast antivirus, which has been known to cause other issues as well.
Also read: Avast blocks Games
Disable the antivirus shields, and check if the error persists. If you successfully solve the error after disabling the antivirus shields, there must be some interference from the application. Now, you can either wait for the next update with bug fixes, or contact the app developers to receive personalized suggestions.
Caution: Avoid online transactions and visiting potentially malicious sites, while the antivirus shields are down. Your data is at risk when you do so.
Solution 5: Switch To Public DNS Configuration
If the solutions above did not help you solve this error, the IP configuration itself may have become corrupted. This can be solved effectively by changing the DHCP to use a public DNS IP address. There are many public DNS addresses available, so you can use them in case of IP errors.
Use these methods to switch to Google's IP address. Following a restart, your error should now be resolved.
Solution 6: Change The Value Of Your Network Connection
If the solutions above failed to help you, you can try this as a last resort. Change the network connection values, and you should be able to connect to the internet without the invalid IP configuration. Follow these steps for the same:
In Windows Search (Win + S), type network connections.
In the search results, click to open the Control Panel entry of the same name.
Locate the network connection that is causing the error, and right click on it.
Select Properties from the context menu.
Under the Networking tab, click on the Configure… button.
For your network properties, switched to the Advanced tab.
In the list of properties, click on the following:
Network Address
In the right part, under the Value section, enter any random 12 alphanumeric values.
Click on OK to save the changes.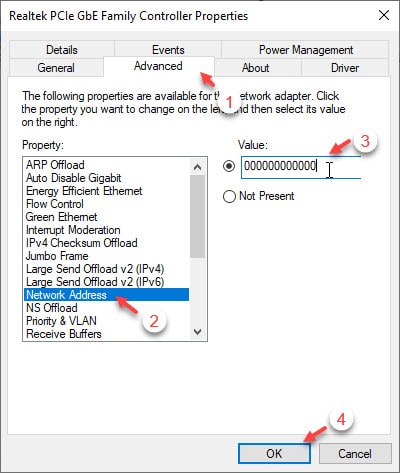 Restart your network connection and check if you can connect to the internet. You should be able to do so without any errors.
Wrapping Up
So there you have it. Now you know how to fix if you get the 'Local Area Connection doesn't have a valid IP configuration' error message in Network troubleshooter. Comment below if you found this useful, and to discuss further the same.