The keyboard is one of the most important hardware devices, which makes a desktop useful. Some users are so familiar that they can use just the keyboard to navigate their Windows 10 device and perform other actions on it as well. If your laptop keyboard suddenly stops working, your laptop basically becomes useless. Check out this article if you see only function keys not working in Windows 10.
Why Is My Keyboard Not Working On Laptop?
Your laptop keyboard malfunctioning can be credited to either a hardware issue or a software issue. If your keyboard not working is a software issue, it can be easily fixed using some simple solutions which shall be listed below. However, if it is a hardware error, you need to open and reattach the ribbon connector for your laptop.
Usually, there are five main reasons why your laptop keyboard is not working. These include:
Missing or corrupt driver
Improper connection between your keyboard and your motherboard
Dust and dirt collected under the keyboard
Improper regional settings
Corrupt or missing system files
Before You Look For Suggestions
Diagnose By Connecting External Keyboard
If you have an external keyboard handy, connect the keyboard to your laptop to check if the problem is with the hardware or software. This simple trick can help you gain more information regarding your laptop keyboard error.
If the external keyboard works normally, you can assume that there might be a hardware issue that is preventing your laptop keyboard from being detected on your device.
If the external keyboard fails to work as well, you can deduce that there might be something wrong with the software of your computer. Let us take a look at some of the easy solutions that you can deploy to solve if you see the laptop keyboard not working on your Windows 10 device.
Diagnose Using BIOS
Another way to diagnose the error is from the BIOS menu. If you can enter the BIOS menu using the BIOS key (usually F2 or Del key), and navigate around the settings using the arrow keys, you can assume the problem is with the software part and not the hardware part of your laptop.
How To Solve If Laptop Keyboard Is Not Working?
If a software issue causes the keyboard not working on laptop, you can easily diagnose the real culprit of the error, and hence solve it depending on what causes the error.
Solution 1: Check For Physical Damage
First, check if there has been some physical damage on your laptop, which may have broken some keys or the key switches. If there has been some physical damage, you might need to carry your laptop to your service center.
Solution 2: Clean Dust And Dirt
One of the most common reasons that laptop keys stop working is dust and dirt accumulation. Dirty keyboards tend to accumulate dust which can deposit on the keycaps. This results in no input being registered when you press a key.
Take a brush and clean the dust from your keyboard. If you have a small blower, you can also use that to remove persistent dust particles from under the keyboard. Use dry materials to clean your laptop and check if the error persists.
Solution 3: Update Or Roll Back Drivers
Many users have reportedly solved the keyboard error, by updating their device drivers. Since device drivers are important in running hardware, you can try updating the device drivers in an attempt to solve the laptop keyboard not working error.
We have covered how you can update your drivers in the dedicated article, so make sure to check that out.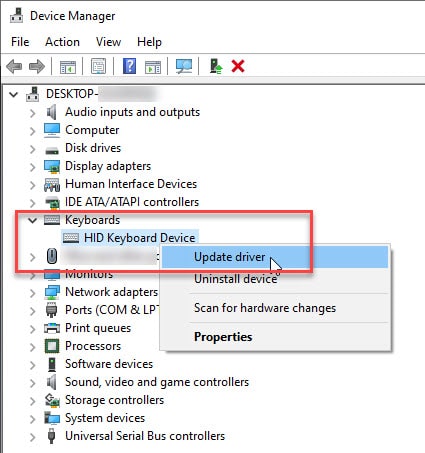 Updating your device drivers should solve the keyboard not working error on your device.
Solution 4: Run The Hardware Troubleshooter
The Hardware Troubleshooter is one of the built-in tools in Windows 10, which can be used to diagnose your device and find the source of the issue from which your device suffers.
The Hardware troubleshooter was removed starting with Windows 10 v1809. However, there is one other way to open the Hardware troubleshooter in Windows 10. Simply follow these steps:
Open a Run dialog by pressing the Win + R
Use the on-screen keyboard to run the following command:
%systemroot%\system32\msdt.exe -id DeviceDiagnostic
Follow the provided instructions to diagnose and subsequently solve the error on your device.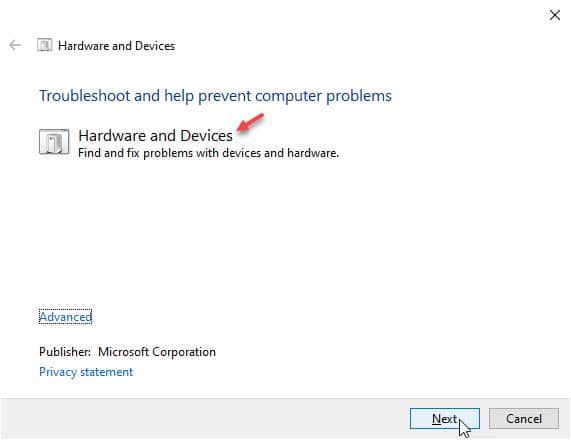 Solution 5: Run An SFC Scan
If none of the solutions above helped you solve your error, there might be something wrong with the system files. If the laptop fails to detect the hardware, you can run the SFC scan to check for broken system files.
You can check out our article that deals with solving broken system files to know how to solve your keyboard error.
Solution 6: Reconnect The Keyboard Ribbon Cable
If you are not seeing any input even after running the SFC scan, there is another step that you can follow, which involves disassembling the laptop. The laptop keyboard is connected to the motherboard using a ribbon connector, which can be easily removed.
Look online how to disassemble your laptop, and then open it by closely following the guide according to your laptop model.
Next, locate the keyboard connector, and remove the keyboard from the motherboard.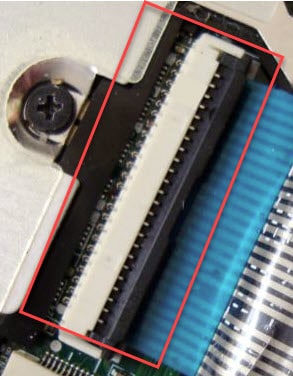 Clean the components that you have in front of you. These include the connector pins, the ports, etc.
Reconnect the keyboard to the motherboard and reassemble the laptop.
Now check if your error persists.
Wrapping Up
So, there you have it. Now you know how to diagnose and solve if you see your laptop keyboard not working using the solutions provided above. If you are uncomfortable disassembling your laptop, you should take it to a service center where they can repair your laptop. Tell us how you solved the error in the comments below.