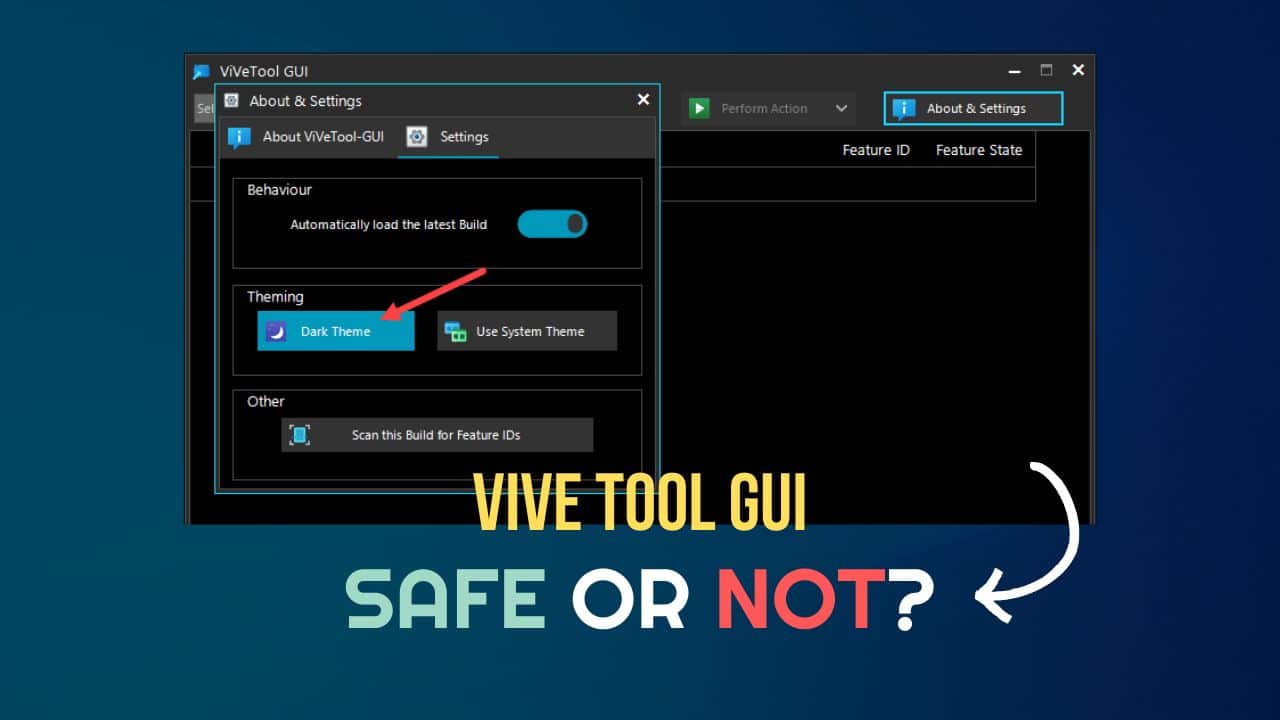 ViVe Tools is popular for enabling hidden Windows features. But users tend to wonder whether it is safe to use ViVe Tools or not.
ViVe tool has an intuitive user interface and is free to use.
With the help of the ViVe Tool users can have access to the hidden features on Windows that hasn't yet been released.
But, is it safe to use? Yes, it is safe to use, but there is a risk in using it. Read this article to learn more.
What Is ViVe Tool?
ViVe Tool is an open-source tool to unlock hidden features on Windows.
It is created by Albacore, who is specialized in analyzing the hidden elements in software.
These elements are generally in a testing phase and not released or activated.
ViVe Tool is compatible with Windows 10 build 18963 or later versions.
So, ViVe Tool can bring out the hidden functions of both Windows 10 and 11.
It is powered by a C# library called ViVe. You can download ViVe tool through Windows Terminal or ViVe Tool GUI.
Is ViVe Tool Harmful For My Device?
Yes, ViVe Tool is safe to use, but as it unlocks hidden Windows features that are not yet released, it can make your Windows unstable.
This is why Vive Tool is only for Windows enthusiasts who are practiced at troubleshooting and are enrolled in the Windows Beta (Windows Insiders) program.
So, ViVe tool can be a useful way to unlock hidden features on Windows, but it can also make your system unstable and bug prone.
It can even unlock new features that are not available in the latest Beta build or Dev build.
Though ViVe tool is mainly designed for developers and beta testers, with some precautions, anyone can use it.
Just make sure to use the right feature ID and build.
Does ViVe Tool Install Third-Party Apps Or Virus With It?
No, if you download and install ViVe tool from GitHub, then it won't any extra software or virus along with the ViVe Tool.
Vive Tool itself is completely safe to use, as long as you download from the official source. So, make sure you are downloading and installing the tool from the proper source.
Essential ViVe Tool Commands
Those who are looking to use the ViVe Tool GUI, here are some essential command line arguments to be used with ViVe Tool:
/enable – To enable a feature.
/disable – To disable a feature
/query – To list all the existing features. You can check the feature ID of each feature present in the Windows Feature Store.
/addsub – To add a feature usage subscription
/notifyusage – To fire a feature usage subscription
/reset – To remove custom configurations for a specific enabled feature
/delsub – To remove a feature usage subscription
/import – To import custom feature configurations
/appupdate – To check for the new version of the ViVe tool
/export – To export custom feature configuration
/fullreset – To remove all custom feature configurations.
Frequently Asked Questions [FAQs]
Why should I use ViVe Tool?
You can use a ViVe tool to unlock Windows' hidden features.
Will ViVe tool crash on Windows 11?
Now ViVe tool can be easily used on Windows 11. It is meant for Windows 10 build 18963 or later versions, so it will not crash on Windows 11. But unlocking certain features that are not yet stable with the system can crash the system.
Closing Up
So, that is all for now! For any further queries, ask us in the comment section, and we shall revert back soon.