OpenAI released a new AI model called ChatGPT, which interacts with users conversationally, answering even the most complex questions.
Answering questions…sounds similar to Google, doesn't it?
Google has dominated the search engine industry for over a decade, and even though there are other alternatives like Bing, Yahoo, or DuckDuckGo, none of them even comes close to the domination Google has on the market.
So, what makes this new Chat AI special? Why are people calling it the new Google killer?
Let's delve into it a bit more, shall we?
Google's Dominance Is Rock Solid
Google dominating the search engine industry is no joke. With huge industries like Microsoft trying to battle with them, Google has easily fended off such competition for decades.
Especially since Google Chrome's release in 2008, Google has been far out of reach of any other search engine alternatives.
Googling has been defined as searching for information about something or someone on the internet. That's how big Google is!
Killing Google seems almost IMPOSSIBLE, and even the tech giants like Microsoft couldn't come close to doing it.
So, what's so special about OpenAI's ChatGPT?
ChatGPT Provides Quick Answers
Quick answers!
ChatGPT easily provides summarized answers to almost all questions.
Not just for simple questions, but even complex questions are answered in seconds.
I tried pushing it to the limit by asking for programming codes for specific things that I needed, and to my surprise, it provided them with ease!
Here is an example.

And here is the result of the code.

Now I could have spent hours in GitHub and Stack Overflow to find it (don't be surprised, everyone does it), but this just took seconds!
And yes, this might be simple stuff for developers, but this is a game changer for someone with no prior experience in coding.
But it's not just coding, ChatGPT can also write, create or summarize any content. Here is an example of ChatGPT explaining Julius Ceaser in 100 words.

It's quick and concise.
Usually, I would have to open one of the search results on Google (likely Wikipedia) and then scan the content to learn this information.
ChatGPT easily feeds us this information, but how to check the authenticity and context?
ChatGPT Can Lead To Tunnel Vision
OpenAI's ChatGPT provides easy and quick answers. That's its big selling point AND its biggest fault.
ChatGPT is not always correct. Especially with context-based questions. Even OpenAI clearly states that in their FAQ section.
But the simple and quick answers are so attractive that I am sure many people will fall into the trap and end up having tunnel vision.
Agreeing on anything ChatGPT says without any other source of information will lead to a bad case of tunnel vision, which would be hard to get out of.
ChatGPT can provide incorrect answers with the same 'confidence', and unwary users can think it as correct.
I have tested this by asking for the meaning of my name (meaning of Sanmay).
It provides the exact same type of quick answer, but a quick 'Google' search (and a quick call to my parents) clearly says otherwise!
'So what if it's not always correct? Google is not always correct about everything!'
Yes, Google is often wrong about many things, but there is a difference.
Google provides multiple sources of information to users.
It doesn't give THE ANSWER (excluding some cases which I have talked about later), but it gives multiple sources of information and lets the user find it.
What Google does is it provides the best and most trustworthy sources of information for the search term right to the user.
And Google's algorithm gets periodically updated in identifying pages that do not provide correct information and removing them from the rank.
Google filters the spam on the web and provides the user with the best and most trusted sources of info.
But that's not all!
Google Also Provides Quick Answers
As we have established, ChatGPT's most significant attraction point is providing quick answers.
But that's not something limited to it.
Google also provides quick answers using 'Featured snippets' to certain queries.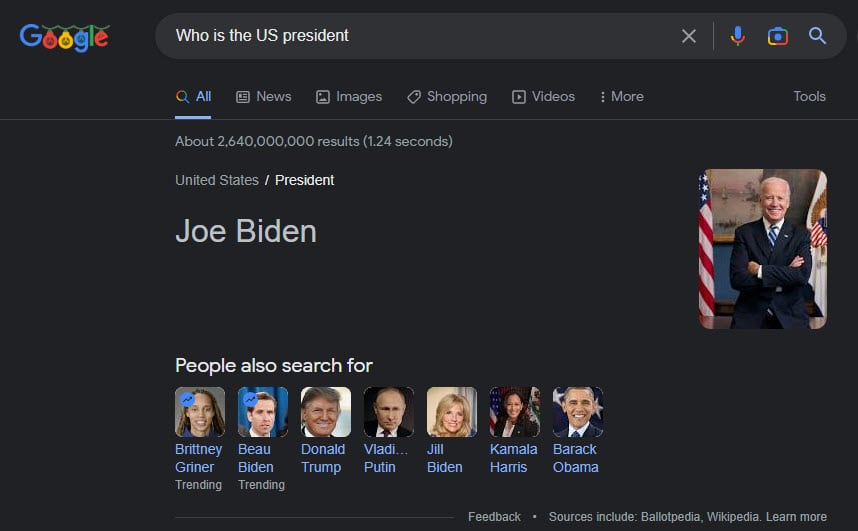 People are looking for quick answers as time passes, and Google has known this for a while.
That's why they introduced the featured snippet where Google shows the best possible answer from the sources it has ranked in the top 10.
But Google cannot (or does not?) provide an entire programming code 'like for making a Pinball game' on its snippet.
At least not yet.
ChatGPT is Also Limited to its Database
Another downside of ChatGPT is that it is limited to its database.
ChatGPT is not connected to the internet so it cannot update its database in real-time (for now).
In their FAQ section, OpenAI clearly states that ChatGPT has "limited knowledge of world and events after 2021 and may also occasionally produce harmful instructions or biased content."
I also asked it to explain itself, and here is what I got.

So, it's clear that ChatGPT is currently limited by its database.
ChatGPT is An Amazing Advancement in AI and Technology
I may have criticized ChatGPT on many things, but there is no doubt it's an amazing advancement in AI and technology.
Seeing how far OpenAI has developed its GPT-3 model by making it more friendly with a conversational tone is mind-blowing.
I can only wonder how it will be with further development.
OpenAI has been a pioneer in AI research and advancement, and I will continue to keep tabs (with keen starry-eyed wonder) on their latest research.
Is OpenAI ChatGPT The New Google Killer?
No, ChatGPT is far from being the Google killer (at the moment). Google provides information from multiple credible sources, constantly updating its algorithm to filter wrong information.
ChatGPT is revolutionary, and it will be a blast to see its development in the future.