Internet Movie Database, abbreviated as IMDb, has been one of the most popular websites when it comes to movie information. The website is basically Wikipedia for movies and TV shows, and hosts reviews, screenshots, user responses, synopses, and much more about almost every movie ever made.
Back last year, IMDb dived into the streaming service and came up with IMDb TV. Long gone are the days of hooking up antennas to your TV to watch a movie, as the age of streaming is becoming more and more popular among users. But is IMDb free to watch movies?
Here, I shall be discussing IMDb TV, and how to download movies from IMDb.
Is IMDb Free To Watch Movies?
Back when it was launched, IMDb was purely fan-based and had a basic function of hey containing all the information you need about a movie that you wanted to watch. Since Amazon bought it in 1998, it has constantly added new features to the service, the latest being IMDb TV.
IMDb TV is a completely free ad-supported streaming service for movies and shows. If you are an Amazon Prime subscriber, you must have noticed this application one time or another due to the aggressive ad campaigning that Amazon did last year.
The service is completely free, but with some caveats. Similar to YouTube, the IMDb TV service has pre-roll and midroll ads, which you will have to watch if you want to watch the free movie. However, unlike YouTube, you cannot skip the advertisements at all.
Ads?
Added on top is the fact that there are no paid tiers to skip or remove the ads. Unlike Amazon Prime that is from the same company, IMDb TV ads cannot be skipped at all. The number of ads varies per video. You are guaranteed at least 3-4 ads in an hour-long show, while at least 6-8 in a two-hour movie. Half an hour episode will contain at least a pre-roll and one midroll ad.
Where Is IMDb TV Available?
Launched as IMDb Freedive, it was relaunched as IMDb TV in late 2019 when more features were added. As of writing, IMDb TV is only available for citizens of the US, with expansion plans underway. There are official plans to debut the service in Europe.
Although the TV service is only restricted to the US, you can still catch the news, reviews, and what to watch lists on IMDb from around the world. Although you may see speed stutters, you can also use a VPN service to change your browser location and then use the service.
How To Watch Movies On IMDb?
Like other streaming platforms, you will need an account to watch and download shows from IMDb TV. Although owned by Amazon, IMDb TV is available on a multitude of platforms, such as Android, iOS, Roku, smart TVs, and much more.
However, on certain smart TVs and Roku streaming platform, you will need to download Amazon Prime Video and access IMDb TV from within the application, as the IMDb TV application does not support standalone streaming channels.
Account Registration
The first thing you need to do to access the rich catalogue of shows and movies on IMDb is to set up your account. Simply navigate to the IMDb account registration page, and fill in your credentials to log into the service.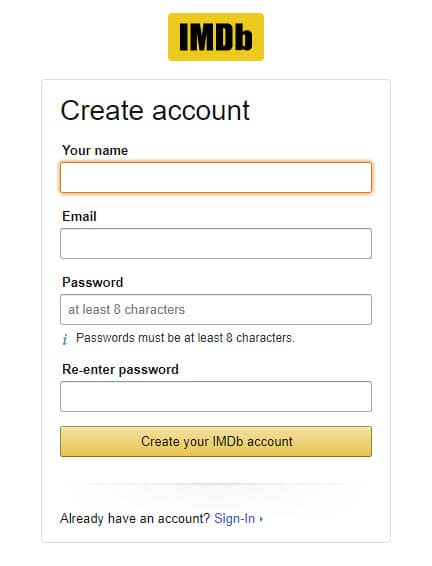 Watch On Desktops And Laptops
Whether you are on Windows 10 or Mac OS, you can use IMDb to download movies for free. All you need is the account registration and your favorite web browser. After you have logged into the service, simply launch any video that you wish to watch, and you should be able to stream it without any issues.
Android And IOS
Using the Android and iOS applications, you can simply watch any show on the platform without having to install any external application or channel.
Smart TVs And Roku
On smart TVs and streaming platforms, you will first need to install the Amazon Prime Video application.  Then, using this application, you can access IMDb TV, which will allow you to watch movies and TV shows free with ads.
How To Download Movies From IMDb?
Even though the service is free, many features are missing from IMDb TV altogether. You can create custom watchlists, but there are no parental controls, the content library is not as rich as you'd want from a content streaming service, and you cannot download shows officially from the service.
However, here are some methods that you can use to download movies from IMDb. These methods involve using third-party services to extract the video from the website and then download them.
Method 1: Amazon Subscription
If you are a Prime Video subscriber, you can use that to save IMDb TV shows and movies for offline viewing. If you aren't a subscriber yet, you can sign up for a free trial, and then enjoy the premium benefits for the trial period of 30 days.
Wondershare's AllMyTube is a premium video downloader that works with almost any website. The application works similar to many online services, where you will require the URL for the video. Here are the steps you need to follow for the same:
Download and launch AllMyTube from the official Wondershare website.
 In your browser of choice, sign into IMDb, and navigate to the video that you want to watch.
Play the video for a few seconds for the trackers to be updated.
Copy the video URL from the address bar.
Paste the link that you copied in the input form on AllMyTube.
Finally, click on the Download button, and wait for the downloads to finish.
Method 3: Use EZ Video Downloader
EZ Video Downloader is an online service, unlike Wondershare AllMyTube. You can paste the same link that you copied in Method 2 above and paste it in the input form. The intended movie or TV show will begin downloading.
Wrapping Up
is IMDb free to watch movies? Yes, but with a lot of missing features. Even as of writing, the streaming service feels missing some important features and movie titles. So, there you have it. Now you know how to download movies from IMDb from free. Comment below if you found this useful, and to discuss further the same.