With the amount of time that users spend online these days, data in any form is one of the most crucial currencies that one holds. Whether you are a content creator using different designing tools or an analyst who generally uses productivity tools for in office work, you must have crucial data stored on the devices that you need for your day-to-day usage.
With highly efficient storage devices becoming cheaper, there are a lot of ways in which users can now store data. That being said, losing your data from your storage is also easier, and you need to be constantly aware of how you operate your devices so that you do not lose your data.
You can take all the precautions you want, and still lose your data. This can happen due to many reasons that include virus and malware attacks, system crashes, and unexpected corruption of hard disks, improper operations and a host of other reasons.
How Does Data Recovery Software Work?
When you delete some data from your storage devices, Windows actually removes just the index of the data. This is translated to the amount of remaining space on your storage devices. The actual data, however, is not deleted until the user adds more data to the disk.
When more data is added, the operating system reclaims the storage space, replacing the older data that was stored on it. The data recovery software takes advantage of this and recovers the files that are still recoverable and has not been overwritten.
iBeesoft Data Recovery Software: Recover Data From SD Card
The data recovery software from iBeesoft supports the recovery of many different types of data including photos, documents, music, videos, and archives among others. When you launch the software, you will be provided with the option to select what type of content do you want to recover.
On the next page, you get to select the drive that you wish to scan for the recovery. This is actually a very useful feature as you can target the file that you want to recover. Or else, you can just select all the file types, which will be then shown to you.
Supported Operating Systems
Using iBeesoft data recovery software, you can recover files from Windows, macOS, and iPhone. There are separate installers for the different file types hosted on their website.
From Where Can I Recover Data?
This is one of the strongest features of this software, as you can recover data from a variety of sources, and you are not limited by the drive formatting as well.
You can recover lost data from your
Computer's inbuilt HDD
External hard disks and SSDs
USB drives
SD card
Digital camera, etc.
You are also not bound by the drive formatting, as you can recover data from a drive formatted as:
You can also recover entire partitions if you accidentally deleted one, or recover the files from a formatted device as well.
Deep Scan And Scan Results
Not all the files may be recoverable with a simple scan. In these scenarios, iBeesoft provides an option for a deep scan. This is a powerful feature for recovering hard to find files, as I even saw files that were deleted more than 6 months ago but I was able to recover them, as I never replaced that space with other new data.
The scan results are shown in real time, and categorized in three ways:
This is a very unique solution to the clumsy way that some other software displays search results. The Path sorting comes in very handy if you know where exactly the file was placed. Or if you are looking for a specific file type, you can use the Type sorting method.
Preview And Recover Files
Once the scan completes, you can preview the files that can be recovered using this software. Simply click on the file and the preview will be shown in the right part of the window.
To recover a file, all you need to do is to select the file and right click on it. From the context menu that is revealed, select Recover followed by the location where you want to save the file.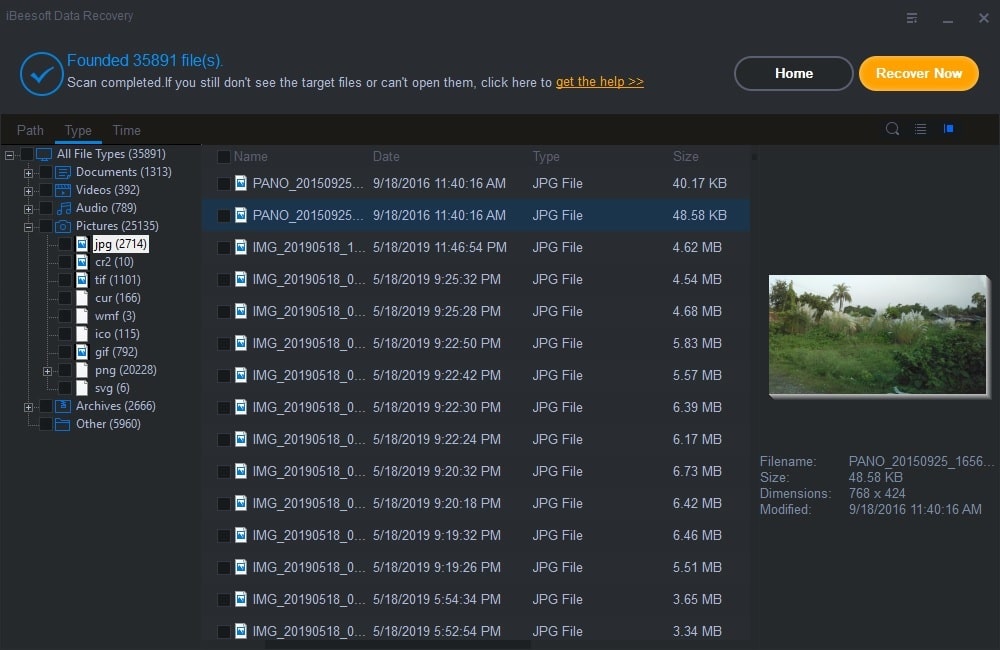 To recover multiple files, select them using the right checkboxes, and click on the Recover now option. Select the location where you wish to save the files, and you will have successfully recovered the files.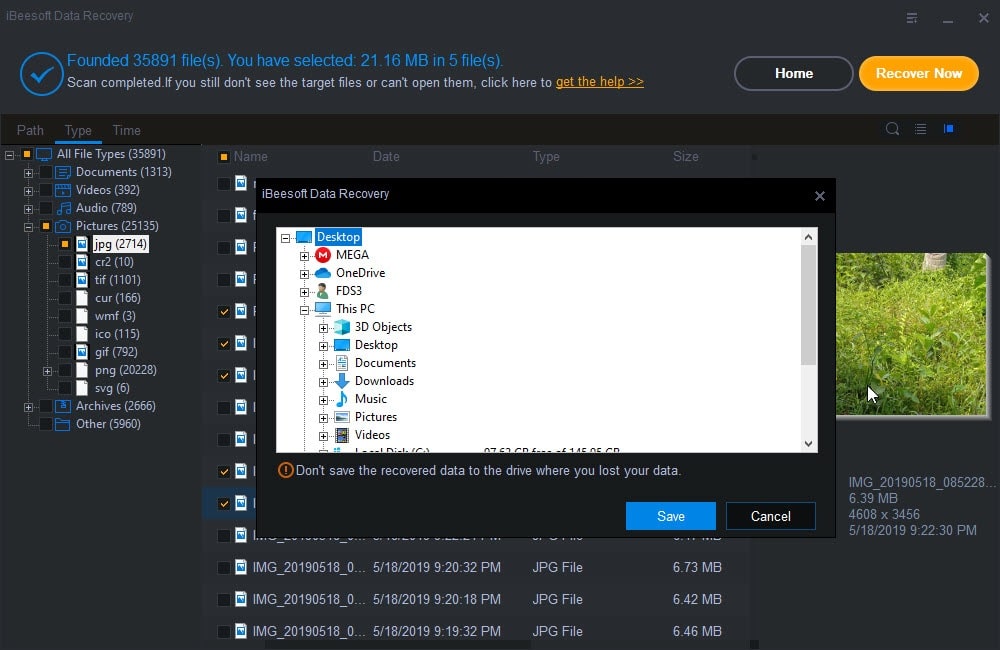 Cons
Two things would have made iBeesoft the perfect data recovery software. Firstly, there is no clear indication of the difference between the features provided in the free and the premium version. This can be confusing to some who are looking for a free data recovery software for Windows 10. In the free trial, you can only preview the files, but not recover them.
Secondly, there seems to be no indication of the files that are already available on the drive. A simple identifier would go a long way in removing the confusion when trying to recover lost files. A better option would be a filter that eliminates the existing files.
Performance
During normal scans, the software does not seem to be using much system resources. The deep scans, however, can take quite a lot of the CPU usage, with system performance taking a slight hit. This is acceptable, as the scans seem to be very efficient in pulling lost and deleted files.
Should You Buy iBeesoft Data Recovery Software?
This is undoubtedly one of the most efficient data recovery software I have used. At $45.95 for a single PC/Server with lifetime upgrades, this seems a cost effective solution that you must keep in case you accidentally delete some files, or lose your data to other factors. There is also a 60 days money back guarantee if you do not find this useful on your device.