Have you lost your hard drive password? Can't unlock it and all of your important data are at stake? No need to worry at all! We are here with a few easy hacks to ease your difficulties within minutes. Scroll through to know how to unlock a hard drive?
According to the leading hard drive manufacturers', once you forget the hard drive password, there is no further way to recover it or restore your data. Hence, you have to erase all the data along with the password to again get your HDD or SSD in usable condition.
But that is not the same case if it happens during a install or restore or just in case all of a sudden out of nowhere.
Why Hard Drive Locked Error Occurs?
First, you need to understand the core of the error, to perform the troubleshooting tricks accurately.
Well, this error can occur anytime in your Windows PC. You might see a blue screen of death that creates a strong barrier. You can't even access a single piece of data in this situation.
In case you are putting the correct password; still, your hard drive is locked, then there are some other causes responsible. It can be a hardware failure or corrupted malware.
However, it's time to know the tricks of how to unlock hard drive?
How to Unlock a Hard Drive?
Several ways are there to bypass the Hard Drive password and get it in the working mode again. We are going to talk about basic yet effective ones. Look below for the full scoop!
Solution 1: Run Disk Check
Firstly, you need to check your disk and confirm there is no issue. Follow the below steps to perform the disk check.
You have to install the USB drive or the boot disk after powering on your PC. Now you will see a flashing message at the bottom of your display. The message will instruct you to press F8 or F12. Do that to open the boot menu.
Now click on "repair your computer"
Next, navigate to "Advanced startup options" and click it
After that, hit the "troubleshoot" option
Then, choose the "advanced options" from the list
Finally command prompt will open- black MS-DOS screen
Type "chkdsk D: /f /x /r" there and press the enter button
Give it a few minutes and wait for it to get finished. Once done, type "exit" and hit the enter button. Now your PC is ready to reboot.
If this solution doesn't work, then you must try our next one. It will surely help you with your locked hard drive.
Solution 2: Run System File Check
Once you are done with the solution 1 but the issue is still there, then you must perform a system file check to unlock the hard drive.
At first, open command prompt following the steps of solution 1
Next, type "sfc/scannow" there and wait for a few minutes to let it run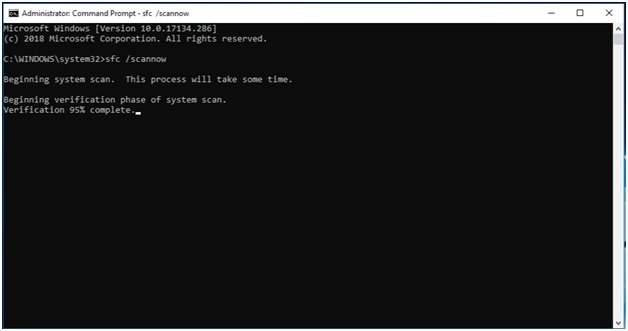 After that, type "exit" and hit the enter button to return from DOS
Now reboot your system. If the issue persists, try our next solution.
Solution 3: Perform a Startup Repair
When you have corrupted boot files, you must reconcile those files to bypass hard drive password. At first open command prompt by following the steps of solution 1. Then, perform the below steps.
Type "bootrec /RebuildBcd" in your MS-DOS and hit the enter button
Next, give it a few seconds to run and type "bootrec /fixMbr"
Before you proceed to the next step, you must wait for a few munites
Now put the command "bootrec /fixboot" and hit enter again
Once this process runs, type "exit" to get out
Now restart your Computer and check whether the hard drive is still unlocked. If yes, then try Solution 4.
Solution 4: Perform a System Restore
If your hard drive has got locked recently, then this process is going to resolve your issue. A system restore doesn't erase all the files or folders from your hard drive. Instead, it restores all the drivers, non-Windows files, or software from a previously known "good state." How to do it? You can either follow the below steps or check out this details steps on how to restore a PC.
Firstly, use your USB or disk for booting
Then, hit the "repair your computer" option
Next, click on the "restore" option
Now you have to choose a date when your PC was working correctly, or you want the data of which time
Now you have to give access to the wizard to run
Finally, restart your PC and see you can use it smoothly or not. If not, then here is our solution 5. Check it out.
Solution 5: Refresh Your Computer
Always remember that refreshing your PC won't harm your data. So follow these steps after booting your PC to complete the troubleshooting process.
Firstly, hit the "repair your computer" option
Next, click on the "troubleshoot" option
Finally, select "refresh your PC"
Now it will take up to several minutes to complete the process after that reboot your PC to check if the step is valid or not. If not, then try to use some tools to get your job done.
Solution 6: Use an HDD Password Removal Tool
You can remove the password of your hard drive with the HDD Unlock Wizard easily. This user-friendly application supports IDE and SATA hard disk drives. All the passwords, including master and user, will be erased. Your HDD will be re-certified, that means you will lose all stored data.
HDD Unlock Wizard takes help of the proprietary unlocking algorithms. Hence it removes the unknown password and makes your hard disk usable again.
Also, you can use a hard drive password reset software like Ultimate Boot CD to unlock your hard drive.
That's all from our end. Now it's your turn to perform as per our guidance and revert to us for sharing your opinion. Use the comment box below for your further query.