Want to bypass your Windows store and download favorite apps from other sources? Well, the sideloading feature of Windows 10 can help you out! Yes, now it's easier than ever to have your desired app on your PC without any hassle. Know what is sideloading, and the process of doing it, here. We have provided an experts guide on sideloading non-store apps in Windows 10. Go through now.
What Is Sideloading?
"Sideloading" is quite similar to the process of "downloading." When you choose to install apps, music, videos, or other stuff over a network- it's called downloading. Here, remote location- the internet is the key.
But sideloading deviates a little. No internet connection is required to transfer files or apps. Unlike downloading, transferring process occurs within two local devices. You only have to have a memory card, Wi-Fi direct, or Bluetooth to complete the process of sideloading.
Hence, if you say- you have downloaded an app to your Windows 10 PC from your smartphone, that means you have actually sideloaded the same on your PC.
How Does Sideloading Work For You?
As we mentioned, sideloading doesn't ask for any internet connection, so you just need to have another method to transfer files within two local devices. If you go for a wired connection, a   cable or USB cable will come to your use. In the case of a wireless method, a Wi-Fi or Bluetooth connection can help you out.
However, you can use a memory card also. You have to put it in a card reader and insert it into your PC. Now you can copy and paste things on your PC. Basically, you have to establish a physical or wireless connection between two of your local devices to transfer files. It works like copying files from your Computer to external hard drive.
In the earlier versions of Windows Operating System, Microsoft didn't allow users to sideload apps from other sources because of the security issues. But now Windows 10 users have got the full freedom for Windows 10 apps download without store.
Let's learn how to sideload apps next. We have provided simple steps to do so. Go through and perform accordingly.
How To Install Apps On Windows 10 Without Store?
The sideloading feature was first introduced in Windows 10 build 10122. If you are running with an older version, then you won't be able to enable the sideloading feature.
However, check out the methods now.
Run the Group Policy Editor:
Firstly, press the Windows logo key + R button at a time
Next, type in "gpedit.msc" and hit the enter button to open the Group Policy Editor
After that, go to your Local Computer Policy and click on it
Now, choose Computer Configuration from the appearing menu
Then, you have to hit the Administrative Templates option
Next, select Windows Components from the list of options
Now, click on App Package Deployment to proceed
After that, you will see "Allow all trusted apps to install" option. It will be "Not configured" by default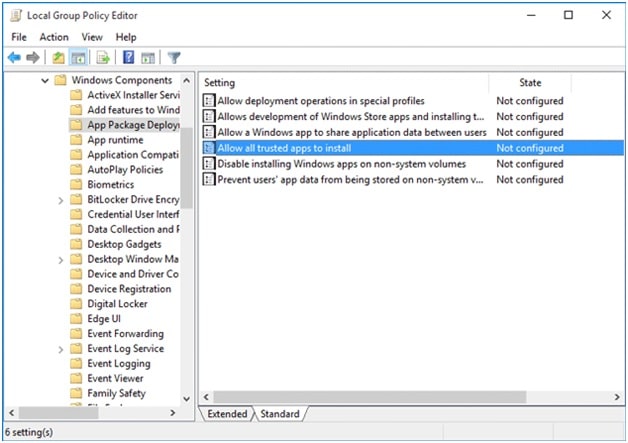 Finally, click on it and select "Enabled" option and save the changes
You can successfully download apps from other sources now.
Use the Registry Editor:
Note: First create a backup of your Registry files, then proceed with the steps.
Press Windows logo key + R button at the same time
Next type "regedit" in the Run dialogue box
Now locate the path- "Computer\HKEY_LOCAL_MACHINE\ \SOFTWARE\Microsoft\Windows\CurrentVersion\AppModelUnlock"
After that, you have to create a DWORD(32-bit) value at the right-hand pane
Once done, name it with "AllowAllTrustedApps"
Now, you have to set the value of new created DWORD to 1 by double-clicking it
For enabling the Developer Mode, you have to create another 32-bit DWORD Value
Now you should name it with "AllowDevelopmentWithoutDevLicense" and set the value to 1 in the right-hand pane
We want to take an important thing on account- You can either choose Sideloaded Apps or the Developer Mode. It's not possible to enable both at the same time.
If you make any mistake while running the Group Policy Editor or using the Registry Editor, it will cause severe damage to your system. Hence, you can avoid using both if you aren't confident enough and opt for our next process.
Enable Sideloading From Settings:
Just like Android, the option of sideloading apps on Windows 10 is not hidden or hard to find. You are just a few clicks away from enabling it. Perform the steps now to do so.
Step 1– Firstly, go to your Start Menu and search for Settings.
Step 2– Once the settings window opens, navigate to "Update & Security."
Step 3– Now you have to choose "For developers" under this update and security section.
Step 4– Next, the "Use developer features" menu will open. Check the box next to "Sideload apps"- just like you check the box of "Uknown sources" while sideloading app on your Android phone.
Step 5– After that, a warning message will pop up just like an Android phone does when you install apps from other sources.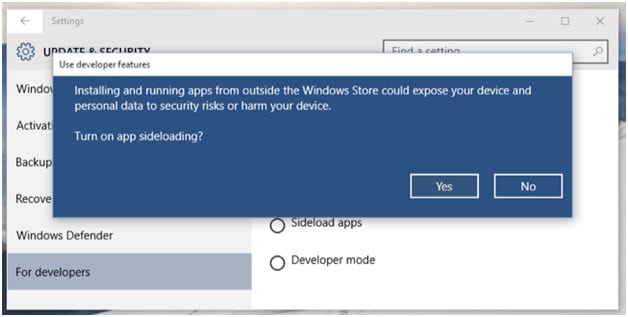 Step 6– The warning message will be making you aware of risks and convey that Microsoft doesn't appraise the apps you download from other sources. You have to click the "Yes" button to agree to that terms of use.
Finally, you are ready for Windows 10 apps to download without Store.
Few more words
We have discussed all the methods of downloading an application without the Microsoft store. Now perform according to our guide and let us know which app you have sideloaded on your Windows 10 PC.