Computers these days come with a variety of input and output options. There are many different kinds of ports, and all of them serve a specific purpose of connecting to the appropriate device. Here, I shall discuss how you can find USB 3.0 port on your computer. If you are trying to find your motherboard model or computer model, click here.
What Is USB 3.0?
USB 3.0 is one of the latest generations of USB ports. Unlike the older variations with 4 pin connectors, USB 3.0 has 9 pin connectors which make the port efficient for faster delivery speeds. The USB 3.0 ports support a transfer rate of 5 Gbit/s, while the next USB 3.1 supports up to 10 Gbit/s.
The power usage also differs between the generations of USB ports. While USB 2.0 can consume up to 500 mA, USB 3.0 can consume up to 900 mA power.

How To Find USB 3.0 In My Computer?
To enjoy the high transfer speeds, you must find the appropriate ports on your device. If you are wondering how to tell if you have a USB 3.0 port, here is how you can find if you have the latest ports on your computer.
Firstly, you have to check if you have the latest port. You can do this from the device manager. Follow these steps to find if you have USB 3.0
Open a Run dialog by pressing Win + R.
Type devmgmt.msc and press Enter to open the device manager.
Expand the Universal Serial Bus controllers section by clicking on the small arrow next to it.
Here, you will find an entry named USB root hub. Check the USB port version next to it.
If USB 3.0 is mentioned here, you have a USB port on your device, and you can take advantage of the high transfer speeds.
How to tell USB 2.0 from 3.0?
If you have a USB 3.0 device enlisted in the Device Manager, you might be wondering which port out of the variety of ports is the latest one. Here is how you can tell the difference between USB 2.0 and USB 3.0.
Port Logo
USB 3.0 is also called SuperSpeed USB. Therefore, laptop manufacturers usually include an SS logo next to the USB symbol so that users can easily tell the difference between USB 2.0 and 3.0. You will find a logo looking something similar to this: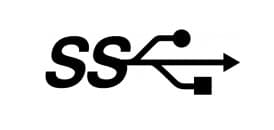 Port Color
Usually, computer manufacturers also change the color of the port to match the convention of USB connections. To separate USB 2.0 from 3.0, you can look at the color of the connector.
If you see that the connection port is blue in color, it is the identification of the 9 pin USB 3.0 connector, while white or black connector colors correspond to the older versions (USB 1.0/1.1/2.0)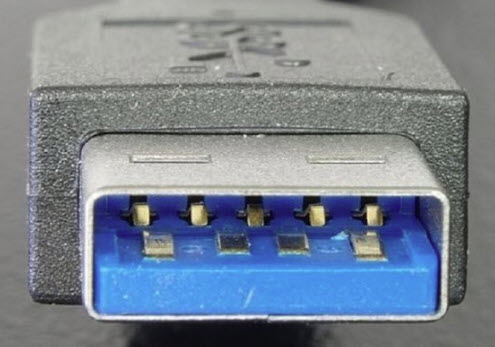 Connector Pins
If you cannot differentiate between the ports due to no color difference and are still wondering if your external storage or multimedia device is USB 3.0 or not, you can try counting the connector pins on these devices.
As mentioned earlier, USB 2.0 has 4 connector pins, while USB 3.0 has 9 connector pins for faster transfer speeds.
How To Find USB 3.0 port In MacOS?
In macOS, USB 3.0 ports can be identified in the system information menu. To find USB 3.0 port in macOS, follow these steps:
Click the Apple icon located in the top left-hand corner of the screen.
Select About This Mac.
Within the About This Mac window, click More Info…
The System Profiler window will open up. Select USB located under Hardware in the Contents column on the left side of the window. If you have USB 3.0 ports, you will see a USB 3.0 selection.
Wrapping Up
So there you have it. If you were wondering how to find a USB 3.0 port on my computer, now you know how to do so using the information provided above. Did you find this useful? Comment below if you did, and to discuss further the same.