The Aero theme was one of the most requested features in Windows 10 insider previews. It was the glass like theme applied to the title bar and the start menu that gave Windows 7 it's signature look. However, it was removed by Microsoft from Windows 8 and above and Microsoft received a ton of hate following that.
Why Aero?
Removing Aero theme was part of Microsoft creating unified UI targeting battery-powered devices like tablets, laptops, and smartphones, and had to make the OS more battery efficient. So they removed the Aero theme in order to create a more battery efficient UI.
Three Methods To Enable Aero In Windows 10
Shifting back to the Aero theme brings back the good old vibes that existed with possibly the most successful Windows OS. If you are someone who misses the Aero theme, here I'll list 3 methods that will help you get the Aero theme for Windows 10.
# Method 1 (Using Registry Editor)
For testing purposes and get feedback from users, Microsoft has been testing Aero glass for implementing it in window frames, title bars, etc. this wasn't done for most users, and only some of them got this update. For these users, you may try this or these users; you may try this method to enable Aero Glass transparency with blur effects in Windows 10.
1) Open Run by pressing Win + R. Type regedit and press enter to open Registry Editor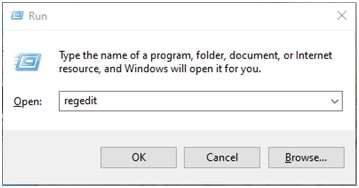 2) Copy this path in the address bar of the Registry Editor and navigate to it:
HKEY_CURRENT_USER\SOFTWARE\Microsoft\Windows\CurrentVersion\Themes\Personalize
3) On the right pane, find the DWORD entry titled EnableBlurBehind. If it does not exist, create a new DWORD (32-bit) Value and name it EnableBlurBehind.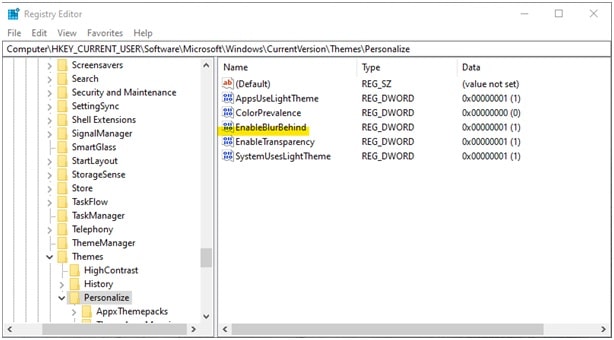 4) Double click it to modify, and set its value to 1.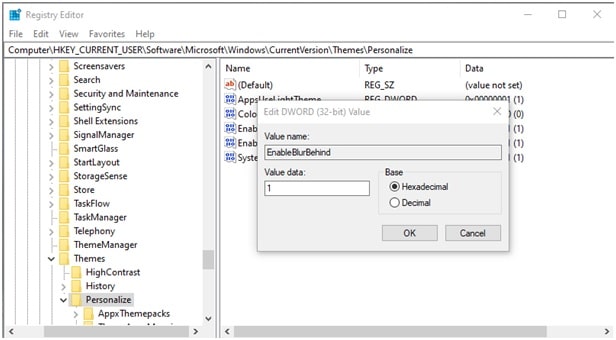 5) Restart your PC for the changes to take effect.
This should enable the Aero Glass theme in Windows 10.
Note: This setting may not work with the new 19H1 update as it brings an overhaul in the visual aesthetics. If the update doesn't bring the Aero theme to your device, use one of the next steps to enable transparent toolbars like Aero glass theme. 
# Method 2 (Using Aero Glass For Win 8.X+)
Aero Glass offers experimental support as of now, and may not work as expected. Create a system restore point before making changes to your system so that you can fall back to that in case any mishap happens.
1) Download Aero glass for Windows 10 from glass8.eu/download
2) Install the application in a writable location, let it install in C:\AeroGlass if that shows up as default location.
3) In the third screen, ensure that you check the Install Aero Glass theme. Click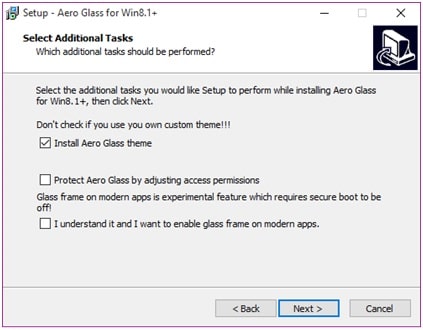 4) When install finishes, go to Personalize and select Themes. Select the unsaved Desktop theme to activate Aero Glass theme.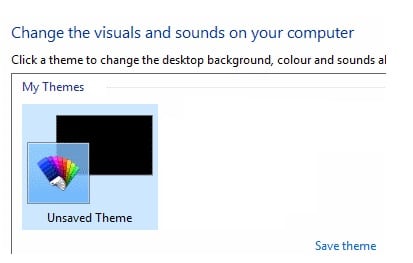 If you like the new look of your desktop, you can keep it installed to have aero glass theme in Windows 10. however there is a persistent watermark that can be annoying. Here is another method to install aero glass in Windows 10.
# Method 3 (Using Glass2K)
Glass2K does not state that it is compatible with Windows 10, but we found it running with 32 and 64-bit devices.
1) Visit https://www.softpedia.com/get/Desktop-Enhancements/Other-Desktop-Enhancements/Glass2k.shtml to download the client software. No installation is required; open the file to run the app.
2) In the settings box, you'll find options to auto load the tool as Windows starts, and remember the transparency settings.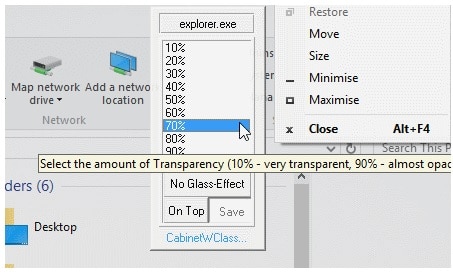 3) Disable (optional) the transparency pop-up as it can interfere with your right-click menu. Press Save.
4) Now you have control over the transparency settings of various separate elements of your device.
5) In any window, use the keyboard short cut Ctrl + Shift + (0-9) to adjust the transparency.
Glass2K gives a good Aero like effect for Windows 10. You have control over the transparency and can set the blur option to resemble the Windows 7 look. 
Conclusion
So there you have it. now you know how to get the Aero theme for Windows 7 and get transparent title bar. Although these are workarounds, I really want Windows to restore the much wanted Aero theme. The case they make about making the devices battery-efficient is compelling; however, there are a lot of devices that run high powered CPUs and GPUs that can run the Aero theme with ease. Here is to sincerely hoping that Microsoft listens to the users and adds the beloved feature back. Comment below if you found this post useful.