With an increased focus on security, Windows 10 comes supplied with powerful encryption features, to protect your files using security keys. Today we will be focusing on this encryption feature, and take a deeper look into how to decrypt a file in Windows 10.
What Is Windows 10 EFS?
Before looking at how to encrypt and decrypt files, first, let us take a look at the file type used to encrypt data. Windows 10 uses an encryption service called Encrypting File System or EFS. While BitLocker allows you to encrypt entire drives, EFS works on a smaller scale allowing you to encrypt individual files and folders.
While encrypting your files using EFS is safer than having no encryption, EFS is not as secure as other encryption formats. This is largely due to the fact that the key used to decrypt the files is stored locally instead of cloud storage or 2FA.
EFS is available on Windows 10 Pro, Enterprise and Education versions only. Also, EFS encryption keys are connected to the Windows account, meaning you can encrypt files separately for each user on a computer.
Encrypting Files With EFS
EFS is actually very easy to set up, and one of the quickest ways to protect your files and folders on a PC. Let us take a brief look at how you can easily encrypt a file using the EFS service.
In File Explorer (shortcut Win + E), navigate to the file or folder that you wish to encrypt.
Right-click on the file or folder, and select Properties from the context menu.
Under the General tab, click on the Advanced button in the Attributes section.
This should open the Advanced Attributes dialog box.
Here, make sure that the box next to the following option is checked:
Encrypt contents to secure data
Click on the OK button to save the change.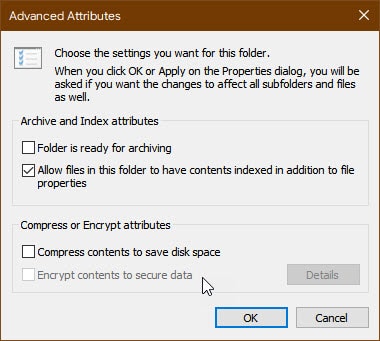 Click on Apply to implement the EFS encryption. This will launch a confirmation pop up window asking if you wish to apply the encryption changes to just the folder or the subfolders as well.
Select whichever option that you prefer, and click on the OK button to finalize the changes.
Files and folders that you encrypt with the EFS system will get a small lock icon overlay in the top right corner. Also, once enabled, you will notice an EFS icon in the system tray, which is essentially a reminder to back up your Windows 10 EFS key.
How To Decrypt A File Windows 10?
Now, let us take a look at how to decrypt encrypted files on Windows 10. There are three ways that you can use to decrypt files in Windows 10.
Method 1: Use Advanced Attributes Window
The first method involves reversing the encryption process. You will uncheck the Encrypt contents to secure data checkbox using the same steps that followed in the method mentioned above. Once you click on OK, you will see the same confirmation prompt asking if you wish to apply the changes to the folder, or all the subfolders within it as well.
Select the radio button next to either Apply changes to this folder only or Apply changes to this folder, subfolders and files option according to your choice. Finally, click on OK to implement the changes and decrypt Windows 10 files.
Method 2: Decrypt From Context Menu
Another method you can try is to decrypt the folder or files right from the context menu. Follow these steps for the same:
In File Explorer, open the folder that you want to decrypt.
Take ownership of the file using the methods provided in this article.
Right-click on any empty space to reveal the additional menu.
Hover over File Ownership > from the context menu.
Select Personal from the additional menu.
Method 3: Decrypt From Command Prompt
Command Prompt can be used to decrypt files in Windows as well. This is done using the Cipher command, which can be used to change the encryption status in Windows. The syntax for the command can be accessed using the cipher /? Command. You can check out all the parameters on the Microsoft website.
Follow these steps to know how to decrypt files in Windows 10:
Open an elevated command prompt. To do this, you can open a Run dialog (Win + R), type cmd and press Ctrl + Shift + Enter to launch CMD with admin privileges.
To decrypt only the parent folder, type the following command:
cipher /d "ENTER_FULL_PATH"
To decrypt a folder along with all the subfolders and files, use the following command:
cipher /d /s:"ENTER_FULL_PATH"
Note: Replace ENTER_FULL_PATH with the full directory name of the folder that you wish to decrypt.
Error: The Specific File Could Not Be Decrypted
If you fail to decrypt a specific file or folder after encrypting it in Windows 10, it is most probably a sign of a malware or virus attack. Such malware can be a serious threat to your data, and require immediate action.
If you own a third-party antivirus or antimalware tool, use that to scan your system for any hidden malware. If you do not have an antivirus installed, you can use the Windows Malicious Software Removal Tool.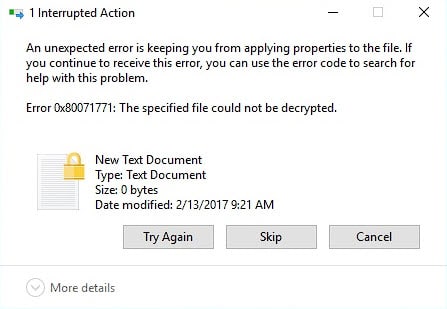 Wrapping Up
So there you have it. Now you know how to decrypt a file in Windows 10 using the methods provided above. Comment below if you found this useful, and to discuss further the same.