If you want to spice up your conversations in this meta-owned platform then make and send avatars in your WhatsApp chats.
Meta has recently rolled out the WhatsApp avatar feature for iOS and Android users.
This quick guide will tell you how to set up your Avatar and send customized stickers.
Hang tight and read on…
What Are WhatsApp Avatars?
Avatars were available on other Meta-owned platforms like Instagram and Facebook.
Recently WhatsApp ported this bitmoji-style customizable virtual characters namely Avatars, on WhatsApp.
These are actually the digital animated versions of yourself.
It is actually a great way of representing yourself instead of using your actual image.
It helps in creating your own virtual image which will resemble you as closely as possible.
So, gear up and start making your WhatsApp conversations more personalized and fun.
How To Create A WhatsApp Avatar?
Creating a WhatsApp avatar is pretty simple.
Dive in and create your digital Avatar, and here is how you can do it:
First, open WhatsApp on your iOS or Android phone.
Open any random chat, and in the message box, tap on stickers.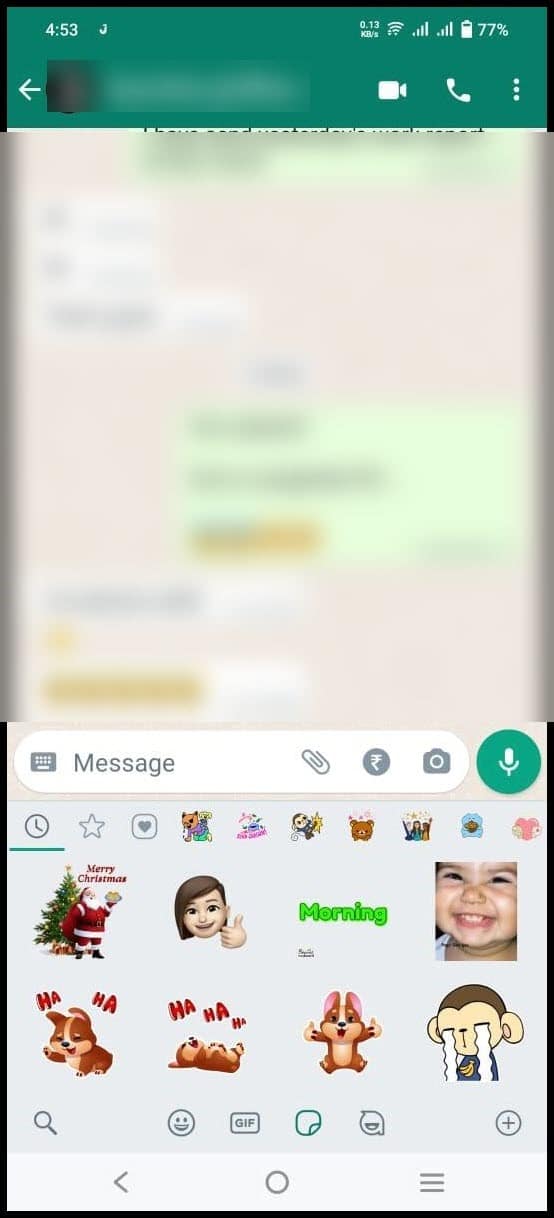 On Android devices, the sticker option is the emoji tab which is next to the GIF.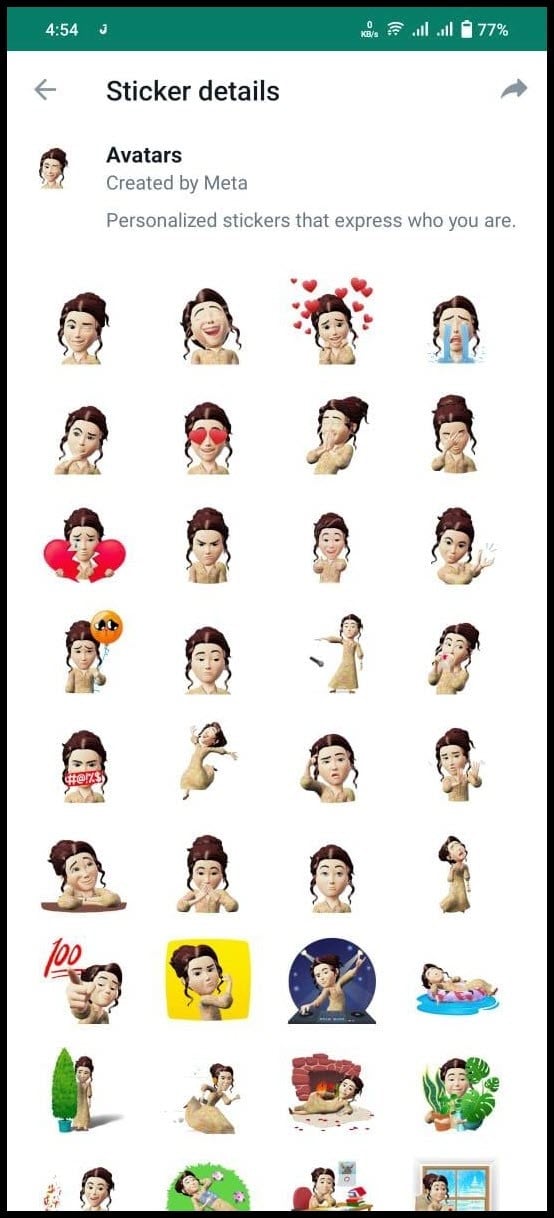 Start creating your Avatar in the avatar toolbox.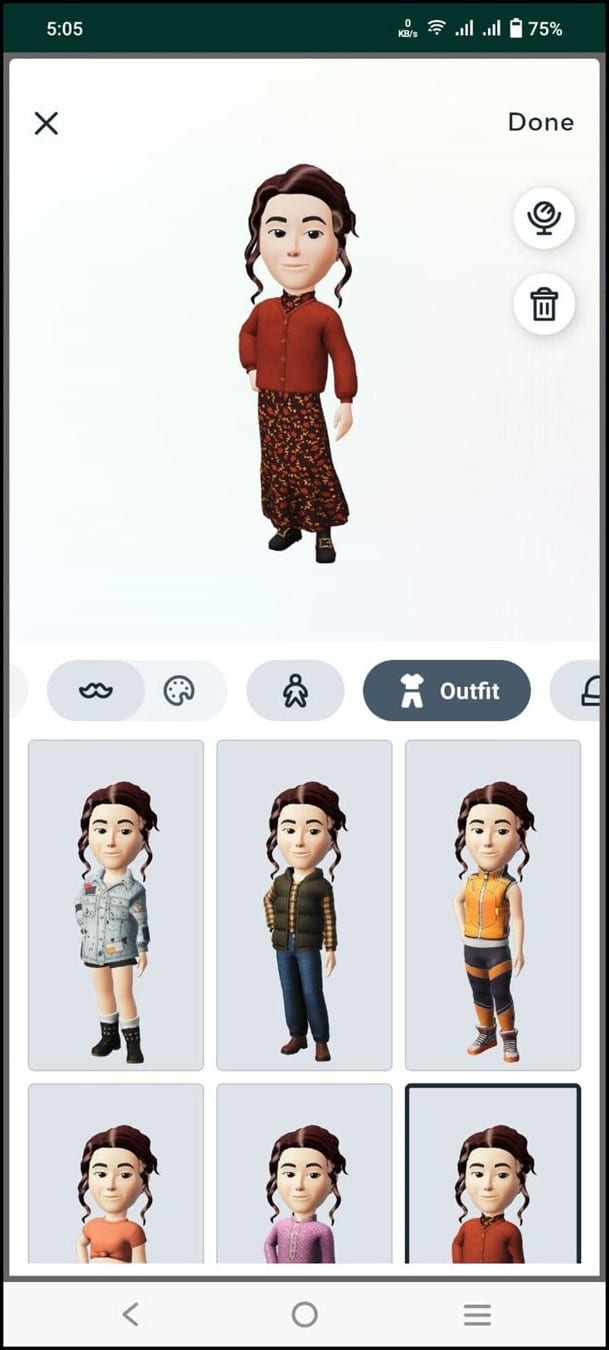 Choose the outfits, hairstyles, skin color, and face shape, or copy your facial features into your Avatar.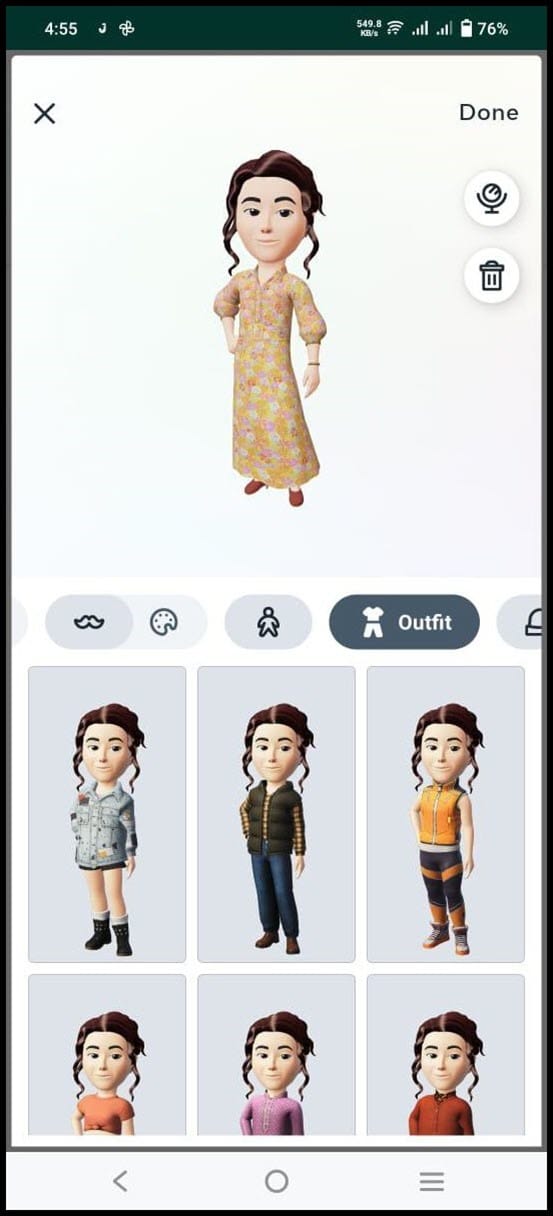 If you want to copy your facial features, then you need to turn on the front camera. Soon a small box will appear in front of you, and you will be able to see yourself.
Adding a bindi or a desi effect to your feature is also possible.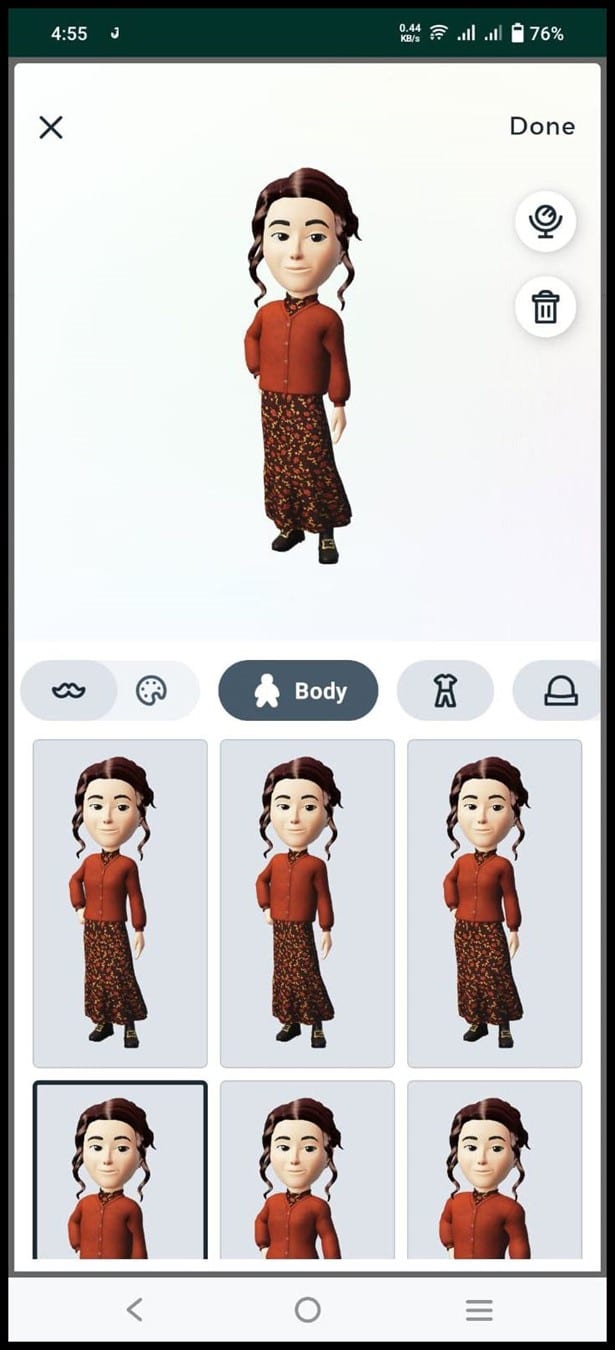 After you have added all the features, tap on Done, and WhatsApp will create your Avatar for your personalized messaging experience.
How To Send WhatsApp Avatar?
Follow these easy steps to send WhatsApp Avatar:
First, open any chat and click on the sticker icon. You will come across a lot of personalized stickers of your Avatar.
Next, scroll and find the Avatar you want to send in the chat.
The moment you tap on the Avatar, it will be sent to your contact.
If you want quick access, you can save your favorite avatar stickers too.
To edit your Avatar, tap on the pen icon and edit it as per your preference.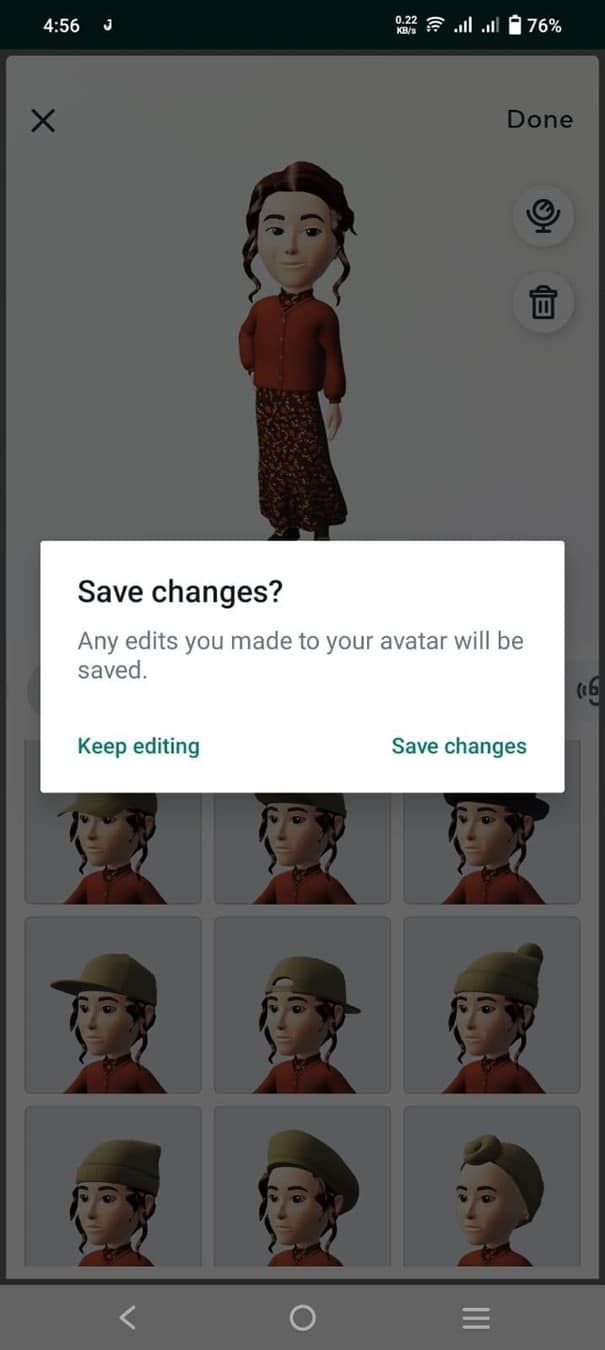 How To Set Up An Avatar As A WhatsApp Profile Photo?
Setting up an avatar as a WhatsApp profile photo is quite simple.
Here is how you can do it:
After you are done creating your Avatar go to WhatsApp settings.
Next, open your profile photo and tap on edit.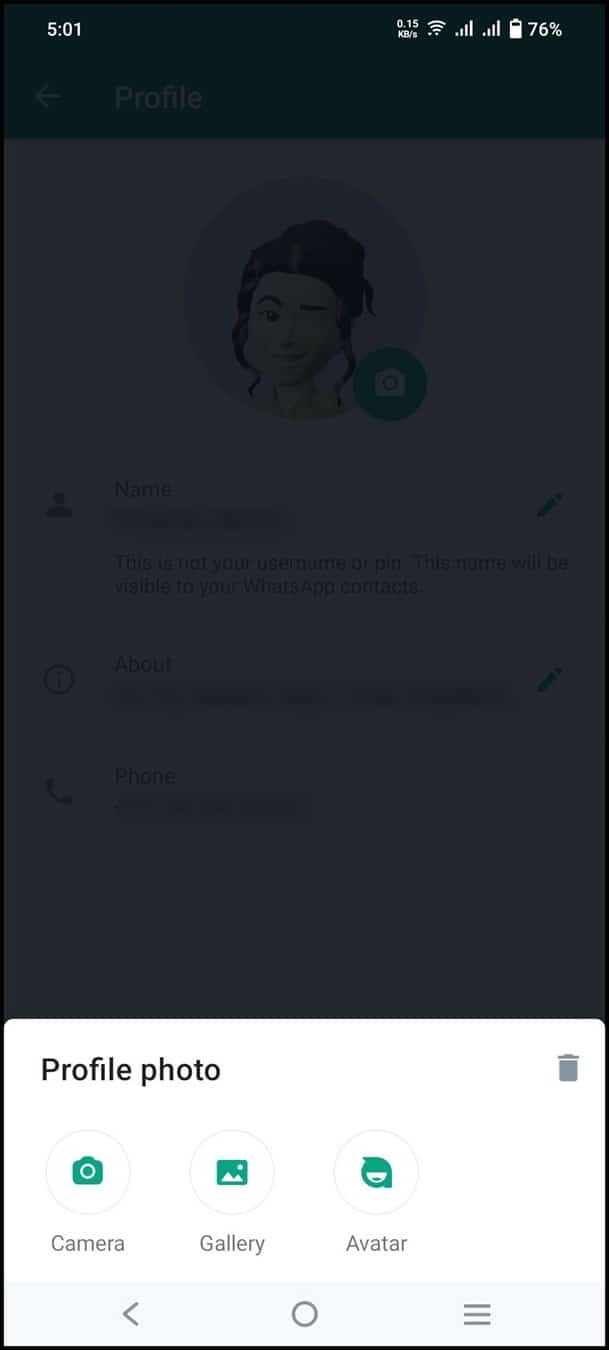 Tap on using Avatar in the edit section and select the avatar face you want to keep as your profile photo.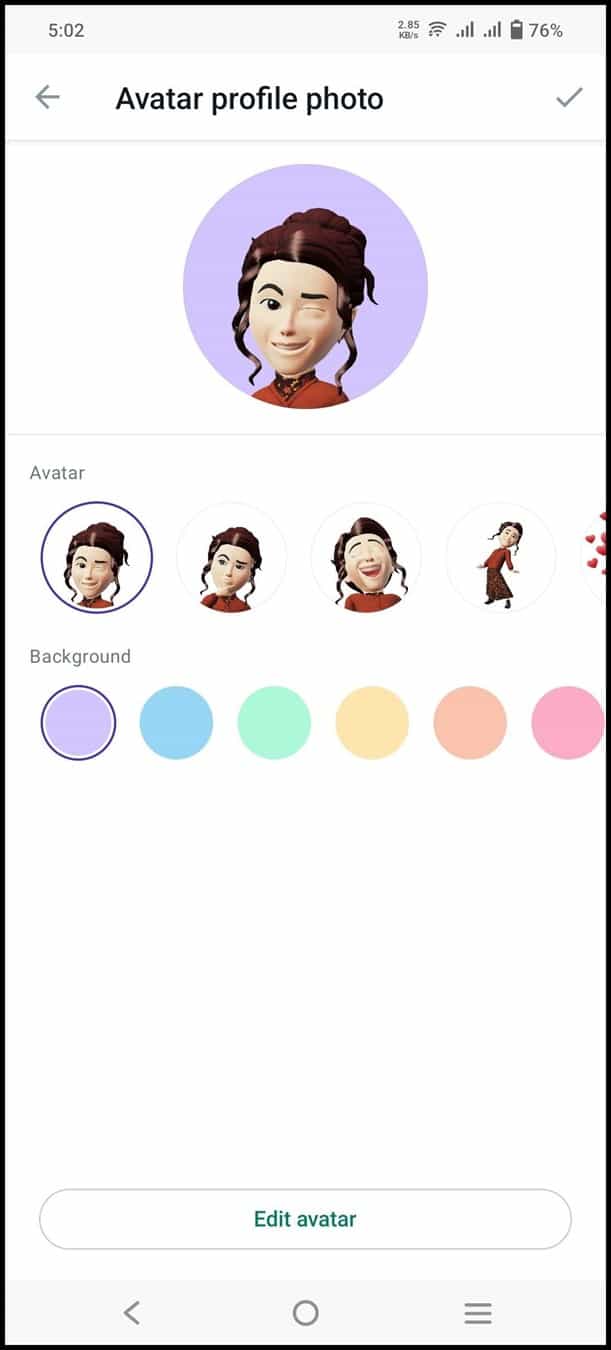 Finally, select the background color and tap on Done.
How Can WhatsApp Avatars Be Implemented?
Users can now easily create their avatars and express their emotions with these customized avatars.
Creating avatars on WhatsApp is pretty simple. Choose your hairstyle, outfit, face color, and skin tone, and get started.
After a user is satisfied with the digital representation of the virtual character, the user finally starts using it.
WhatsApp users can even use the Avatar as a sticker and can also make it their profile photo.
The users will be able to choose from 36 custom stickers that will reflect different emotions and actions.
Update your WhatsApp from the Apple app store or the Google Play Store to avail of this feature on WhatsApp.
After you have created your Avatar WhatsApp will automatically create different sticker versions of you depending on the various categories.
You can even use these auto-generated stickers in your individual and personal chats.
It kind of makes you feel more private and secure.
How To Delete Your WhatsApp Avatar?
Deleting your WhatsApp avatar is easy too. Just head to the Avatar editor and tap on the "delete" button on the preview window.
Finally, tap on the "delete" button to delete the Avatar.
Frequently Asked Questions (FAQs)
How Do I Send An Avatar Message?
For sending an avatar message, perform the steps:
Tap on a chat on your chat list to open the conversation.
Then, tap on Avatar.
Finally, tap on a sticker to share it with your chat.
2. Are WhatsApp, Instagram, And Facebook Avatars Interchangeable?
No, you can't do that. Your Avatar will be different on all three platforms.
Can You Send And Create WhatsApp Avatars On The Web?
No, you cannot create your Avatar using the WhatsApp web app since it is currently available on Android and iOS devices.
Final Words
If you are in love with the concept of Bitmojis and Memojis, then you will definitely love this new addition.
Get in touch with us in the comment section below in case of any doubts or queries.