Google Chrome is definitely one of the most popular browsers when it comes to Windows 10. It has earned this reputation thanks to its increased focus on speed and reliability, which makes it perfect for users across all demographics.
However, it is far from perfect, with many errors, which are reported by users across multiple forums. One such error is the 'Chrome sound not working' error, where users get no sound on Google Chrome when trying to play media from the internet.
Why Is Chrome Not Playing Sounds?
Google Chrome is one of the most used internet browsers and works in many different settings and components to perform so well. There are many reasons why you may get Google Chrome no sound error. Some of these include:
A muted volume mixer is one of the most common reasons why users get this error. The Chrome app can be muted by a variety of things, like a recent application or settings installation or malware hidden on your device.
An outdated Google Chrome may miss out on the latest components required to play the media on some new media sites.
Some users have reported even corrupt extensions can lead to this error. Extensions are components that are loaded when you start Chrome, and corrupt or broken extensions can be the cause of this error.
Some apps may also end up changing the default application and sound settings for different applications and you end up getting this error.
How To Fix Google Chrome Sound Not Working Error?
Since the reason that you face this error differs from user to user, not all solutions may apply to your computer. Therefore, it is recommended that you try all these settings one by one until you find the one that works for you.
Solution 1: Check Speaker And Volume Mixer
This might seem stupid, but there is a possibility that there is some connectivity issue with your speaker if you are using external speakers. Start by checking if there are any loose connections, or if you have any switches turned off on your speaker.
Also check for the battery level if you are using Bluetooth speakers, as some Bluetooth speakers tend to not play music if the battery is running low.
Sometimes when installing an application or during updates, the volume settings may get changed which leads to sound not being audible. You can adjust the volume for individual output sources in Windows 10 using the volume mixer.
To open the audio mixer, right-click on the speaker icon in the notification tray, and select Volume Mixer.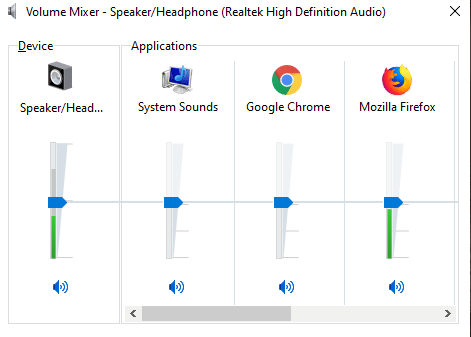 Here check the audio levels for Firefox and set it to max volume if set otherwise.
Now you should be able to hear audio from Google Chrome now.
Solution 2: Check For Broken Extensions
If you have confirmed that only the Chrome browser is unable to play audio but all other sources play sound normally, it is possible that some broken extensions may be causing the 'Google Chrome no sound' error on your device.
To check if that is the case, open the file page you were having the error on using Incognito Browsing mode. Run an Incognito Window by right-clicking on the taskbar icon and selecting New Incognito Window.
Now try accessing the page that is not playing sound using the Incognito window. If the page loads normally in Incognito mode and all the sounds play normally, there is probably some broken extension on your device that is causing this error to appear.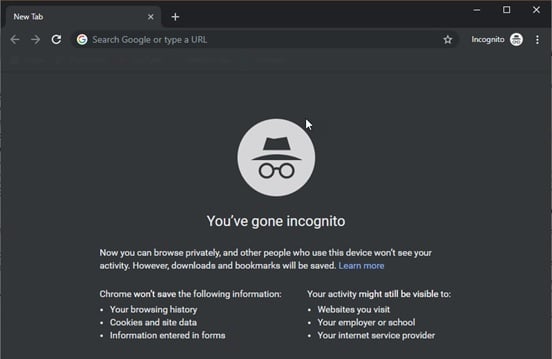 The extensions by default are disabled in this mode, and you can confirm that the error was caused by some broken extension if you don't face this error anymore in Incognito mode.
Start by enabling the extensions one by one and check if the error persists.
Solution 3: Update Audio Drivers
The device drivers are the files that enable your hardware device to communicate with the operating system. If you missed or forgot to update your drivers, these outdated drivers can sometimes cause an error that makes no sound audible from Google Chrome or other browsers.
To update the audio drivers, follow these steps:
Open a Run dialogue by pressing Win + R.
Type devmgmt.msc to open the Device Manager.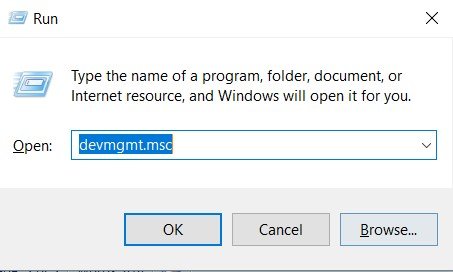 Locate the Audio inputs and outputs and click on it to expand.
Right-click on devices available under this section and select Update driver.
Wait for Windows to find the updates if available and then follow the onscreen instructions to update your audio drivers.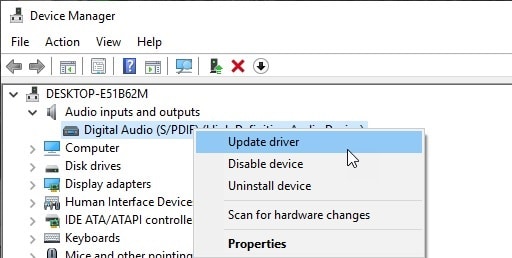 Next, select 'Sound, video and game controllers' and update the drivers of the devices available under this section too as mentioned above.
Keeping your drivers up to date can prevent these conflicts between the hardware and the operating system.
Solution 4: Clear Chrome Browsing Data
There may also be some corrupt cache data that is causing the Chrome sound not working error.
The cache is the data stored on your device by various websites, to load data from them faster the next time you load the website. However, sometimes a mismatched cache data can cause all sorts of errors, and this error is one of them. To solve your Chrome not playing sound error; clear all your Google Chrome data like cookies and cached images and files.
To clear Google Chrome data, press the Ctrl + Shift + Delete in a new tab to open the Clear browsing data dialog box. Here select All time from the Time range drop-down menu. Then select Clear data.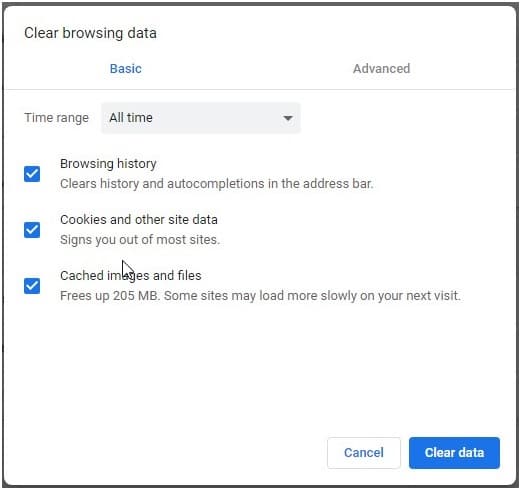 Solution 5: Change Sound Configurations
There is a lingering issue with Google Chrome. Google Chrome seems to support 5.1 sound and many videos on online media platforms seem to have 5.1 audio as well. However, some recent changes made to your computer makes Chrome utilizing only one of its channels.
So if you are using single jack speakers, the audio is sent to a non-connected output, which in turn causes the 'Chrome sound not working' error on your device. This is a very easy error to troubleshoot, and you can do so by following these steps:
In Windows search, search for Sound settings. Press Enter to launch the Sound settings in the settings app.
Scroll to locate and click on Advanced sound options.
Play the audio from Chrome in the background. You should notice there is an entry for Chrome in the App section of the Settings app.
Change the output to your speakers (or where you want the sound to be played from).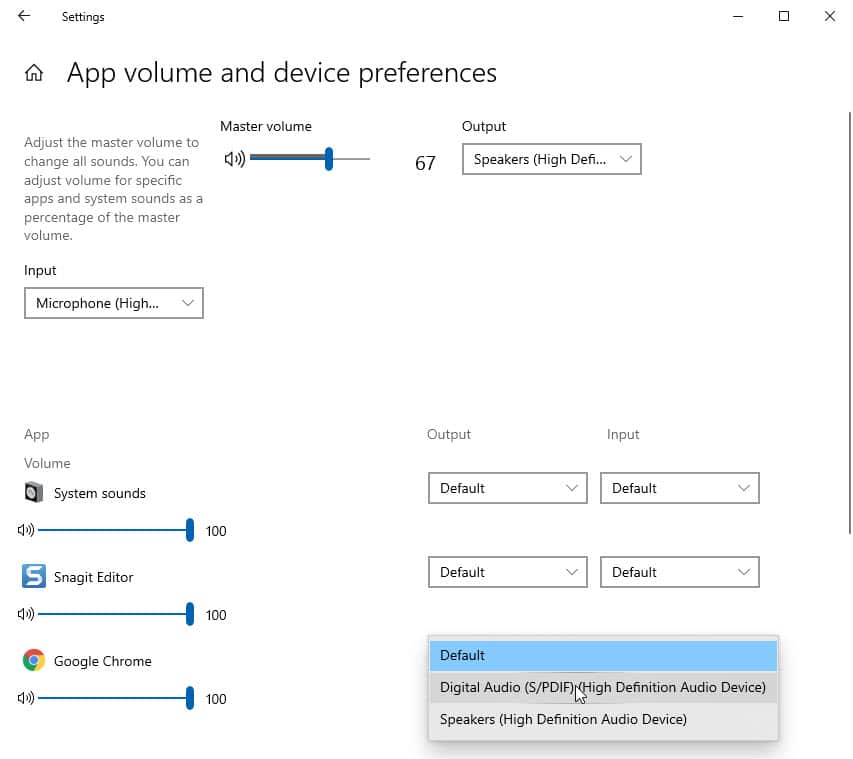 You should see that you get sound from Google Chrome.
Solution 6: Reinstall Google Chrome
As a last resort, if all other fixes fail, you can try performing a clean reinstall of the Google Chrome browser. This will also help you in case you have a corrupt Chrome installation. A fresh install will reset all the broken files and settings, and form the data libraries again.
Uninstall the Chrome application from the Control panel. Then remove the residual files as well. To remove the residual files, you can use a third-party junk file cleaner like CCleaner.
Then download a fresh copy of the Chrome installer from the Google website and run the installer.
Wait for the installer to finish.
Now try loading the web page in this new installation of Google Chrome.
Wrapping Up
So there you have it. Now you know how to solve the Chrome sound not working error on your device. Did you find this useful? Comment below if you did, and tell us how you solved this error on your device.