Google has taken a step ahead towards a password-less login system by rolling out 'Passkeys.'
This is a more secure way to sign in to the apps and websites.
This feature will be available across all the major platforms. The user must log in using biometric identifiers such as facial recognition, fingerprints, and PINs.
Thus, providing a more user-intuitive and safer way to get into various digital accounts like Google, Dropbox, and Twitter.
The passkeys option will be available for a passwordless login experience for Google account users.
Also read: Open AI ChatGPT The New Google Killer
Passkeys – Explained
The Passkeys replace the traditional and prolonged password days that are subjected to risks if fallen into the wrong hands. Besides, it's a mess if you forget the password!
To eradicate all this extra stress, the Passkeys provided by Google is a new and more secure way of logging into your account.
The tech giant had been working with Microsoft and Apple FIDO Alliance to develop this safer alternative to passwords.
Passkeys are built on WebAuthn or b Authentication standard. This uses public key cryptography.
While registering to an account, the OS creates a unique key pair for the account and the website or app. These cryptographic keys are generated uniquely and securely for each account.
Several reputed service brands like Spotify, PalPal, Kayak, Docusign, and Yahoo have already deployed this new Passkey experience Passkeys feature.
How To Use Passkeys
Passkeys do not provide any actual key. It is a type of unlocking mechanism using biometric measures like fingerprints, facial recognition, PIN, etc. as discussed before.
Here is how to create Passkey for apps and websites:
First of all, open Google.
Click on your Profile icon and select Manage your Google account option.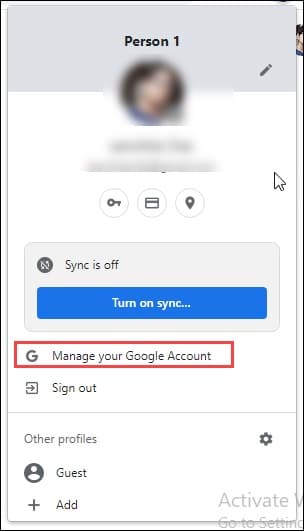 Go to the Security tab and scroll down to Passkeys.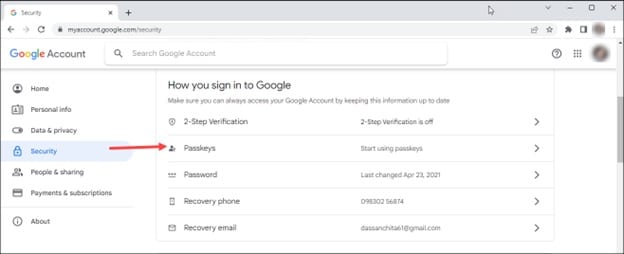 Click on it, and now Google will ask you to verify it's you. So, enter your password in the respective field.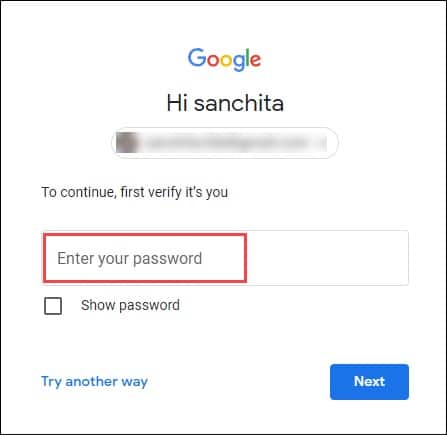 Next, click on Create a passkey button > Continue.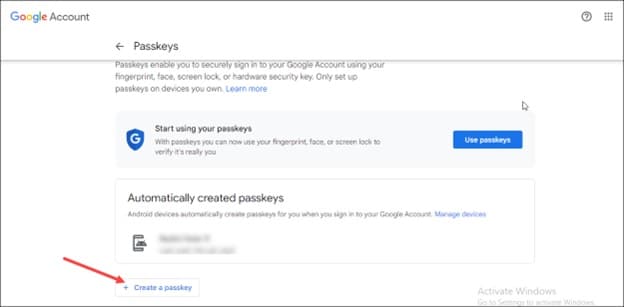 To complete the creation of the Passkey, follow the instructions provided.
You may require to unlock your device. To create Passkeys on multiple devices you use, repeat the same steps from those devices.
Once you create your first Passkey, you will be prompted to create another passkey on any supported device to log into your Google Account.
But it is recommended not to create a passkey on a shared device. This will prevent others from getting access to your account.
If your account has already passkeys, they will all be listed there.
For Android devices, the passkeys are automatically registered for you.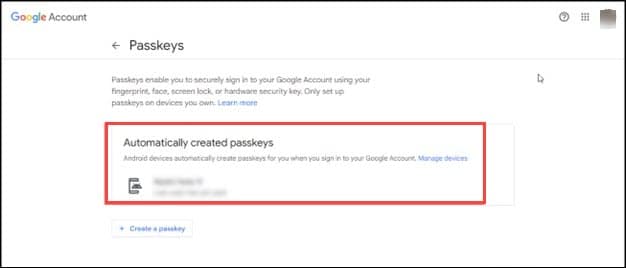 You only need to tap on the Use Passkeys option to use the passkeys.

So, using passkeys is easier:
Now typing the username is no longer required. The users only need to elect an account to log into.
The device screen lock can be authenticated using facial recognition, fingerprint sensor, or PIN.
Once the user has created a passkey, it becomes much easier to switch to a new device and use it immediately – past those days when they were required to go through the biometric authentication procedure on each device.
Are Passkeys Safer?
The developers claim that the passkeys shall protect the users from phishing attacks.
The passkeys are designed only to work on registered apps and websites.
So, the users cannot be tricked by any deceptive site since the OS or browser handles the verification process.
The developers save a public key to the server and not a password. That renders it far less valuable for hackers to hack, and it is much easy to clean it up in case of a breach.
Besides, the Passkey reduces the cost of SMS and so becomes a cost-effective means for two-way authentication.
Frequently Asked Questions [FAQs]
Do passkeys require Bluetooth?
Passkeys use Bluetooth technology. Once you sign in to verify your account, a push notification will be sent to your device via Bluetooth.
Can passkeys be hacked?
Passkeys provide unique security, and they are impervious to phishing and hacking.
What is Passkey sharing?
Passkey sharing is giving your login credentials to somebody else for shared access under a single account.
Wrap Up
Like any other makeshift, Passkeys will take time to become familiar.
Share your views and queries in the reply section below, & we shall get back to you soon!