Google is dominating almost every customer service right now, with Gmail taking over as the primary Email client for a lot of users. Gmail's business suite is also very popular for business owners, who use the service for handling their professional email requirements.
As of late, some users have reported that t cannot download attachments from Gmail.  Here I shall discuss the possible steps you can take if you see Gmail not downloading attachments on your computer.
How To Fix If Gmail Not Downloading Attachments?
There are many reasons why Gmail won't download attachments, the primary reason being outdated or corrupt browser cache interfering with the normal functioning of the service.  Apart from this, an outdated browser or an unsupported browser may also prevent Gmail from downloading attachments.
Here are some possible troubleshooting solutions you can try.  If none of the solutions mentioned here help you, you will have to contact Google customer service, as there may be some ban or other issues with your account itself.
Note: Make sure your browser is updated to the latest version before trying on any of the solutions provided below.
Solution 1: Clear Browser Cache
The cache is an important part of reducing the loading time of apps and websites on your computer.  However,  when cache data goes corrupt or missing from the libraries,  the website may malfunction and not load any content at all.
Clear the browser cache and check if the error is resolved on your computer.
Solution 2:  Switch Browser
Recently,  there have been reports that Google dropped support for many Chinese browsers like Vivaldi, Opera,  and Maxthon. Gmail supports most of the popular browsers out there,  like Google Chrome, Mozilla Firefox,  Internet Explorer and Microsoft Edge, Safari, etc.
Make sure you are using one of the supported browsers to access the Gmail service. If not, consider switching your browser. If you do not want to save the login data,  the Incognito mode should help to a certain degree in restricting these services from accessing your data.
Solution 3: Uncheck Encrypted Pages Option
Most of the Internet options in Windows 10 is still routed via The Internet Explorer that is baked into the operating system. There is an option that prevents encrypted pages from being saved on the disk, an option that has been known to cause conflicts with Gmail attachments.
If you suspect this is the reason behind your error,  follow these steps to locate and disable this option:
In windows search (keyboard shortcut Win + S), type the following:
internet options
Click on the appropriate control panel entry to launch The Internet properties dialogue box.
Switch to the Advanced tab.
Have under the available settings, uncheck the box next to the following option:
Do not save encrypted pages to disk
Restart your computer for the changes to take effect.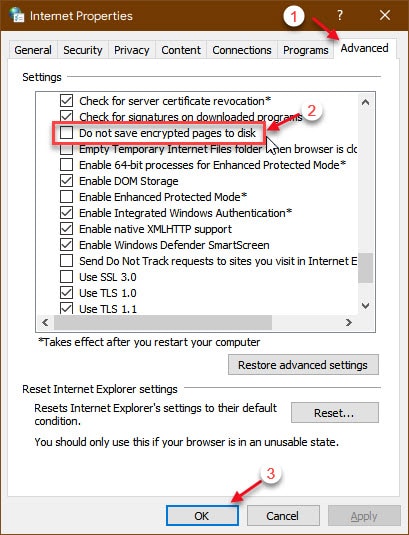 Following the restart, you should be able to download Gmail attachments on your computer directly.
Solution 4: Disable Antivirus Shields
Some users have also reported that their antivirus program that is the one culprit behind why Gmail won't download attachments. Their premium antivirus software incorrectly flagged the downloaded files as harmful, therefore blocking the service from further downloading any files.
Disable the antivirus Shields for the time being and check if you are able to download attachments from Gmail. You can usually disable the antivirus Shields by right-clicking on the system tray notification icon. Your error should now be resolved.
Note: avoid downloading from untrusted sources while the antivirus Shields are down to prevent malware attacks and a possible data breach.
Solution 5: Turn Off Experimental Features
like most of the products, Gmail also has some experimental features inside Gmail labs. these are beta features, and may not be completely stable. if you have some Gmail labs settings enabled, have the service may be malfunctioning because of some unstable configuration.
To access Gmail Labs, follow these steps:
Open Gmail in a new tab on a supported browser. Check solution 2.
Click on the gear button and select Settings from the context menu.
Switch to the Advanced (previously Labs)
Here, turn off the Labs features and reload the Gmail tab.
You should be able to download the attachments now without any difficulties.
Pro Tip: At the end of the URL in the address bar of your browser, type labs=0 at the end of it and press Enter to disable all Labs features directly from the URL.
Wrapping Up
So, there you have it. Now you know how to fix if you see Gmail not downloading attachments on your computer. Comment below if you found this useful, and to discuss further the same.