If you are an avid gamer, there must be at least once in your life that you have come across an error where your game minimizes to the taskbar, displaying the desktop. It's a problem that many users have faced in their usage, leaving them unable to launch full-screen games on their devices.
Since the configurations alone can vary from user to user, a single solution may not work for everyone. Hence, there are multiple ways that this error can be resolved depending on the configuration of the PC. Here I will discuss why you may be facing this error and the potential methods to fox it.
Why Am I Facing This Error?
If games keep minimizing to the desktop in Windows 10 on your device as well, you may be wondering what is causing this error. There are a variety of reasons why you may be facing this error.
Your issue can most likely be caused by a hidden malware or virus. These hidden malicious apps can launch other apps on top of your game, and hence minimize your game to the taskbar.
There can be a driver mismatch that is forcing your game to quit full-screen mode and go into desktop. This is also a common issue that can be overcome easily.
Many users have reported that unnecessary background apps can sometimes interfere with their device, leading to the game quitting and sometimes causing games to randomly minimize.
Windows Game mode can also interfere with many streaming apps like OBS and hence cause your game to minimize randomly.
If your device is set to communicate with others socially through apps like My People, Facebook, etc., the action center notifications can also draw over other apps. if this is enabled on your device, action center notifications may be causing the "game keeps minimizing" error on your device.
If you are using multiple screens in your game-station, sometimes the game will minimize one of the screens while on the other screens work normally. This can be overcome using a simple setting change that I will discuss later.
How To Solve "Game Keeps Minimizing" Error On Windows 10?
Now that you have an idea about the potential reasons why you may be facing this error, here are some fixes you can try to solve the games randomly minimize error. All fixes may not apply for everyone as every user may be facing this error for a variety of reasons.
FIX 1: Run A Malware Scan
Many computer issues are caused by hidden malware and virus that hamper your experience with your device. You need to get rid of these viruses to stop "windows 10 keeps minimizing games" error on your device.
You can choose from a variety of free antiviruses like Avast Free Antivirus and antimalware programs like Malwarebytes Free in order to tackle this issue. Run a full scan of your PC and then try running your games.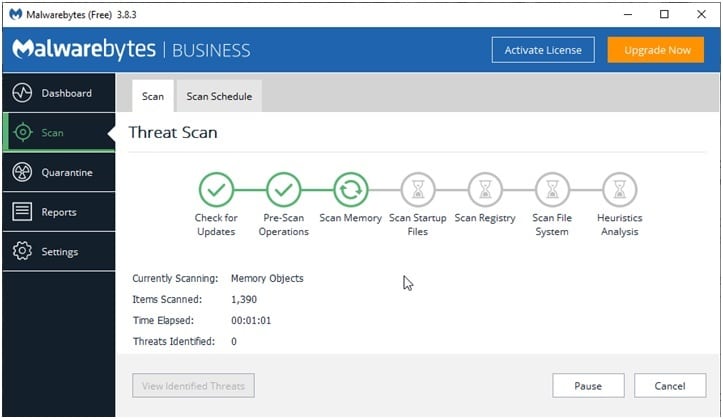 FIX 2: Update GPU Drivers
Drivers are the configuration files that facilitate the communication between your hardware and operating system. If the drivers on your system are outdated, or there is a mismatch in the driver version required and the one installed, your game can crash unexpectedly or not run in full screen. If your computer randomly freezes while playing games, you can have a check in this post.
To update your drivers:
Open a Run dialog by pressing Win + R
Type devmgmt.msc and press Enter to open Device Manager.
Here locate and right-click on the name of your graphics card.
Select Update Driver.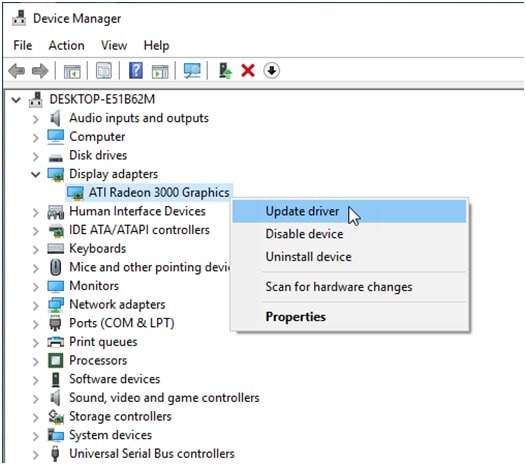 You can either let Windows search for the most recent drivers for your card, or you can visit the manufacturer's site to download manually the latest drivers, and then choose the Browse my computer option to install the latest drivers for your Graphics card on your system.
Also, update your Windows version to the latest one available. This is to ensure that if a Windows bug was causing your error, that would have been solved in the latest Windows update.
FIX 3: Disable Game Mode
Many casual users use a feature called Game Mode. The Game Mode is a feature within Windows 10 that attempts to free up system resources in order to boost gaming performance. This is not known to work, however, and causes more harm than good. If you too are facing the "game keeps minimizing" error on your device, try disabling the game mode for a better experience.
The game mode is known to cause issues with full-screen apps, disabling it may solve your issue. To disable Game Mode, press the Win + G to launch GameBar, and then select the Settings icon. Here, uncheck the box next to Use Game Mode for this game.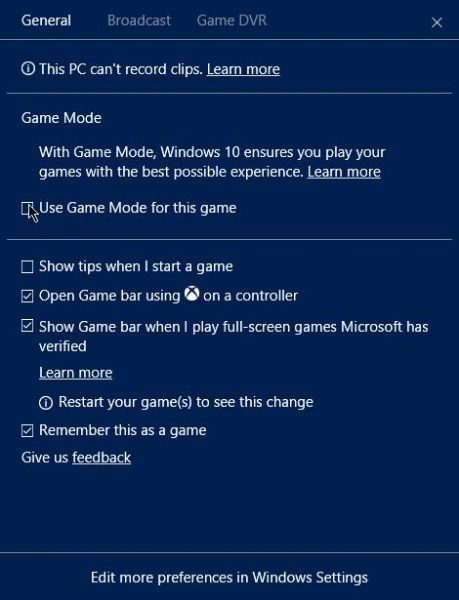 FIX 4: Disable Notifications
Action Center houses nearly all the notifications that you receive on your device. This includes social apps, and settings as well.
Sometimes these notification banners are displayed over other apps as well. If you are using a full-screen application like a game, and a notification is received, chances are that the game will be minimized to desktop and the notification will be hidden.
You will need to turn off these notifications in order to stop the game keeps minimizing error from happening.
You can turn on Focus Assist from the Action Center that hides notifications when you use full-screen applications.
You can reduce the number of notifications you receive from the settings app. Follow the path Settings => System => Notifications and Actions and then toggle to change the apps that you receive notifications from.
FIX 5: Show Taskbar On All Displays
If you have a multi-display setup, you may notice that on one of the displays, the game minimizes while on the other screens it runs perfectly.
There is a simple workaround to solve this error on multi-screen displays. You will need to enable "Show taskbar buttons on All taskbars" settings to solve this problem. Follow these settings to solve the error:
Right-click on the Taskbar and click to open Taskbar settings.
Scroll to the bottom and toggle On "Show taskbar on all displays".
Close the settings.

Now try running the game on your multi-monitor system. The game should run properly on all the displays together.
Fix 6: Disable Windows Error Reporting Service
You can also disable the Windows Error Reporting Service in order to solve steam and other game keeps minimizing error on your device. To do this:
Open a Run window by pressing Win + R
Type services.msc and press Enter to open the Services dialog box.
Scroll down to navigate to Windows Error Reporting Service.
Right-click on it to reveal the context menu and select Properties.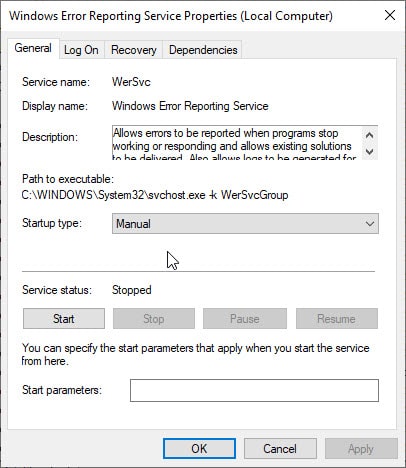 5. Choose Disabled in the Startup type drop-down menu.
6. Click on Apply followed by OK.
7. Restart your PC.
Following this, try running your game and check if it runs normally on your system.
Wrapping Up
Windows 10 is the most preferred operating system for gaming among PC gamers because of the ease of use that it provides. However, if the game keeps minimizing while using, it can quickly become annoying and can hamper gameplay as well. Although the error is most likely to be caused by a lurking virus or malware, there are other potential reasons for this error as well. Using one or a combination of the fixes given above, I hope you can fix this issue. Comment below to discuss further the same.