In the laptop form factor, with limited space for keys, manufacturers often include an Fn key. This key is called the Function key and is used with other keys as combination shortcuts to execute various shell operations. Many important shortcuts are routed through these keys like turning Wi-Fi, Bluetooth, microphone, etc on or off, and also adjusting volume and brightness.
On your device, if the function keys not working in Windows 10, here I shall discuss why you may be facing this error and the potential ways to fix this.
Why Are The Function Keys Not Working?
Since there are many different keyboard manufacturers, there can be many different reasons why you may be facing this error.  However, most of these can be narrowed down to these:
A locked Fn key is one of the most common causes of this error. On some keyboards, there is a dedicated key that locks the function key, and mistakenly tapping on this key may make your Fn key disabled.
Mismatched drivers can also be the cause of this keyboard error on Windows 10. Outdated drivers can cause all sorts of issues, including the 'Windows 10 Fn key not working' error.
Keyboard customization software allows the users to turn on or off some keys, or to change the output for some keys. In the case of external keyboards, there is a chance that users may have accidentally turned off the Fn key.
An external touchpad can sometimes cause a conflict with the keyboard drivers, leading to certain keys not working normally.
How To Solve 'Function Keys Not Working In Windows 10'?
The Windows 10 function keys not working error can be significant if you are used to the keyboard shortcuts and use them extensively for day to day work. Luckily, these errors should be fairly easy to troubleshoot, and here I shall discuss the various methods in which you may solve this. In case your Windows Key on the keyboard is not working too you might have disabled it, have a check in this post.
Solution 1: Run The Windows Hardware Troubleshooter
To help users in case something goes wrong with their devices, Microsoft has included a troubleshooter that helps diagnose the problems with the keyboard.
Open the Windows settings app. You can use the keyboard shortcut Win + I.
Click on Update & Security.
From the left pane, select Troubleshoot.
Scroll to the Find and fix other problems in the right pane.
Click on Keyboard to reveal additional settings.
Click on the Run the troubleshooter button.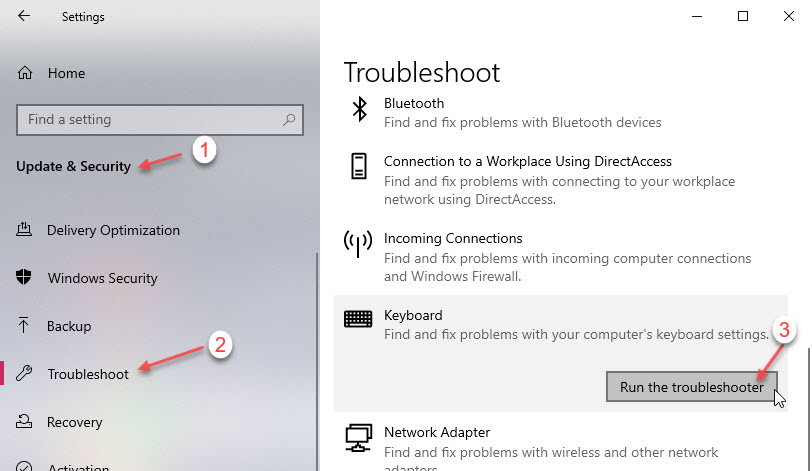 The troubleshooter will detect issues with your hardware, and provide the necessary fixes to fix the 'Windows 10 Fn key not working' error on your device.
Solution 2: Update Keyboard Drivers
Drivers are the configuration files that facilitate the communication between the hardware and your operating system. These files are very important in the proper functioning of your hardware. Mismatched drivers can cause a lot of errors, including the function keys not working on your hardware.
You can update your keyboard drivers from the device manager. To do so,
Open a Run window by pressing Win + R.
Type devmgmt.msc and press Enter to launch device manager.
Here, if there are any critical updates missing, you will see a yellow exclamation mark that is the indication that this driver needs immediate attention.
Else, click on Keyboards to reveal the list of installed keyboards, and then right-click and select Update driver from the context menu.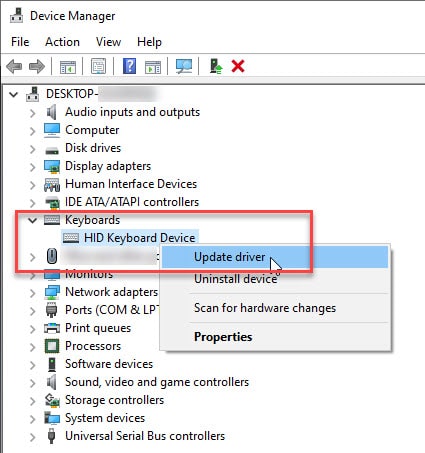 Select the Search automatically for updated driver software option to automatically find and download drivers.
If you have downloaded the drivers from the manufacturer's website, you can install that driver as well by selecting Browse my computer for driver software.
Once you update your drivers, you should see that the 'Windows 10 function keys not working' error is solved for your device.
Solution 3: Manufacturer Specific Solutions
Some manufacturers like Dell and VAIO have other additional troubleshooting methods as well.
On Dell systems, there is an extra setting for Function Key Row that can help you change the settings:
In the start menu, search for "Window Mobility Center". After opening the application, look for the "Function Key Row."
Now, click on the drop-down arrow and select "Function Key."
Click on "Apply" to save the necessary changes and close the application.
Although the mobility center is generally available to all Windows users, this additional setting is specific to dell users only.
VAIO users must know by now that the VAIO event service usually stops working after each update.  You must manually turn the service on if you somehow see this error on your device.
Open a Run window by pressing Win + R.
Type services.msc and press Enter to launch the Services window.
Locate the VAIO Event Service. Double click to go to Properties.
Change the startup type to Automatic and click on the Start.
Solution 4: Uninstall Synaptics Pointing Device Driver
If you use an external pointing device like a trackpad, these can conflict with the keyboard drivers sometimes and cause the function keys not to work properly.
Try uninstalling the Synaptics Pointing Device driver from Control Panel or device manager, and then try to see if your error is resolved.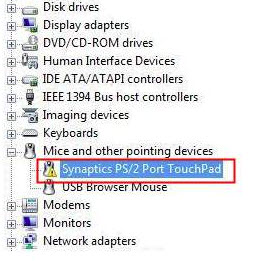 Wrapping Up
With this guide, now you know how to solve the function keys not working in Windows 10 error on your device. However, if this fails to solve your issue and you still see that Windows 10 Fn key not working, you need to take your device to the service center as there might be some hardware issue that is causing this error.