In the wake of affordable internet, sport streaming has seen an increase in popularity. There are many cord cutting services, which allow users to take a subscription based on what they want to see and stream on the internet. There are many free services as well, and some paid services have a free tier to them, which allows for sport live streaming.
Here, let us take a look at some of the best free sports streaming sites you can watch sports in 2023.
Best Free Sport Streaming Sites
In this listicle, we shall take a look at some of the subscription services that have a free tier, and some other services and websites that host streaming links to the live sports. Do note that many free sports streaming sites have misleading adverts, which may quickly become irritating.
You can use adblockers, to prevent the sports streaming websites from leading you to advertising websites. However, you may notice a paywall in these websites, or some other problem when using an adblocker. You will have to deal with these while viewing the streaming websites.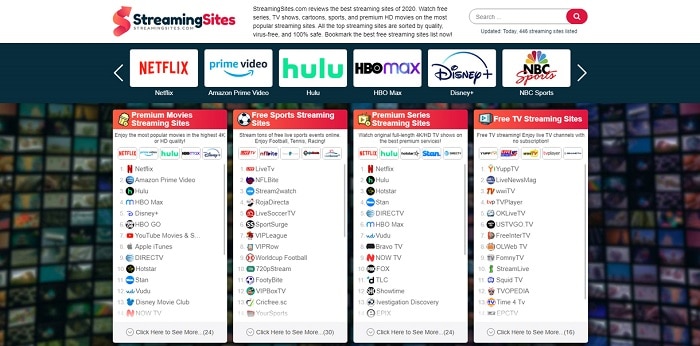 Streaming sites does not directly stream sites from it's server. But it lists down the available sites and portals, that offer streaming services, You can easily find the list of websites here from various countries and play it easily. The site list the channels in different categories so it's easy for you to check it out.
Reddit
Although Reddit itself does not stream any websites, it is one of the best places to find sports streams from around the world. On this platform, you are guaranteed to find unofficial streams in one of the many dedicated subreddits for that sport. The Reddit sports community is very active, and you can check the upvotes and downvotes to form an idea about the validity of the link.
In each of the dedicated subreddits, you will find that many users host direct links to the sport streaming websites. While some of these links may be bad, these bad links are usually downrated by other viewers, so you don't have to click these links, which is better than clicking on random links on the internet.
The soccer subreddit community has now moved to its dedicated service, in wake of unofficial streams being blocked by administrators. Here are some other dedicated subreddits that you can check:
Update: Many subreddit communities have now moved on to dedicated websites due to repeated infringement strikes.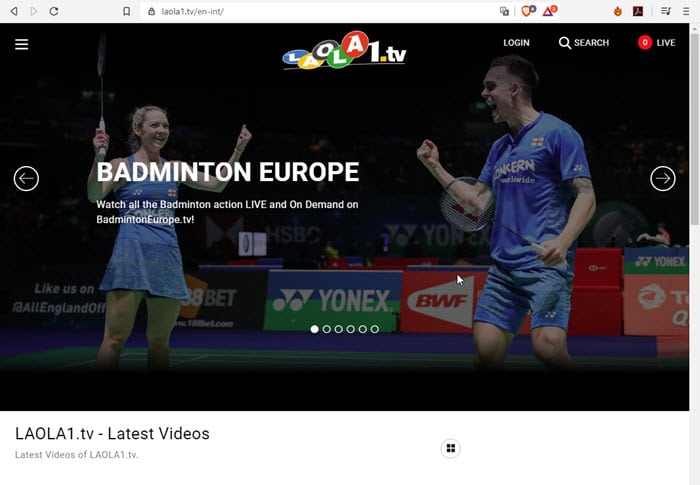 The Austrian website is one of the most popular free sport streaming services among the users, and rightly so. The website's English version is famous all over the world, with many sports events being exclusive to the service. You can use the service to mainly view the events that may not be as popular in the US, such as regional soccer leagues from around the world.
The international website is not region blocked; you can stream international events without any restrictions. Many events use Laola1 to distribute official streaming links as well, such as the various ITTF (table tennis) events. You can view many European events for different sports on the website.
What you can watch: Table Tennis, volleyball, basketball, hockey, soccer and much more.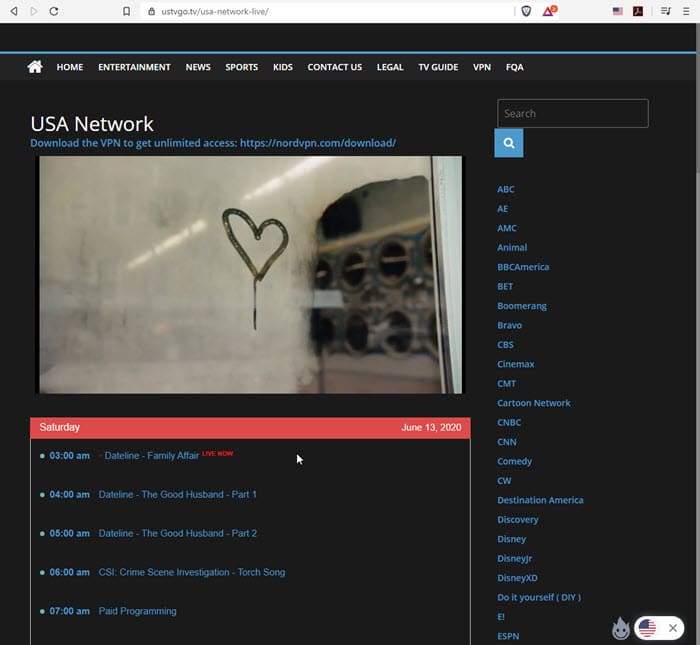 One of the best free sports streaming sites has to be USTVGO. The website hosts official channels that you would normally get on cable tv, and they also have the distribution rights for the content it broadcasts. There are a total of 84 channels at the time of writing, and each of the channel plays without much stutters.
You won't get many controls when it comes to the player itself, you only get the volume and full screen controls. But the player and the website is completely free of clutter, it may actually be one of the cleanest websites on this list. There is also a complete TV guide, which lists the channels, and what will be broadcasted at what time.
Note that you may need a VPN to view some channels which may be blocked by your ISP.
What you can watch: You can watch popular TV channels like ESPN, FOX Sports 1 and 2, Golf Channel, NBC Sports, TNT and much more.
Facebook went on a contract spree last year and got the rights to broadcast many sports events from around the world. The social media giant has now obtained the official streams for many sports like soccer, cricket, basketball, and surfing among others.
Currently, Facebook is trying to bring more streams to the platform, to boost the time users spend on Facebook as a whole. To watch the live sports streams, visit Facebook Watch and search for the sport in the search bar. You should get the streams as a search result inside Facebook.
Some friendlies from many popular sports are now a Facebook exclusive, so you may need to head over to the social media platform to stream the matches. You may also find some unofficial streams from many users as well.
What you can watch: As of now, you can stream soccer, basketball, cricket and MLB among other official and unofficial streams.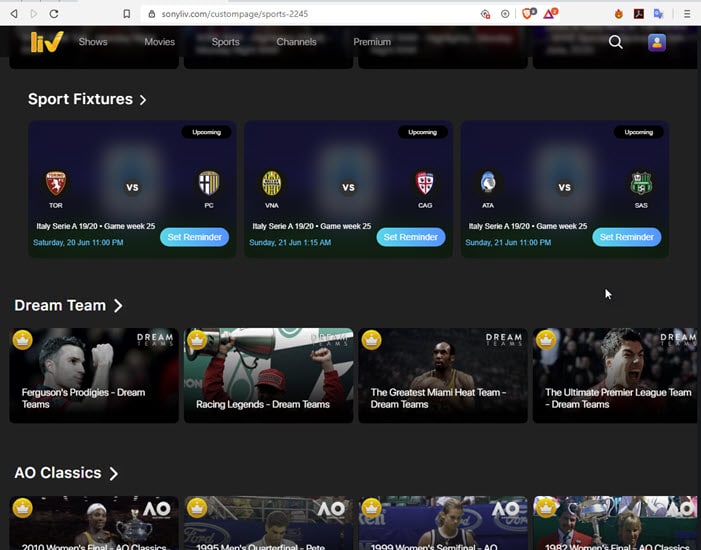 Sony Liv is the Indian free sports streaming site, which allows you to broadcast live sports on your devices. Although an Indian exclusive service, you can use a VPN service with Indian servers to view the content for free. The service has access to many premium sports such as soccer, cricket, WWE, MMA, NFL, NBA, PGA Championships, and many other programs.
One of the caveats of this service is that the live streaming is not actually live streaming. For the free tier, you can watch five minutes of live TV. After that, you can watch the content for free, but the stream will be delayed by 5 minutes. Although, given the content you get, 5 minutes may not be that bad of a deal.
What you can watch: Many popular sports such as soccer, cricket, Rugby championship, NFL, NBA, WWE, The Masters and PGA championship among more.
Other Free Sports Streaming Sites Options
The five mentioned above are truly free sports streaming sites, with you not requiring spending any money to view any content. There are some honorable mentions and some other options as well, that you can consider for your sport broadcasting needs.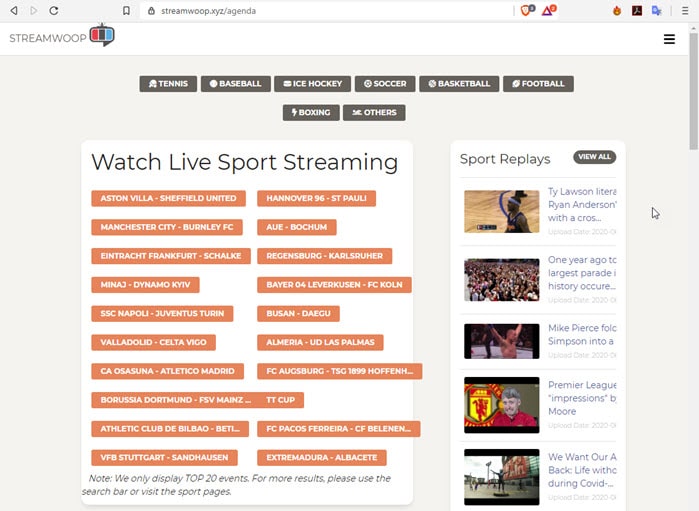 StreamWoop is a free sports streaming website, which hosts many unofficial broadcasting links for various sporting events. Famous in north America for primarily American sports, users will find many streaming links for the NFL, NBA, and the NHL.
The website itself is pretty well developed, and you can easily find what you are looking without much hassle. You also get relevant information such as trending events, replays, live match scores and upcoming games. You do not need to sign up for watching any of the content, so do check StreamWoop out.
What you can watch: There are many sports links hosted including matches from Tennis, Ice Hockey, Soccer, basketball, rugby, and baseball.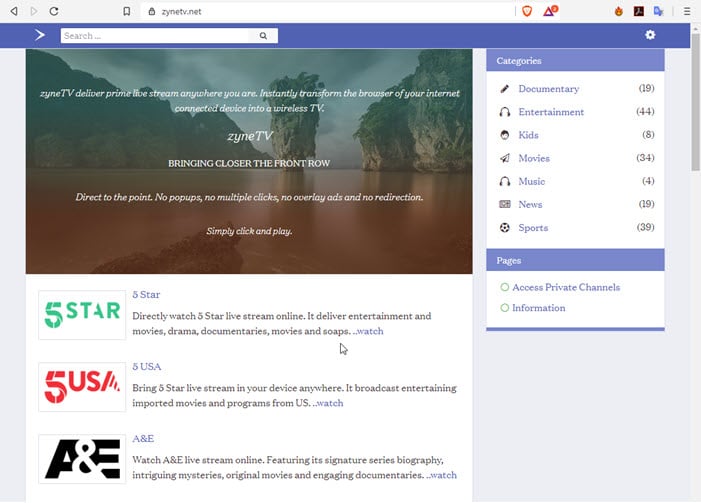 zyneTV is a freemium live streaming website, which offers TV channels for the users to broadcast on their devices. The channel hosts many US and world channels, but the free channels are actually quite limited. There are only four free sports channels in the open version. However, you should be able to get a quick look if the channels available are broadcasting the match that you wish to stream.
To access the private channels, you will require a subscription of $3.99 a month, which is actually a maintenance cost for the website itself. At the minimal free, do check zyneTV out if you wish to stream TV channels on your streaming device.
What you can watch: The open sports channels are ESPN2, ESPNU, NBSCN and TSN2. Get premium access for more channels.
Similar to the zyneTV service mentioned above, Time4TV is another sports TV channel broadcasting website which allows you to watch free live sports. The website hosts a multitude of free sports channels from around the world for the users to watch, which include the likes off Sky Sports, FS1 and BT Sport 1 among more.
Each channel that you wish to watch has a bunch of stream servers, so that you can switch the server if you see the stream not working at times. There is also a chat box, which you can use to discuss if you see the streams not loading, or the media not playing.
What you can watch: Many popular sports channels like Sky Sports, BT Sports, Eurosport, ESPN, Fox Sports, Bein Sport and TSN, among others.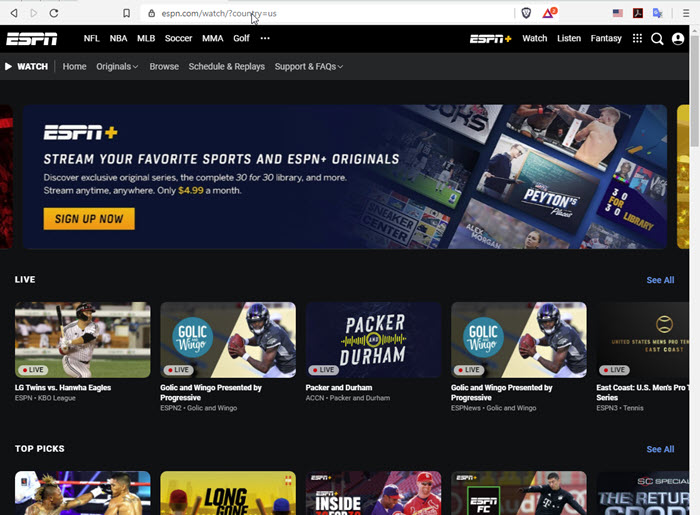 On many similar lists, you will find ESPN as a free sport streaming platform. However, note that you need to have the channel on a cable TV provider in order to watch live ESPN online. The replays require ESPN+ subscription, which also allows you to watch live events along with free access to ESPN2, ESPN3, ESPNU, Sec network, ESPNEWS, and Longhorn Network.
The website itself is quite well developed, and navigating through the website is a fairly easy task. If you already have a TV provider and you have ESPN on the cable, you should check out and sign into the ESPN website to view live sports on the go as well.
What you can watch: ESPN has broadcasting rights for the NFL, NBA, MLB, MMA, NHL, and a variety of soccer leagues such as La Liga, UEFA Champions League, Premier League and Europa league, among others.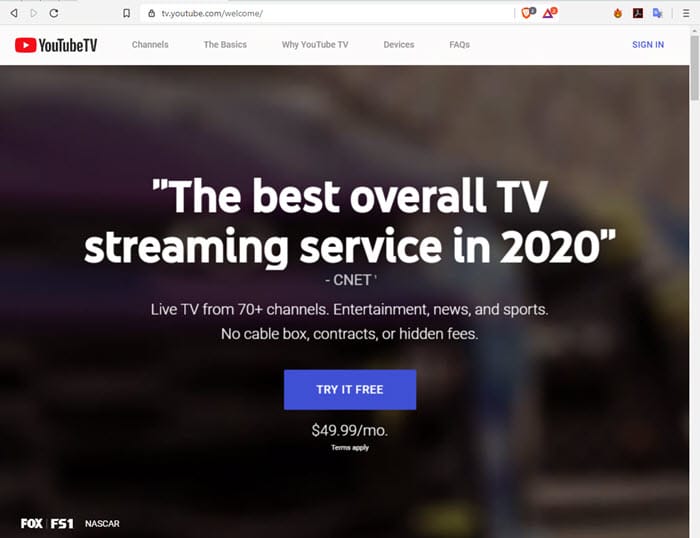 If you are looking to get a cable TV, you might want to give YouTube TV a go. Instead of getting a cable, you can capitalize on the internet connection by streaming the channels on YouTube. With over a collection of 70+ live channels, you can watch live TV wherever you go and on any device that you want.
At $49.99 a month, you get access to 6 accounts which can be used to watch live TV on any device. You can watch YouTube TV on your smartphone, tablets, computers (using web browsers) and your smart TVs and consoles. You also get unlimited storage to record your shows and then play them later.
Note that some sports games are live streamed on the regular YouTube application as well, which you can watch free of cost. These matches are usually the friendlies or training matches, practice sessions, and special event matches.
What you can watch: YouTube TV has over 70+ live channels that you can watch at any time, including Fox Sports, NBSCN, ESPN, Golf channel and much more.
Wrapping Up
Apart from these, there are many free sports streaming sites which allow you to stream games online. However, those services are filled with intrusive advertisements and misleading popups. The services mentioned on this list feature much cleaner user interface, so as to not hamper your viewing experience. Did you find this list of the best free sport streaming sites useful? Comment below if you did, and tell if we missed some amazing websites.