Animes have become immensely popular over the years all over the world because of their diversity in genre and high-quality content.
With the ever-increasing demand of watching animes across the world, the number of websites that stream anime have also jumped exponentially.
But not all websites are ideal for watching anime as many are filled with spam, stuffed with ads, and the popular ones are hidden behind subscriptions. Here I have listed 10 free anime websites you can use in 2022.
So, find the best website that works for you and watch your favorite shows in seconds!
Best Free Anime Websites In 2022
Here is a list of the top free anime sites in 2022. Remember that with free anime streaming sites comes ads bundled with them.
There are free anime websites on popular streaming services that you can use in such cases.
Now, find the perfect anime website that suits you best and enjoy all the best animes straight from Japan on your device.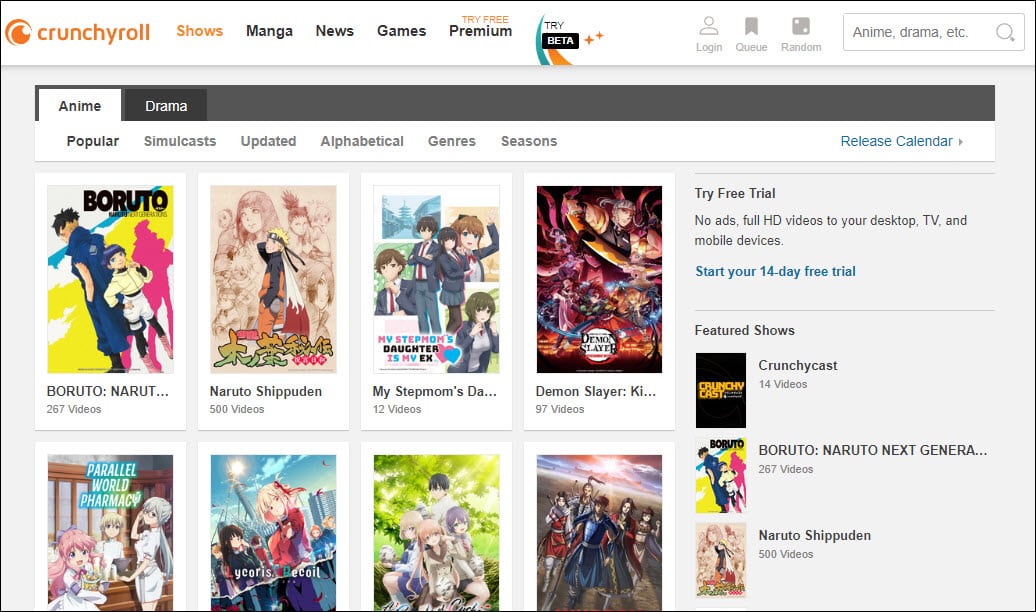 Crunchyroll is undoubtedly one of the best free anime streaming websites available at the moment. They have been among the oldest anime streaming companies that started streaming around the world with custom dubs.
Crunchyroll allows users to watch free anime without creating or signing in to an account. Although, having an account has perks, like accessing watch history or having related suggestions.
They also have paid memberships that provide access to many premium animes that are currently ongoing. Being a paid member will allow you to watch the latest episodes of anime at the same time it is released in Japan.
Crunchyroll also has one of the most extensive collections of anime, free and paid.
It's hard to talk about Crunchyroll without discussing Funimation in the same conversation.
Being one of the oldest anime streaming services like Crunchyroll, Funimation is a wonderful website for watching free anime.
Funimation is a hub for old and new anime series, including popular anime movies. You will even find many animes here that are missing in the vast library of Crunchyroll.
Other than anime, Funimation also houses plenty of popular Asian and western TV series.
Funimation also has a large number of dubbed animes that many users tend to prefer around the world.
Like Crunchyroll, there is also a paid subscription in Funimation that gives access to some latest ongoing animes and an ad-free experience. One of the downsides of Funimation is that it still isn't available in many big countries in the Middle East and South East Asia.
YouTube, arguably the biggest streaming service at the moment, is also a great place to watch free animes. Many YouTube channels legally stream animes for free, like Muse Asia.
Other than these, there are many randomly uploaded anime series that stay up for a couple of months before being struck down by YouTube.
These are not legally uploaded and are basically pirated, but that shouldn't be of any concern for the viewers as they are only watching what is available on YouTube.
So, search for the anime you want to want on YouTube and see if anyone has uploaded it or not.
4) 9Anime
9Anime is another massively popular free anime streaming website that is available all around the world. It features a vast catalog of animes, both old and new, in sub and dubs.
9Anime has been around for a long time and has made its name for providing the latest animes in high quality for free.
It also hosts a large number of OVAs of popular animes that are often hard to find in many popular anime streaming services.
9Anime also has a clean UI with a tolerable amount of ads. It's overall a great website for watching animes for free.
5) Gogoanime
Another popular streaming service is Gogoanime, which is similar to 9Anime in its popularity. It has a large catalog of free animes and is also available all over the world.
Available since 2014, Gogoanime has been a massive source of free anime streaming with quality English dubs for all anime lovers around the world that cannot afford premium services.
Gogoanime also has an easily navigable website with a tolerable amount of ads. It's a great source of entertainment for anime users so definitely check it out.
Anime Planet is another great choice for watching free anime. They have over 45,000 anime, including series and movies in various subs and dubs.
They source their material from Crunchyroll, so you won't be compromised with the quality of the streams.
Anime Planet has a unique feature where they allow users to recommend or suggest shows to others, which creates a great social system for interaction.
7) KissAnime
KissAnime is another popular anime streaming site that has been serving free anime to users worldwide. It has a massive catalog of animes, including the latest running shows and series.
Everything can be viewed for free at high quality, but the ads can be a bit distracting. The servers of Kissanime is among the best out there, with fast and quality streaming, ranging in multiple resolutions.
They also have a bookmark feature that allows users to bookmark the animes they want to watch for easier access in the future.
Another great place to watch free animes is Amazon Prime Videos. If you already have Amazon Prime, then you can access the hundreds of popular animes available on Prime Videos for free.
Amazon Prime has many popular latest animes like Vinland Saga and Dorororo. Jump into the Prime Videos and enjoy watching free animes while also using the other services of Amazon Prime.
TubiTV is an OTT platform available in USA, Canada, Mexico, Australia, and New Zealand. It also features a wide range of anime for free streaming and features many of the popular series like Naruto, Jojos Bizarre Adventure, Bleach, etc.
Other than anime, TubiTV also covers many sports, news and entertainment channels. They also have Live TV. If you are from the countries with TubiTV, then you should definitely try it out!
Hulu is another popular streaming platform that also features a wide range of animes. If you are already subscribed to Hulu, you can enjoy their catalog of anime for free.
They also feature a wide range of TV shows and series that you will love to experience other than anime. Hulu is overall a great option for watching animes.
Wrapping Up
So, there you have it. Now you know the 10 best free anime streaming websites. If you have any other suggestions, then tell us in the comments section.