Hard disks are still one of the most popular storage options in the PC environment, the large storage space being one of the primary reasons why people prefer them. However, many users have reported where they see slow hard drive.
Here, I shall discuss how to fix slow hard drive in Windows 10 using a few simple built in troubleshooting methods.
How To Repair An Extremely Slow Hard Drive? Easy Guide
Microsoft Windows 10 is a complex operating system. this sometimes results in certain errors which can affect the usability off the operating system. To combat this, Microsoft has built in various tools and troubleshooters which can be used to diagnose and fix this error easily.
You can also use these built in tools if you see slow hard disks, both external and internal. Here is a list of some simple solutions that you can try in order to fix slow hard drive in Windows 10.
Solution 1: Check For Physical Damage
One of the first things you should try if you see external hard disk slow is to check for any physical damage which may be causing a connectivity issue between the hardware and the operating system. If you recently dropped or pressed heavily on the hard disk, there is a chance that you may have caused some physical damage to the actual hardware itself.
Check the drive for any broken pins on the connector and check the cable for any damage due to folding. If you find a broken part replace it car repair it by visiting your local service centre.
Solution 2: Make Sure Using USB 3.0 For External Drives
In case of external drives, the USB standard matters when it comes to data transfer speeds. Many modern day devices with multiple USB ports, some of which are of different standards. If you are using an external drive, there is a chance that you may be using the USB port which is USB 2.0 or earlier standards.
Check out this article if you wish to find how to find USB 3.0 port in your computer, and make sure you are using the USB 3.0 port to ensure highest transfer speeds.
Solution 3: Run The Disk Check Tool
If there is no physical damage, the next thing you need to check for is broken or corrupt hard drive sectors. The built in disk checker tool is very useful in such scenarios, as you can simply run a command line tool to begin scanning for bad sectors on your hard disk.
Also read: How to run chkdsk on an external hard drive
Follow these steps for the same:
Open an elevated Command Prompt. To do this, press Win + R to launch a Run dialog, type cmd and press Ctrl + Shift + Enter to launch Command Prompt with administrative privileges.
Enter the following command in the command line editor to launch and run the disk check:
chkdsk /f /r C:

Note: replace C: with the letter assigned to the drive that you want to scan.
Solution 4: Defrag Your Hard Drive
Defragmentation is one of the best methods to optimize and speed up your slow hard drive. The process involves restoring the order in which the data is stored on your computer, therefore leading to sequential writing of subsequent data.
To use the built in defrag tool in Windows 10, follow these steps:
Open File explorer using the keyboard shortcut Win + E.
Go to the drive that you wish to defrag using the built-in utility.
Right click on any empty space to reveal the context menu.
Click on Properties from the additional menu revealed.
Switch to the Tools tab.
Under the Optimize and defrag drive section, click on the Optimize button.
Select your drive in the next window, and click on Analyze button first.
Once that completes, click on Optimize to defragment the storage device.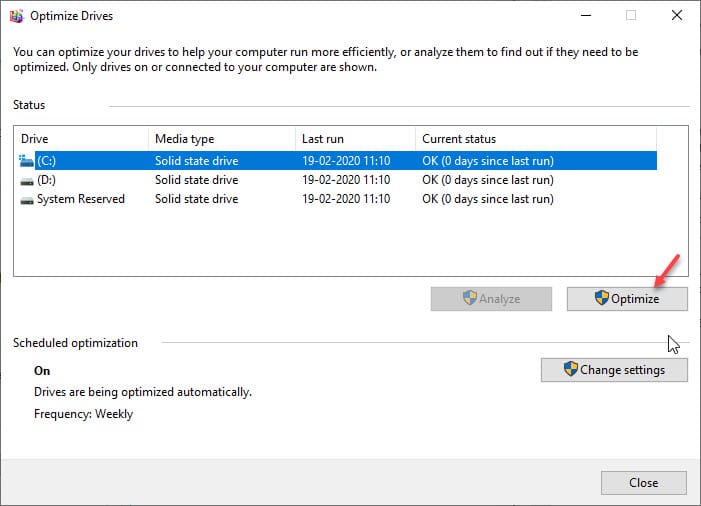 Note: Since the traditional defrag tool is made with HDDs in mind, the sequential defrag is likely to damage the data on your flash based SSDs. Avoid running this tool on SSDs.
Solution 5: Check Background Processes
Another reason why your hard drives may be slow is due to many background processes slowing down your computer. If many applications run in the background, these applications will hijack the required system resources, and the important applications will not have enough left to perform optimally.
To check for background processes, you can use the task manager. Use the keyboard shortcut keys Ctrl + Shift + Esc to launch the task manager.
Under the processes tab, locate every unnecessary application, and right click on them one by one. Select End task from the context menu to end the process and prevent it from utilizing extra system resources.
Solution 6: Check For Vulnerabilities
If none of the solutions provided above helped you, there is a possibility that your device is infected with a virus or malware, one which is deliberately slowing down your computer. You can easily get a virus which can be placed inside various parts of the internet.
If you have not invested in a premium antivirus service, you can choose from a variety of capable free software like Avast free antivirus and Malwarebytes free antimalware.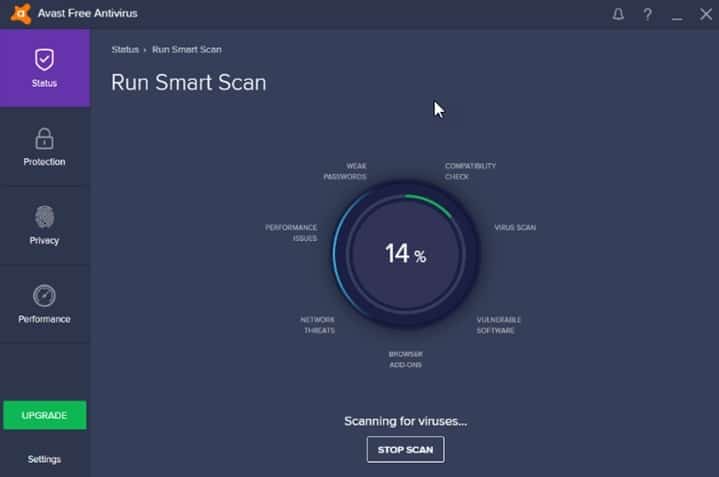 Run a full virus scan and check if you find any vulnerabilities on your computer. Remove the said malware, and you should be able to speed up your hard disk speeds without much difficulties.
Wrapping Up
So there you have it. Now you know how to fix slow hard drives easily using a few simple solutions provided above. Comment below if you found his useful, and to discuss further the same.