Firefox by Mozilla corporation is one of the best free open source web browsers. It is available for Windows, macOS, Linux, and Android as well. it was released in 2004 by the Mozilla community who desired a standalone browser. It is still one of the most popular alternatives to Google Chrome.
While Firefox by Mozilla is a very good browser with support for add-ons and other security features, many users recently have reported of Firefox crashing at startup or randomly during working. Here I will discuss how to fix the "Firefox keeps crashing" error.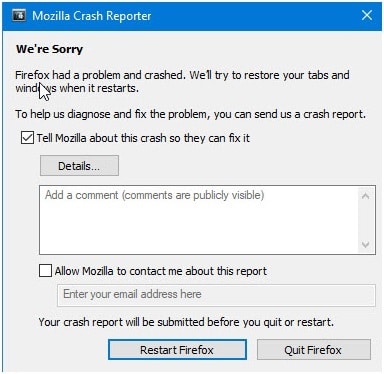 Why Does Firefox Keep Crashing?
There can be many reasons that users can face this error in their system. The error can be caused by outdated software, mismatched cache, incorrect installation or a broken add on.
Firefox Keeps Crashing Error Solved
Here I will discuss certain steps that you can deploy as potential fixes for the Firefox keeps crashing error.
# Solution 1: Check Troubleshooting Information
Mozilla Firefox contains an inbuilt event log that contains the troubleshooting information for the user when trying to solve a problem. To launch the Troubleshooting information page, follow these steps:
Open Mozilla Firefox on your system.
Click on the hamburger menu (≡).
Click on Help (?).
Here, click on Troubleshooting Information.
Here you will see the Crash reports generated for the last three days and other technical information regarding your browser. You can reset Mozilla Firefox from here as well.
Resetting Firefox will remove all unnecessary settings and reset it everything disabled.
To reset Firefox, click on the Refresh Firefox button under Give Firefox a tune-up.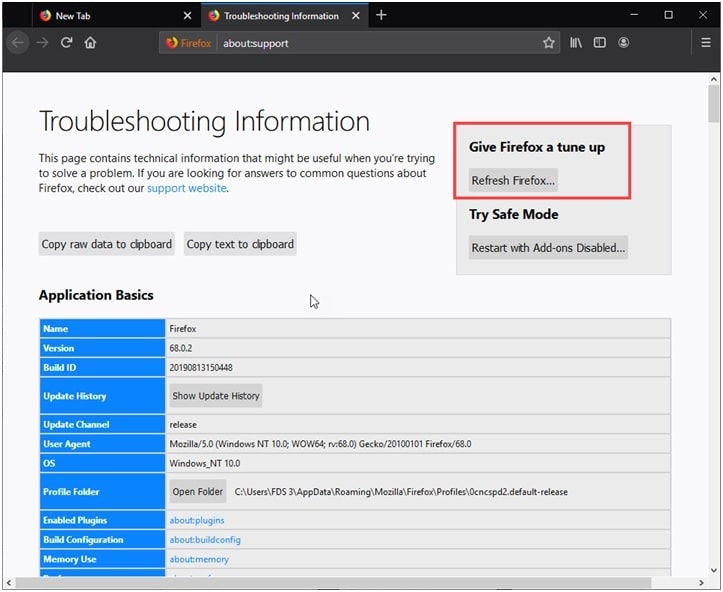 # Solution 2: Restart With Add ons Disabled
If your Mozilla Firefox client also keeps not responding to your inputs, there is a chance that there is a broken extension that is causing 'Firefox crashing Windows 10' error. If you started seeing this error after installing an add-on, you can use the following steps to start Firefox in 'Safe' mode and disable addons in Firefox. To do so, follow these steps:
Open Mozilla Firefox on your system.
Click on the hamburger menu (≡).
Click on Help (?).
Here, click on Restart with Add-ons disabled.
Press Restart in the confirmation dialog box that pops up next.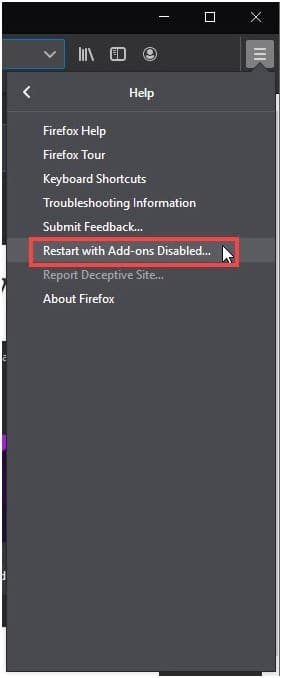 Once Firefox restarts, check if Firefox works as intended. If it does, there is a chance that some broken extension is causing the error in your normal window. 
 # Solution 3: Clear Mismatched Cache
The cache is the data saved on your system by the websites so that they can be loaded faster the next time you launch them. Cache and cookies contain the information that can be used to serve information to you faster than loading all data again.
Although the cache is saved to reduce the loading times, a mismatch in cache computing can lead to cache miss that in turn can cause all sorts of problems. A corrupt cache can also cause the "Firefox keeps crashing error" on your system.
To clear Firefox cache, follow these steps:
Open Mozilla Firefox on your system.
Click on the Library icon (|||\).
Here, click on History. This will open a new side menu.
Here, locate and click on Clear Recent History.
In the small window that opens next, click on the Time range to clear: drop-down menu and select Everything.
Check the boxes next to all the Data and History items that you want to clear.
Click on Clear Now.
8. Restart your Firefox client software.
Now check if the error still persists. If it is solved, you can confirm that it was the mismatched cache that was causing the Firefox not responding error on your system.
Note: you can also delete the cache manually from the file explorer as well. to do so, follow these steps:
Open a Run dialog by pressing Win + R.
Here type %localappdata% to open the "C:\Users\<username>\AppData\Local" folder.
Here locate and click on the Mozilla
Navigate to the Profiles folder inside the Firefox
Here click on the folder ending with .default-release in its name. It will be preceded by a random combination of letters and numbers depending on the installation.
Select the following folders and delete them to remove local cache:

cache2
jumpListCache
OfflineCache
startupCache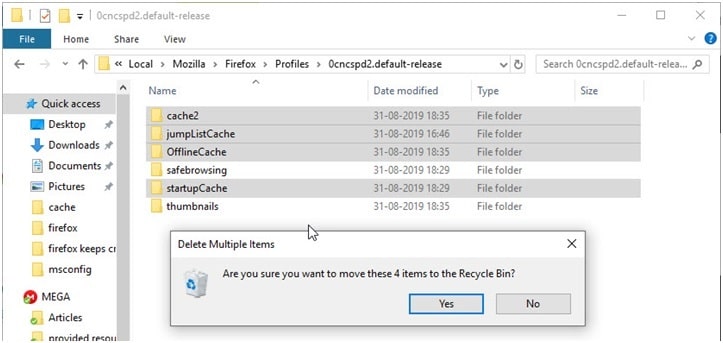 # Solution 4: Updating Drivers
Many apps including Firefox depend on the hardware components and their respective drivers to run efficiently. Sometimes users may miss some driver updates, or postpone them and forget to update them later.
Outdated drivers can cause all sorts of errors, including crashing Firefox randomly. To check for potential driver updates, follow these steps:
Open a Run dialog box by pressing Win + R key combination.
Here type devmgmt.msc in the dialog box and press Enter to launch the Device Manager.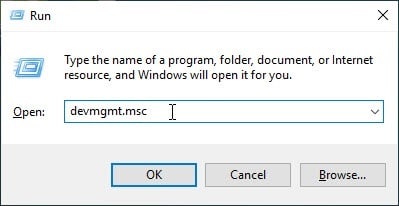 3. In the list of installed devices on your system, check for any update available for any device drivers. Any critical update will be displayed with a yellow exclamation mark next to the device name.
4. If you don't see any updates available, locate the device drivers that are necessary for keeping the app working normally.
5. Right-click on these devices, and select Update Driver.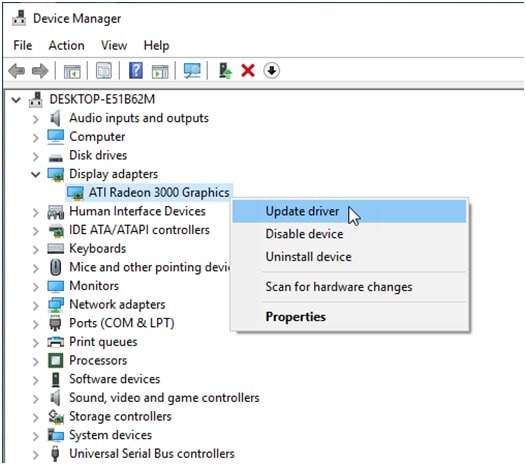 6. Follow the on-screen instructions to update the device drivers if available.
Now check if your browser still presents you with the crashing error.
# Solution 5: Check For Faulty Software Or Virus
Some programs are known to cause crashes in Firefox. These software are incompatible with the Firefox browser and can cause the "Firefox keeps crashing" error. Alternatively, there can also be a virus on your system that is causing the error.
Check the release notes provided with every new update for Firefox. The release notes contain information about any known issues with your version of Firefox.
Also, run a full system check of your PC using the antivirus program that you use on your system.
Now check if your issue gets resolved.
# Solution 6: Clean Reinstall
As a last resort, if nothing else helps you, you need to perform a clean reinstall of the browser.
To do so, first, uninstall the current version of Firefox installed on your device.
Then remove the associated registry files and the residual files as well.
Alternatively, use a third-party uninstaller like IObit uninstaller or residual file remover file CCleaner to make this easier.
Now download the latest version of Firefox from their website.
Double click on the installer to run and complete the installation of the browser.
Conclusion
So, there you have it. Now you know how to solve the "Firefox keeps crashing" error using the solutions given above. If you find this useful, comment below to let us know, and to discuss further the same.