This innovative login technology with biometric authentication is a much smarter and secure procedure. In this case you don't need to remember your password either!
This process is easily accessible with your fingerprints or facial recognition. To automatically lock your PC, you may use the Dynamic Lock feature provided in Windows Hello.
Sometimes you may struggle with the issue when the fingerprint scanner may not be working in windows 10.
Reasons Why Fingerprint Reader Does Not Work
Fingerprint scanner may not be working in windows 10 due to some of the software or hardware related issues. Sometimes there may be system corruption, some setting related problems.
Other users have often complained of some incompatible drivers!that have triggered the issue.
Follow the updates and workarounds provided in this article, to restore its functions and solve the problem.
Method 1: Install The Updates Manually
If Windows Hello fingerprint setup is not working, try to get back to set your preferred password or PIN to log in. You will have to manually check for Windows Updates.
Follow the steps to accomplish the process:
Step 1: First sign in and then go to Settings and click Update & Security.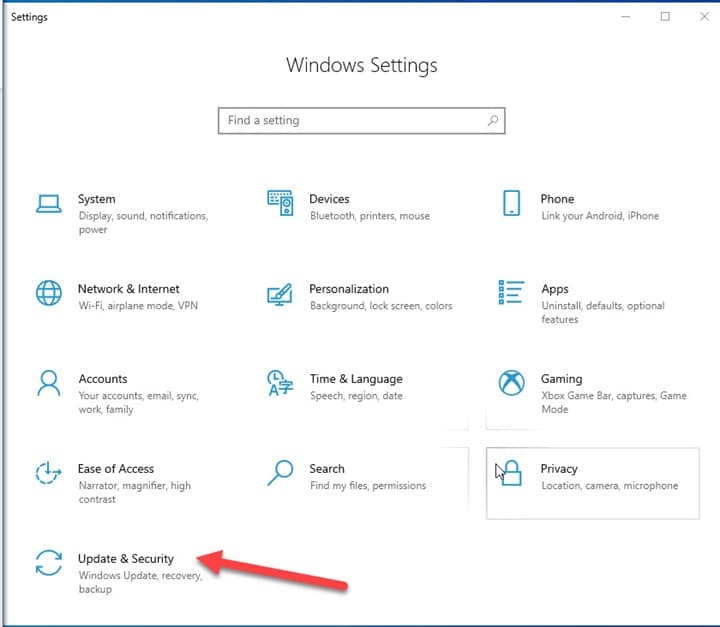 Step 2: From there, select Windows Update to install all the detected and pending updates.
Step 3: Now, restart your computer and try to sign in with fingerprint authentication again.
Method 2: Go for Resetting Fingerprint & Facial Recognition Options
If your windows fingerprint sensor is not working, go for resetting the recognition options and fix the problem.  Once you remove and then reset the options, you may not further interfere with the problem.
Follow the guidelines provided below:
Step 1: Click Start and open Settings.
Step 2: Go to Accounts and click on Sign-in options.
Step 3: Navigate to find Facial Recognition or Fingerprint options. From there, choose the Fingerprint option.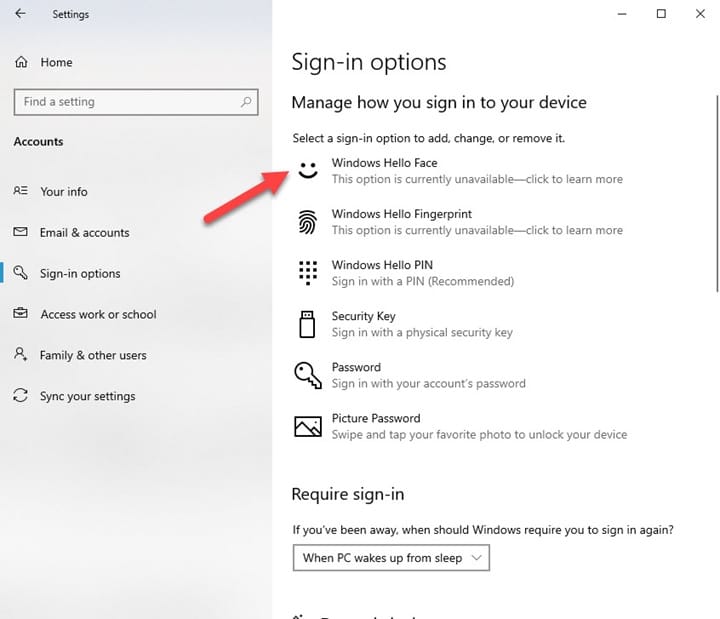 Step 4: Now, select Remove, and follow the same procedure for Facial Recognition.
Step 5: Now click Get Started and follow the instructions displayed to reset the Facial Recognition and Fingerprint sign-in options.
Step 6: Finally, restart your PC and then check whether the issue is solved. 
Method 3: Run Hardware & Devices Troubleshooter
You may try this workaround to scan and detect any possible hardware and devices issue in your system. Using this method, you may easily fix the issue.
Step 1: Click Start and go to Settings. Then select Update & Security.
Step 2: Now click to Troubleshoot. 
Method 4: Modify Windows Hello Group Policy Settings
When you perform a Windows Update, it may make some changes to important Group Policy settings. You may need to check Windows Hello settings in the Group Policy Editor then.
You may need to repeat some steps as mentioned in the following procedure:
Step 1: Right-click on Start and then Run. After that enter gpedit in the box and click OK.
Step 2: Next, select Computer Configuration, and click Administrative Templates.
Step 3: Then double-click on Windows Components and on Biometrics too.
Step 4: Follow Double-clicking on Facial Features and Right-click on Configure enhanced anti-spoofing.
Step 5:  From there, select Edit and proceed to disable Configure enhanced anti-spoofing and restart your computer to see if it resolves the issue.
Method 5: Enable The Biometrics In Group Policy Editor
You may also use the Group Policy Editor to bypass the problem with the Facial Recognition and Fingerprint issue.
This is a quite simple procedure where you just need to select each biometric setting and enable them.
You may easily finish the task following the workaround provided:
Step 1: In the search box, type gpedit, and select Edit Group Policy.
Step 2: Now, click Computer Configuration and then move to Administrative Templates.
Step 3: Under the Administrative Templates, double-click Windows Components. Double-click Biometrics in the right pane and then check properly whether all settings are configured.
Step 4: If you find they are not configured, Right-click on each Biometric setting, and then click Enabled.
Step 5: Now Select Apply and then press OK.
Step 6: Finally, double-click on Allow users to login using biometrics and select Enabled. After that click Apply and press OK to accomplish the procedure.
 Method 6: Update System Drivers
Check if some drivers like the fingerprint reader driver may have been corrupted at some point and maybe due to this reason you are fingerprint reader not working.
To resolve the issue, you may update the system drivers.
Step 1: Start by selecting Device Manager.
There, under Biometric devices, you will find the relevant drivers.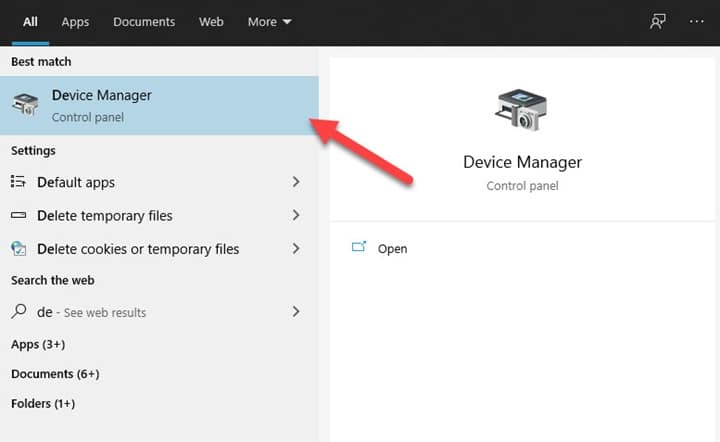 Step 2: Right-click your device and choose to Remove driver software. Repeat this for all related drivers.
Step 3: Right-click and press Scan for hardware changes and the system will detect and install the drivers once again.
Step 4: You may revert the corrupted or outdated driver to its previous version by double-clicking on Biometric Devices and then clicking Roll Back Driver in the properties section. After finishing the task, hit the OK button, and you are done. 
Method 7: Try Resetting Windows
Perform a windows rest and repair the damages caused to all the system files so that the fingerprint scanner may work properly again.
This will permanently erase your computer data so make sure you take backup or copy your data to any external disk or cloud storage before you proceed.
The procedure will also reset the settings of your device to the default Windows settings. Follow this refreshing procedure mentioned below:
Step 1: Open Settings and go to Update & Security.
Step 2:  From there select Recovery and then press Reset this PC > Get Started.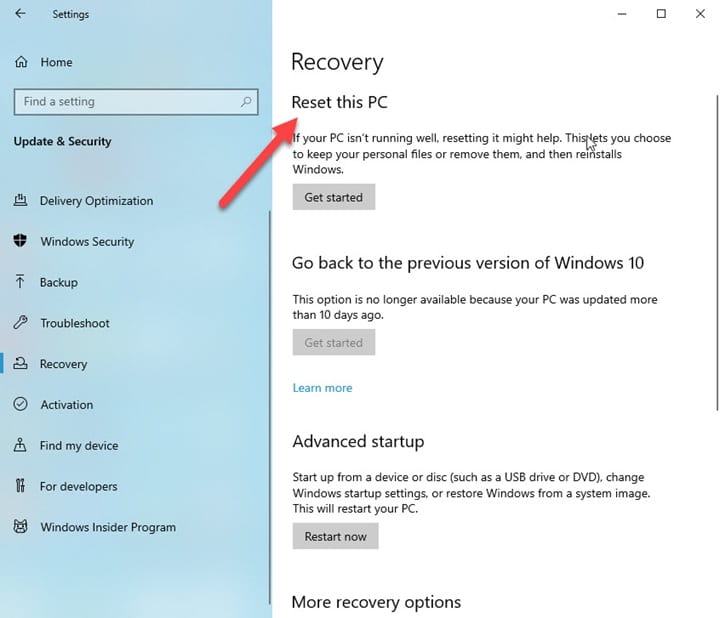 Step 3: Now, Turn Off Fast Startup and go to Settings and then from System select Power & Sleep.
Step 4: Next, click Additional Power Settings and then change Settings that are unavailable and uncheck the Fast Startup box. Click OK to save the changes.
Method 8: Check For & Uninstall Updates That Caused The Problem
If you find this problem has started after you installed Windows Updates, immediately check for the installed updates, and uninstall them.
Follow the given procedure to do so:
Step 1: Click Settings and then Update & Security.
Step 2: Take a view of the Update History. From there, choose the Uninstall Updates link.
Step 3: You will get to see a new screen showing the Installed Updates. You are supposed to Right-click each and select Uninstall.
Step 4: Now, give your PC a fresh restart and check if the problem is solved.
Method 9 : Reinstall Fingerprint Software
This is an amazingly easy remedy that one may perform uninstalling and reinstalling the Fingerprint software as we do to reinstall other apps or programs.
To accomplish the task, here I provide a complete guide:
Step 1: First of all, go to Settings and open Apps and Features.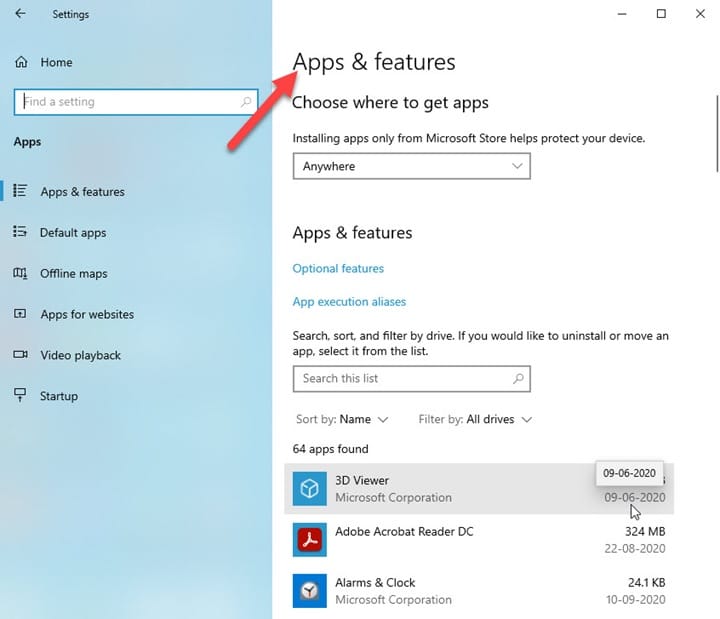 Step 2: Now, find your fingerprint reader and click on it. Then select Uninstall and confirm your action.
Step 3: Then, Right-click Start > Device Manager to expand the Biometric devices category.
Step 4: Again, repeat the process to locate your fingerprint reader, then right-click, and select the Uninstall device. Finally, confirm the action.
Step 5: Reboot your PC to apply the changes made.
You may visit Device Manager > Universal Serial Bus Controllers category and find out USB Root Hub and double-click on it.
This will open its Properties. Now, you may uncheck Allow the computer to turn off this device to save power option box. You will find this under the Power Management tab. Just repeat the process USB Root Hub entries.
Method 10: Repair System Files
You may face the fingerprint reader not working issue due to some corrupted files. You encounter the problem when you are trying to sign in using the Windows Hello service.
You can take the help of the built-in System File Checker to rectify the error.
Step 1: Enter CMD in the search box and select Command Prompt > Run as administrator.
Step 2: Now, in the Command Prompt dialog box, type sfc /scannow and press hit the Enter button to run the command.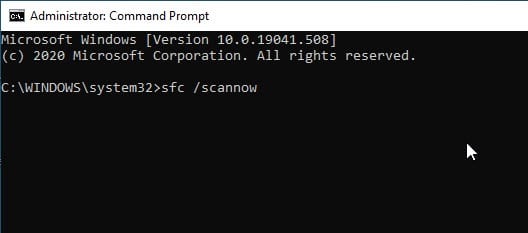 The system files will now be scanned, and after this, you can give your PC a fresh restart and see if the fingerprint problem persists.
Method 11: Restart Credentials Manager Service
This is the last option I am providing you to fix the fingerprint reader issue. Follow these basic steps provided to combat the problem:
Step 1: Right-click Start > Run and then enter services.msc.
Step 2: Now click Enter to open the Service window. From there locate Credential Manager Service.
Step 3: Next, double-click the Credential Manager Service and open the Properties window.
Step 4: Visit the Service Status and press Stop. Then click the Start button again to restart the service once more.
Step 5: After that choose Apply and then press OK.
Wrapping Up
Here are! I hope by now you have found a remedy to fix the fingerprint scanner not working windows 10 issue.
Feel free to intimate us with your ideas or suggestions in the comment box provided below.