"Chrome is very slow to load. In the bottom left-hand corner, it shows a status of Establishing Secure Connection – which can take anything from 5 seconds to 15 seconds."
Many users have reported this problem recently. On a computer running Windows 10, Google Chrome is extremely slow to load even the homepage making it seem that your internet connection is at fault. Here I will discuss how to solve the Chrome error:  establishing a secure connection slow.

Why Am I Seeing This Error?
This error became apparent after the recent Windows 10 update. The 'Chrome establishing secure connection slow' error is actually caused by the Windows Cryptographic Service (CryptSVC).
Due to this malfunctioning service, Google Chrome takes up a lot of time to load the HTTPS (SSL) secure sites. These secure sites take up a lot of time to load even if there is nothing wrong with your internet connection and firewall. This is an annoying problem that can hamper the productivity of a lot of users.
This bug is reported to the Chrome development team, and they may release an update that fixes this issue completely. Till then you can use these fixes to solve the Chrome error:  establishing secure connection slow.
Note: the CryptSVC service is designed to protect you from malicious websites online and some other management scenarios, turning it off may not be a good idea.
How To Fix Chrome Error:  Establishing Secure Connection Slow
If you too are facing this error, here are some potential fixes you can deploy to solve 'establishing secure connection Chrome timeout' error.
# FIX 1: Clear Chrome Data And Run Edge In Background (Temporary FIX)
Starting from the basic fixes is always a good idea, as if a simple fix solves your issue, you may not have to deploy other fixes. The basic idea here is to resolve the CryptSVC using the Edge browser.
Clear all your Google Chrome data like cookies and cached images and files.
To clear Google Chrome data, press the Ctrl + Shift + Delete in a new tab to open the Clear browsing data dialog box. Here select All time from the Time range drop-down menu. Then select Clear data.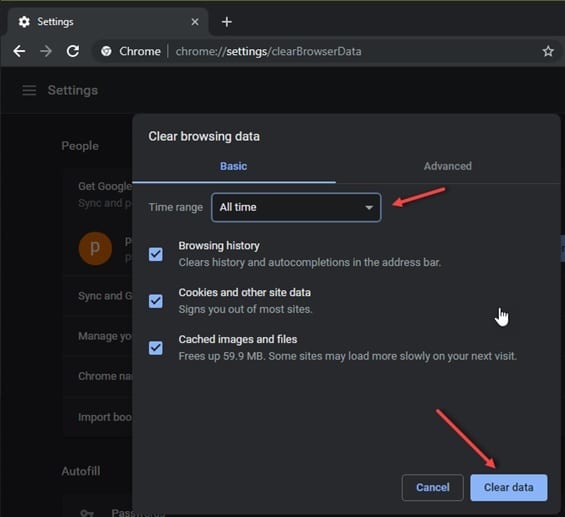 Now close all instances of Chrome running on your device.
Now start the Edge browser and minimize it to the taskbar. Run Chrome again and browse normally.
This is a temporary fix. The next time you can try running without Edge to see if you still get this error.
# FIX 2: Turn Off Antivirus SSL Encryption
If you have other antivirus software installed that has SSL scanning, it is plausible that the error is caused due to this feature conflicting with the CryptSVC service in Windows 10.
When the SSL scanning feature of antivirus like Kaspersky etc. is enabled, you are likely to see this delay. If you pause the antivirus, the SSL scanning is still active sometimes and can still cause the delay.
To turn off SSL encryption, go to the Network settings of your Antivirus software. Here turn off SSL encryption and/or SSL interception.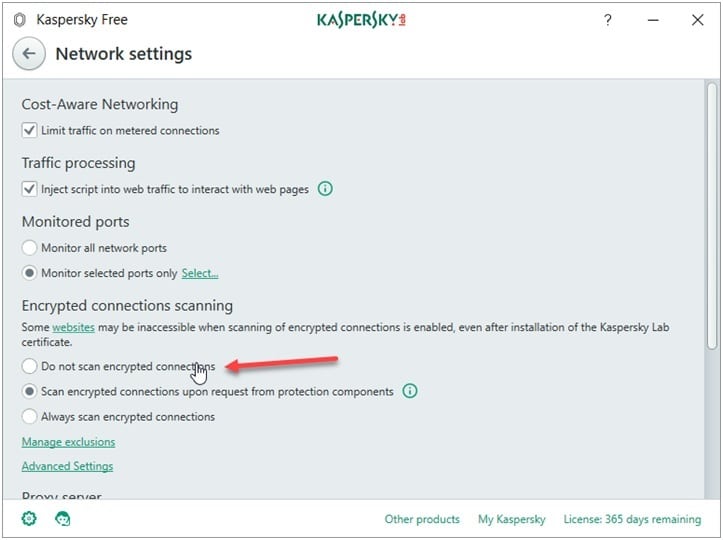 Now try running Google Chrome and see if the error persists.  
# FIX 3: Change DNS Settings
If you see that the browsing speeds are slow on all other browsers installed on your device, it is possible that the DNS settings may not be resolved properly. Changing to a public DNS may temporarily solve your issue if you also see the Resolving host… message in the bottom left corner of your browser.
To execute this method, you need to extensively change your DNS settings in your operating system.
Usually, most internet service providers set the DNS servers automatically using the DHCP client (Dynamic Host Configuration Protocol). However, you can change it to use Google's Public DNS IP addresses if there is some issue with your ISP's DNS settings.
To change the DNS settings, here are the steps you can follow:
In a Run dialogue (Win + R), type the following and press Enter to open Network Connections:
ncpa.cpl 
In the list of available networks, select the connection (Ethernet or Wireless Network Connection) you were on that is causing the YouTube error.
Right-click on the above-chosen network and select Properties.
In the Wi-Fi properties, select Internet Protocol Version 4 (TCP/IPv4) under the Networking Click on the Properties button.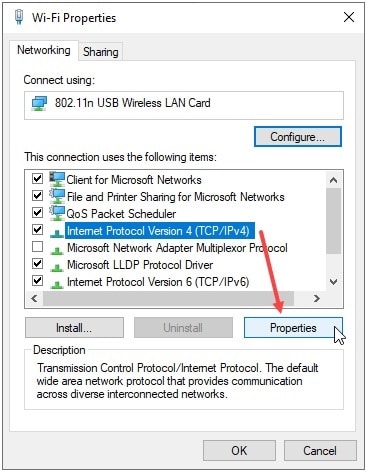 5. Inside the (TCP/IPv4) Properties screen, click on the radio button next to 'Use the following DNS server address'.
6. Change the values as below:
Preferred DNS server: 8.8.8.8
Alternate DNS server: 8.8.4.4 
7. Save the changes.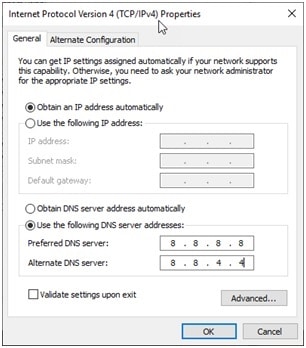 8. Open the Internet Protocol Version 6 (TCP/IPv6) Properties next similar to how you opened IPv4 settings in the step above, and click on the radio button next to 'Use the following DNS server address'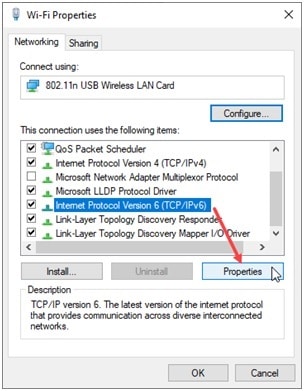 9. Change the values as below:
Preferred DNS server: 2001.4860.4860.8888
Alternate DNS server: 2001.4860.4860.8844
10. Restart your network connection.
Now check if the persists in your browsers.
# FIX 4: Other Fixes
There are some other fixes that you can try to solve this issue. These include:
Turning off Hardware Acceleration
To turn off hardware acceleration, follow these steps:
Open Google Chrome.
Visit "chrome://settings"
Scroll down to System subsection.
Turn off the toggle next to Use hardware acceleration when available.
Delete saved bookmarks
Check for broken extensions.
To check if a broken extension is causing the error, you can open an incognito window to browse your desired webpages. Press Ctrl + Shift + N to open a new incognito window.
Extensions are disabled by default in this mode. If the webpages run smoothly, it is possible that some broken extension may be causing the Chrome error:  establishing a secure connection slow.
Wrapping Up
The Chrome error:  establishing a secure connection slow is a new error that has been reported to the Chrome development team. Other than the fixes given above, you need to wait for the next update release of the software in order to solve the issue permanently. If you found this useful, comment below to let us know and to discuss further the same.