Windows Defender is the comprehensive, built-in protection for your system from any software threats like- viruses, malware, or any spyware.
But sometimes, you may encounter common issues when you fail to enable it even if you have uninstalled all third-party security software.
So, let's find out the reasons and explore certain solutions to combat the unexpected issue – why can't you turn on windows defender.
How To Enable Windows Defender?
If you are trying to enable Windows defender and not able to do so, then we have the solution for you, We have mentioned the ways in which you can get it fixed.
Solution 1 : Check Your System Files
If you are wondering – why can't I turn on windows defender, use the System File Checker tool. This helps to repair corruption in the system files.
All you need to do is perform an SFC scan or a DISM scan. Follow the guidelines provided to do so:
1)SFC scan
Step 1: Open the Win + X menu by pressing Windows Key + X.
Step 2: From the provided Menu bar, choose Command   Prompt (Admin) or PowerShell (Admin).

Step 3: Enter sfc /scannow and hit ENTER. Now, wait for the scan to get completed.
2) DISM scan
Step 1: Right Click on Command Prompt and choose to run it as an administrator.
Step 2: Now type DISM /Online /Cleanup-Image /RestoreHealth and then press Enter to run the command.

Step 3: Wait for at least 20 minutes until the DISM scan to get completed. When the scan is finished, check whether the problem is solved. 
Solution 2: Choose A Specific Antivirus Removal Tool
When uninstalling a third-party antivirus solution with an option from the Control panel, some files likely get undetected and this averts you to run Windows defender.
You may choose from the list of uninstaller software for complete removal of the malware from your PC.to completely remove your antivirus from your PC.
Remember that besides removing the specific application, it will also remove all the registry entries and files correlated to that application.
You may choose IOBit Uninstaller or Revo Uninstaller. With these, you can remove the antivirus very easily.
After completion of the procedure, Reboot your computer and check whether the Windows Defender is automatically enabled.
Solution 3: Perform A Clean Boot
A third-party application can turn off windows defender. You can detect and check that problematic application by performing a clean boot.
To identify and uninstall the problematic app or service, you need to enable them one by one until you get rid of the issue.
Follow the steps to do so:
Step 1: Press Windows Key + R and type msconfig in the bar.
Step 2: Hit the  Enter button or click OK.
Step 3: Now System Configuration window will appear. Find the  Services tab.
Step 4: Check to Hide all Microsoft services and then click the Disable all button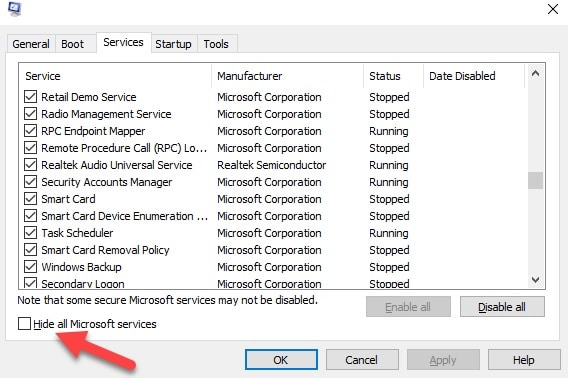 Step 5: Navigate to the Startup tab to Open Task Manager.
Step 6: A list of startup applications will be provided onscreen. Right-click the first entry and select Disable. Repeat the same step for all startup applications.
Step 7: After you finish disabling all startup applications, go back to the System Configuration window
Step 8: Now Click Apply and then press OK.
Step 9: Reboot your PC and check if the problem persists. 
Solution 4: Change Your Group Policy
Sometimes you may find that windows defender is turned off by group policy. You may easily fix the issue by changing that particular group policy.
Follow this step to change the group policy:
Step1: Press Windows Key + R then type gpedit.msc.
Step 2: Now Select Enter and press OK.
Step 3: When Group Policy Editor opens, navigate to Computer Configuration.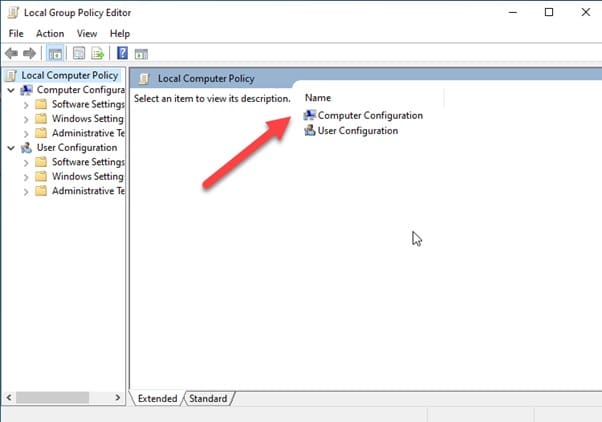 Step 4: Open Administrative Template and go to Windows Components.
Step 5: Select Windows Defender Antivirus.
Step 6: Look at the right pane and double click on Turn off Windows Defender Antivirus.
Step 7: Select Not Configured and click on Apply. Then press OK to save the changes.
Solution 5 : Restart The Security Center Service 
Certain services or applications need to be enabled for Windows Defender to work properly. If those services are having issues to run properly, you will not be able to enable windows defender.
Here I am providing you certain steps to perform the act successfully:
Step 1: Press Windows key + R and then launch Run.
Step 2: Type services.msc and then hit the Enter button.
Step 3: Go to the Services and search for Security Center.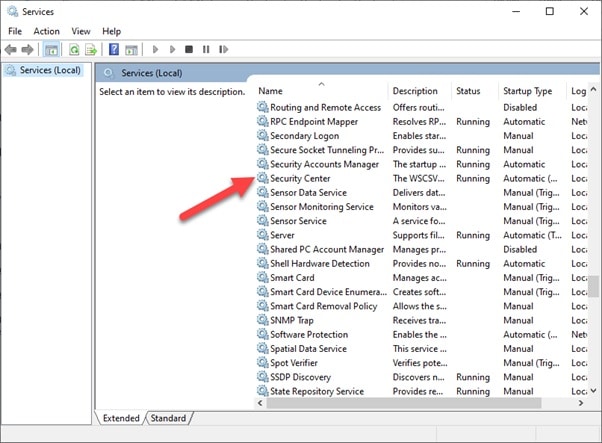 Step 4: Right-click on Security Center and then Restart. After you perform the whole task remember to check whether the issue id solved.
Solution 6: Modify Your Registry
If you cannot enable Windows Defender, the issue might be related to your registry. Go for a registry modification to resolve the issue.
You are required to follow these basic steps to do so:
Step 1: Select Windows Key + R and type regedit.
Step 2: Hit the Enter Button.
Step 3: When Registry Editor opens, find this in the left panel:
HKEY LOCAL MACHINESOFTWAREPoliciesMicrosoftWindowsDefender.
Step 4: Navigate for DisableAntiSpyware DWORD in the right panel, and double click it.
If you cannot find DWORD, right-click the right pane and choose New > DWORD (32-bit) Value from the menu bar provided
Step 5: Set Value data to 0 and then click OK to save the changes.
Step 6: Now Check whether the windows defender is enabled on your PC.
Winding Up
So, here you are. I hope by now you are able to enable Windows defender.
If you have further queries or suggestions, feel free to intimate us in the comments section below.