Managing the files on your computer can be much easier if you put different types of files in different partitions. Windows 10 has an inbuilt tool for managing the space on your storage devices, called the Disk Management console. This handy tool can come in handy when you want to manage your storage device, like partition size, merge and reduce partitions, etc.
Some users have recently reported that they face an error where they see disk management not loading on their devices. This can be very annoying if you use the built in disk manager as your primary storage space manufacturer. Here are some possible solutions that you can deploy to solve the Windows 10 disk manager error.
Fixes For Disk Management Not Loading Error
The disk management tool can be launched from the Run dialog or Windows search by typing diskmgmt.msc and pressing Enter. If this fails and you cannot launch the disk management tool on your device, follow these potential solutions to solve your error.
Solution 1: Check Your Hardware
If you recently moved around your PC, there is a fair chance that if you bumped your PC onto something, you might have accidentally caused a hardware failure. Although highly unlikely, but there can be connection issues between your computer motherboard and the storage devices, which leads to the Windows disk manager not loading properly.
Check for any potential connection issues in your computer. Check the connections between the storage, power supply and your motherboard to make sure that any connection error is not causing the disk management not loading error.
Solution 2: Use Third Party Alternatives
If you cannot open Windows 10 disk manager, there are many third party free disk managers, which come with many more features. We have already covered the reviews of some of such software, so check them out from the links provided.
Solution 3: Use Diskpart Command Line Utility
You can also access the disk management tool from the command prompt. This is a more powerful version of the tool if you know how to use it. You can use the diskpart command to access the disk management tool from within command prompt.
Open a Run dialog by pressing Win + R.
Type cmd and press Enter to launch the command prompt.
Use the command diskpart to launch the partition manager.
Following is the list of possible commands that you can execute from within diskpart.exe application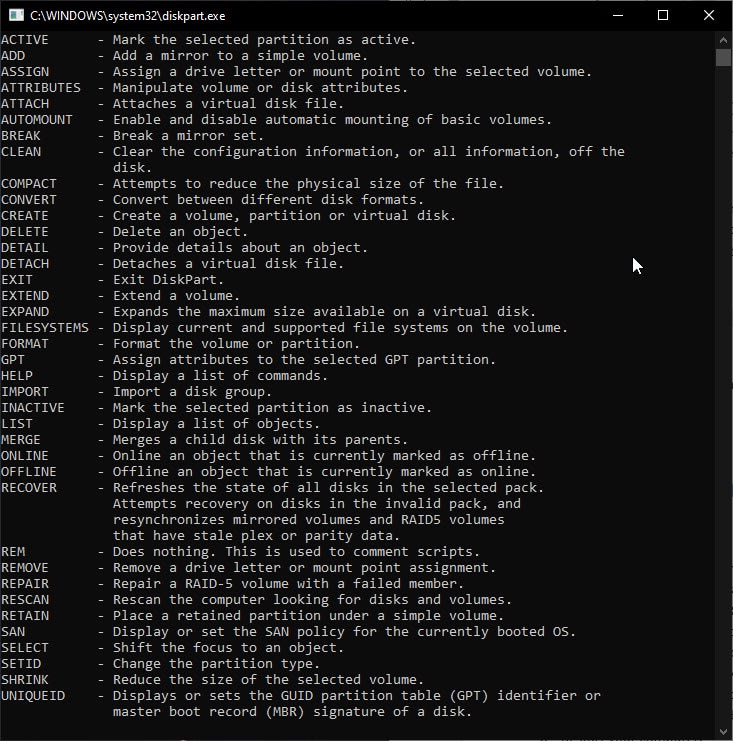 Solution 4: Enable Virtual Disk Service
If you see an error that says Disk management could not start Virtual Disk Service, you need to start the said service manually. Simply follow these steps:
Open a Run dialog by pressing Win + R.
Type services.msc and press Enter to launch the Windows Services console.
Locate and double click on Remote Access Connection Manager to launch its properties.
Click the Startup type drop down menu and select Disabled.
Once done, click on Apply followed by OK.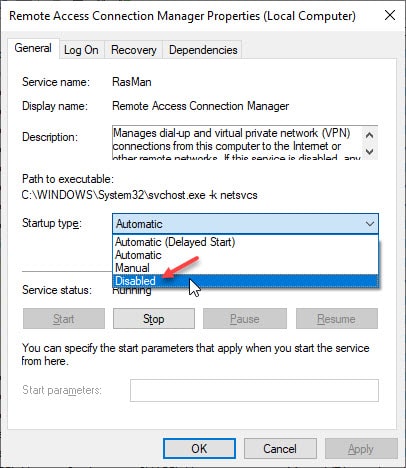 Next, locate and double click on the Virtual Disk service.
Click the Startup type drop-down menu and select either Manual or Automatic from there.
Then, press Apply followed by OK to confirm the new settings.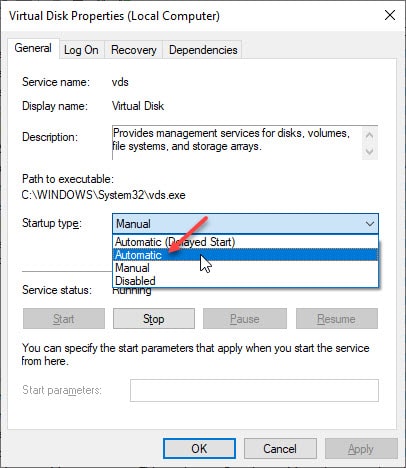 Restart your computer.
Now check if the error persists.
Solution 5: Update Windows
Many important features are downloaded on your computer using the Windows update. Windows 10 updates itself, but due to some error, if you have missed any recent update, there is a chance that outdated Windows is causing the Windows 10 disk manager not loading error.
Check for any pending updates, and download and install them. This should solve the Windows 10 disk manager error.
Solution 6: Run A Disk Checker
Microsoft has included a disk scanning and repairing utility command, which can help you solve any disk errors on your Windows 10 device. Simply follow these steps to solve your disk management not loading error.
Open an elevated Command Prompt. To do this, press Win + R to launch a Run dialog, type cmd and press Ctrl + Shift + Enter to launch Command Prompt with administrative privileges.
Enter the following command in the command line editor to launch and run the disk check:
chkdsk /f /r Z:

Note: replace Z: with the letter assigned to the drive that you want to scan.
Now, you simply need to wait for the disk checker to repair your files.
Solution 7: Run DISM And SFC Scans
If you suspect that some Windows functions are not working, you can troubleshoot them by running a DISM and SFC scans. If you don't know how to run these scans, you can check the steps from out dedicated article that deals with solving broken system files on a Windows 10 device.
These scans should replace any missing files, and once the scan finishes the problem should be resolved. If there are any missing or corrupt files, you shall see a message showing the results.
Wrapping Up
So there you have it. Now you know how to solve the Windows 10 disk management not loading error using the solutions provided above. Comment below if you found this useful, and tell us if you are able to load Disk manager in Windows 10 now.