The Windows key is one of the most useful keys on the keyboard. If you prefer to use the keyboard shortcuts to launch various apps and settings, you must know how handy the keyboard shortcuts can be in day-to-day life, eliminating the need to reach for the mouse to do the same function.
Why You May Want To Turn Off Windows Key!
Pressing the Windows key once launches the Windows Start Menu; and in full-screen applications, it minimizes the game, often not triggering the pause menu while doing so. This has irritated many gamers who have lost their progress mid-game due to the same. Alternatively if your function keys are not working you can check the post.
Here I will discuss how to disable Windows key in Windows 10.
How To Disable Windows Key In Windows 10!
To the relief of such users who wish to disable the Windows button, there are many ways that you can disable Windows button on your device. Here I will list some easy methods that you can follow to do the same.
Method 1: Modify Keyboard Settings Or Use Gaming Mode On Your Keyboard
Most gaming keyboards come with their own customization software. These applications provide extensive control over your hardware, and hence can be used to bring your desired effect to your game.
Many keyboard manufacturers include a gaming mode on their keyboards, which disables the Windows key, Caps lock key, Num lock key, etc as these keys don't find their use in day to day gaming. You can use this feature if you have a keyboard from such manufacturers.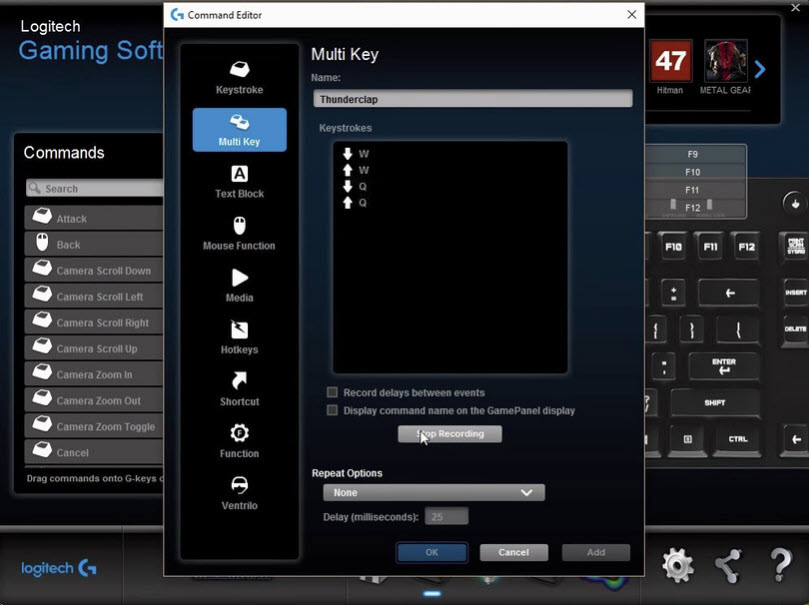 If the keyboard comes with a key customization software, you can use that to disable Windows key on keyboard.
Method 2: Use The Official Microsoft Registry Hack
Microsoft Windows is probably the most popular operating system choice among PC gamers and rightly so thanks to its ease of use. Microsoft recognized how annoying the Windows key can be, and released a simple registry tweak to disable the Windows key on your keyboard.
Note: it is recommended to back up your registry before tinkering with it, in case something goes wrong while editing it.
Open a Run window by pressing Win + R.
Type regedit and press Enter to launch the Registry Editor. Click Yes on the User Account Control prompt.
Navigate to the following location by pasting the path in the address bar of the Editor:
Computer\HKEY_LOCAL_MACHINE\SYSTEM\CurrentControlSet\Control\Keyboard Layout
Right-click and hover on New, click on Binary to create a new Binary registry entry.
Name this entry Scancode Map.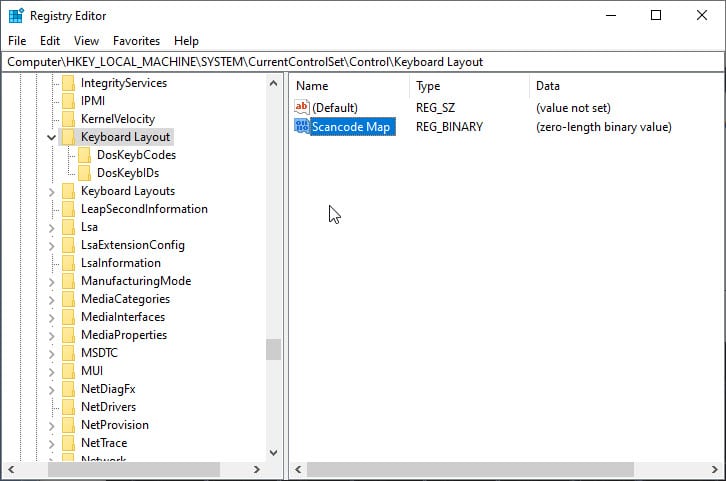 6. Double click to modify the entry.
7. Once the Modify window opens, start typing the following in the data field
00000000000000000300000000005BE000005CE000000000
(That's 17 zeroes, 3, 10 zeroes, 5BE, 5 zeroes, 5CE, 9 zeroes)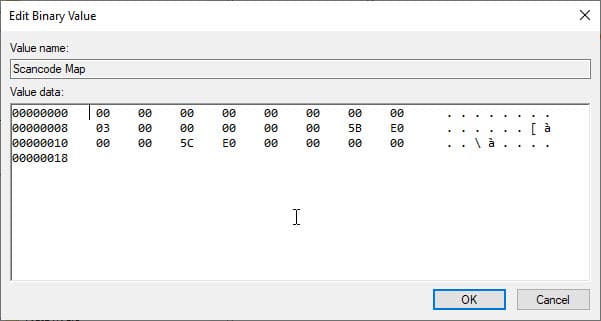 Note: Pasting does not work, just type the data after you open the Modify window.
8. Click OK.
9. Restart your computer for the changes to take effect.
Once your computer boots back up, the Windows key will have been disabled on your keyboard.
To restore the functionality of your Windows key, simply delete the Scancode Map entry that you created.
Method 3: Use Group Policy Editor To Turn Off Key Combinations
If you own a Windows 10 Pro or Enterprise edition, you can use the Local Group Policy Editor to turn off the shell shortcuts. This is also another method to lock Windows key on your keyboard.
Note: Read our article on how to enable group policy in Windows 10 Home
Open a Run Window by pressing Win + R.
Type gpedit.msc and press Enter to launch group policy editor.
Navigate to the following address by clicking the items from the left pane:
User Configuration > Administrative Templates > Windows Components > File Explorer
In the right pane, locate and double click on the following entry:
Turn off Windows Key hotkeys
Select the Enabled radio button.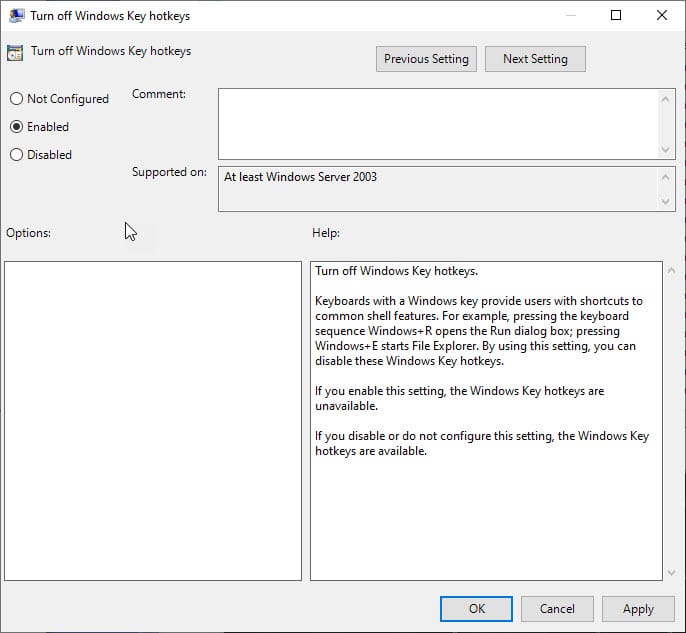 6. Click on Apply followed by OK.
This should turn off the Windows key hotkeys and shortcuts in your Windows device. If you do not have the group policy editor, you can use the Registry Editor to turn off the Windows hotkeys:
In Registry Editor, navigate to the following location by pasting it in the address bar of the same:
HKEY_CURRENT_USER\Software\Microsoft\Windows\CurrentVersion\Policies\Explorer
In the right pane, create a new DWORD (32-bit) entry from the right-click context menu.
Name it NoWinKeys and double click to modify it.
Change the value to 1.
Restart your PC for the changes to take effect.
Once you restart your device, the Windows key hotkeys and shortcuts will now be removed.
Method 4: Use Third-Party Apps
There are many third-party applications that provide the same functionality and are easier to handle as well.
You can choose from a variety of apps like WinKill (download) and WinKey Killer (download).
Simply download and run the file and change your required settings.
Conclusion
There is another method to disable Windows button, which involves creating a script using Autohotkey. However, external scripts are often treated as hacks, and that can be risky. Other than that, using these simple methods, you now know how to disable Windows key in Windows 10. Tell us in the comments if this helped you.